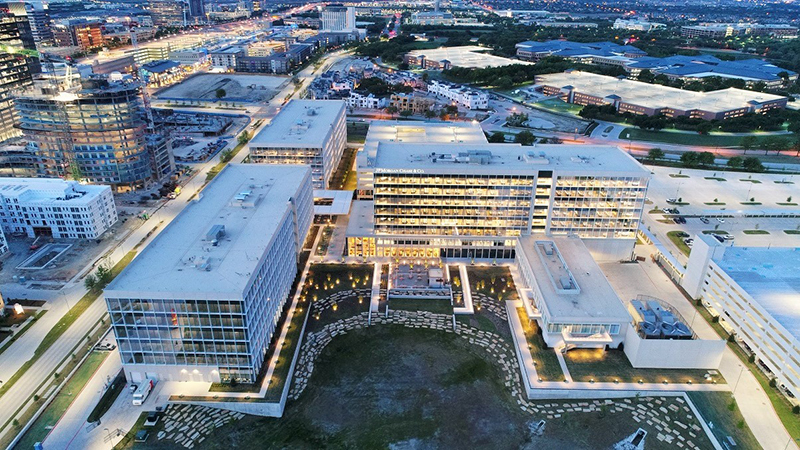 Stories
Why You Need to Work for a Company that Works for You
JPMorgan Chase's state-of-the-art Plano campus is designed to foster a creative, inclusive work environment that values employees' personal and professional well-being.
Given that the average person spends one-third of their adult life at work, today, it's not enough for an employee to work for a company.1 The company must also work for the employee by facilitating a healthy work-life balance and creating meaningful job opportunities that lead to professional growth and personal fulfillment.
That is the guiding principle behind JPMorgan Chase's new, state-of-the-art campus in Plano, Texas.
Designed to foster a more inclusive work environment, spark creativity and make life easier and more enjoyable for employees, the campus reflects the company's long-term commitment to the Dallas-Fort Worth region, where JPMorgan has been active for more than 100 years.
The idea that an employer can create a work environment that improves the lives of employees sounds enticing. Here's what it looks like in practice:
Simplifying life
To help make life a little easier, JPMorgan Chase's Plano campus has a Health and Wellness Center that provides quick, convenient and confidential healthcare to help employees feel better faster. Most services are free of charge and include everything from urgent care and lab services to preventive health monitoring and travel medical consultations.
Additionally, the campus has an on-site, back-up child care facility that provides employees with a safety net for when their regular child care arrangements fall through due to last-minute changes or special situations. There is also an on-site post office and a walk-in tech bar where employees can receive free, one-on-one tech support and see live demos of the latest tech products.
Creating opportunities for career advancement
The Greater Dallas region is a major market for JPMorgan Chase, and the Plano campus is the heart of the company's operations in the area. More than 4,500 employees work out of the Plano campus and while some are just getting started in their careers, others have worked at the firm for decades.
Employees work in a wide range of specialties and develop their careers in everything from the next generation of technology to finance to operations. With so many lines of business concentrated in one location, the Plano campus is rich with professional opportunities. It's the sort of place where an employee can spend their entire career working their way up the professional ladder without ever feeling the need to relocate.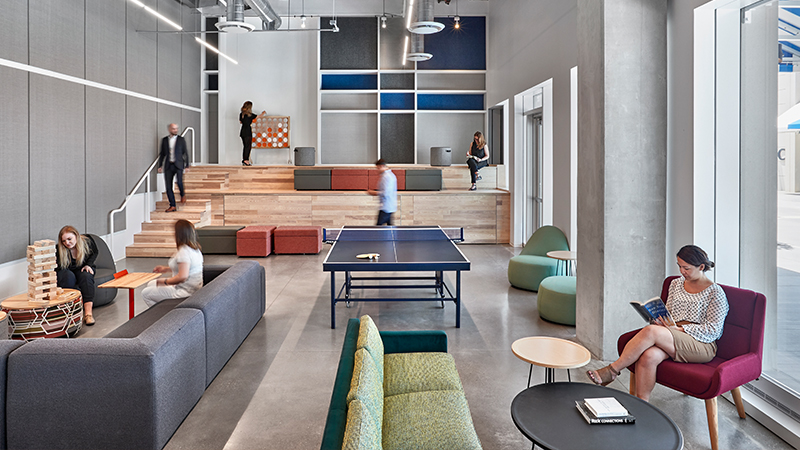 Making time for the fun things in life
Workspaces throughout the Plano campus have many indoor and outdoor social common areas designed to inspire employees, foster inclusion, and create a more relaxed environment.
When employees need to step away from their computers and stretch their legs, they are able to unwind with a quick visit to the game area, complete with pool, chess and foosball tables or decompress in one of the meditation rooms. For employees craving a quick bite to eat, the Smokehouse BBQ Shack is a popular option, where all meats are smoked daily. But it doesn't stop there. Soon the campus will open the doors to an arcade that will feature virtual golf, a mini bowling alley, a giant Jenga set and a ping pong table.
The Plano campus is more than a place to work. It's part of JPMorgan Chase's commitment to the overall security and happiness of its employees. By supporting employees both inside and outside the company, JPMorgan Chase works just as hard for its people as they do for the company.