Founded over 60 years ago, the JPMorgan Chase Art Collection, branded as Art at Work, continues to focus on emerging, developing and under-recognized artists globally. Recognizing that artists are entrepreneurs and small businesses, our investment in their work makes a positive impact. Artists and the creative economy contribute to vibrant communities where we do business. Art at Work brings that vibrancy into the workplace.

The Art Collection and Program are dynamic and evolving. Built on the solid foundation of Rockefeller's vision, the collection has always embraced emerging contemporary art. Art at Work reflects and aligns with the firm's 21st-century business principles and priorities: diversity, innovation, technology, sustainability, creativity, and excellence.
The JPMorgan Chase Art Collection began in 1959 when David Rockefeller, then president of The Chase Manhattan Bank, established the firm's Art at Work Program, the first of its kind in the modern era. He believed that art elevates the experience of working at and doing business with our firm. By integrating artwork within the architecture of our buildings and practicing a strategic approach to acquisitions, Art at Work was and continues to be an exemplary model of corporate collecting.
Today it is the oldest and most established corporate art collections in the world, focusing on modern and contemporary painting, sculpture, works on paper, photography, and digital/video art on view in our corporate spaces across the globe. The core collection is complemented by a selection of international artworks from legacy firms, from antiquity to the present day.
Basil Kincaid (American, born 1986)
The Meeting of Two Houses, 2015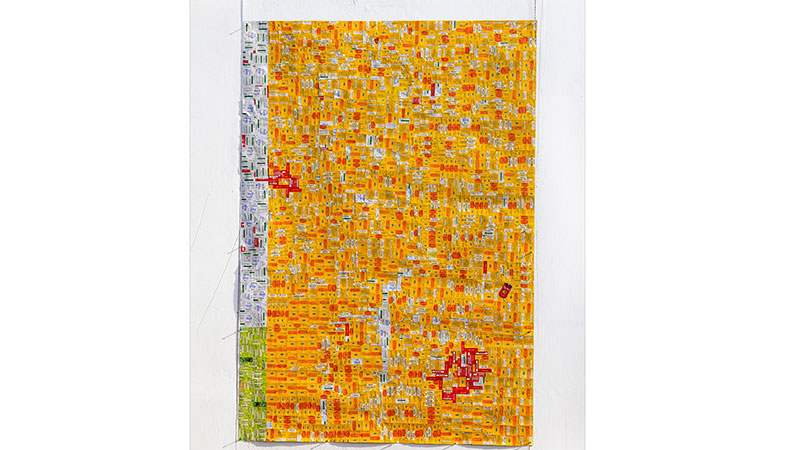 Basil Kincaid (American, born 1986)
The Meeting of Two Houses, 2015
Found prepaid telecom scratch cards, sim cards, and electronic board on vinyl
76 × 48 inches
Acquired in 2018
JPMorgan Chase Art Collection
Courtesy of the artist Basil Kincaid
Danny Ferrell (American, born 1992)
Adam and Coco, 2019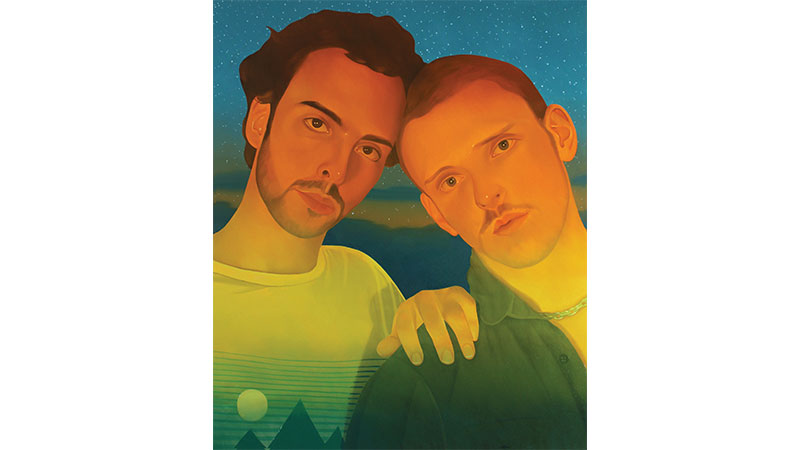 Danny Ferrell (American, born 1992)
Adam and Coco, 2019
Oil on canvas
48 × 44 × 1 inches
Acquired in 2019
JPMorgan Chase Art Collection
Courtesy of the artist and Marinaro, New York