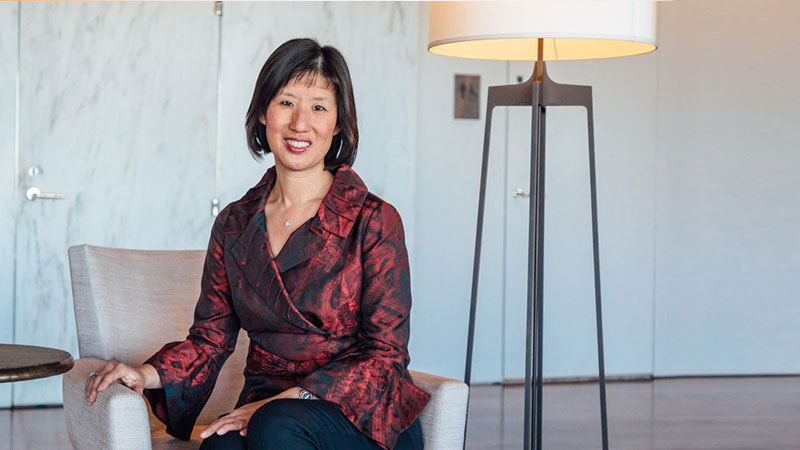 Stories
From Chemical Engineer to Chief Marketing Officer
Lorraine Chow Hansen, Chief Marketing Officer for Chase's Consumer Bank, has found success by following her passions down an unconventional path.
Lorraine Chow Hansen, Chase's new Chief Marketing Officer (CMO) for Consumer Banking, has worked on some of the world's most well-known brands, including Doritos, Starbucks and Lay's. After spending nearly 20 years in consumer packaged goods, she took a leap of faith and joined JPMorgan Chase as the Head of Ultimate Rewards & Loyalty Solutions in 2016.
But what many people don't know is that Lorraine has a degree in chemical engineering from Princeton University – so, how did she end up as a CMO at one of the world's leading financial institutions?
We recently caught up with Lorraine and asked her about career shifts, her passion for her work and how experience has made her a strong leader.
Q: Your career has not been a straight line. What motivated you to get your degree in engineering?
As a first-generation Chinese-American, growing up in northern New Jersey, the notion of self-sufficiency was front-and-center for me. I'm a third-generation chemical engineer, and growing up in the community I did, I wasn't exposed to a lot of different career options. It was "you're good at math and science" and "do what you know," so I opted for engineering, knowing that it would likely lead to good career prospects.
Q: How did you make the switch to marketing?
I deliberately chose my first job at a chemical company that had a well-respected rotational program. I made a point to choose less traditional rotations and assignments within that company, which led me to fall in love with technical marketing. I then went back to business school to focus on marketing. This notion of leveraging something you're strong at, but looking for one step that's new, was something that I've done since the beginning of college. From studying engineering at a liberal arts university to attending a case-study business school to technical sales at IBM to consumer packaged goods at Kraft and PepsiCo, to where I am today.
Q: Finding degrees of separation seem to go hand-in-hand with following your passions – and maybe even discovering new ones. How important do you think passion is when it comes to moving forward in your career?
For me, the key is to have a balance of passion and pragmatism when choosing a next step in your career path. For instance, the pragmatist in me chose engineering. However, instead of going to what many would consider the pre-eminent engineering school in the US, I chose an engineering school that was part of a strong liberal arts education. So again, I picked my major, but opened myself up to a broader opportunity. Passion and pragmatism is also what led me to business school – I chose Boston, a city I loved, where my then boyfriend, now husband was attending graduate school. I applied to leading business schools there but opted for a leading business school known for case studies versus a business school better known for technical marketing because I knew that would allow me to learn more.
The pragmatist in you can choose careers and companies that are iconic and excellent training grounds. But what's most important is that these opportunities also allow you to pursue your passions for what you like to do and the people you want to do it with. This balance has served me well and is how I made the leap from engineering to technical marketing to technical sales to consumer marketing – and again, from consumer product marketing to financial services marketing.
"For me, the key is to have a balance of pragmatism and passion when choosing a next step in your career path"
Q: You've made some changes in your career – and have done so seamlessly. What advice would you give someone looking to change directions in their career?
People often ask questions like, "I'm in finance but I really want to get into marketing. How do I do that?" The degree of separation approach works. What I tell individuals who ask me that question is: First, you have to be really good at what you do. Make yourself a finance star, because then you have earned the right to do something new. Try next to be the finance person on the marketing team.
From there, you can expose yourself to the marketers. You're a finance person, that's your major. But being a finance person on a marketing team? That is one step removed, and you will realize you have something unique and valuable to contribute. From there, you can make yourself known to all of the marketers and ultimately make the next step in your career.
Q: Your experience has made you a unique and strong leader. What do you think defines a leader? How do you determine what type of leader you want to be?
A good leader needs to be focused on superior outcomes, develop a winning plan to successfully achieve those outcomes and enable those who can execute the plan with excellence
Every successful leader should have a winning outcome or destination. A colleague used this wonderful line, "If you don't know where you are going, all roads will lead you there." Second, a leader must develop the best plan, most effectively and efficiently, to get you to that end point. Although there are always several ways to get to your destination, a strong leader knows how to choose the best plan for their team – and can get them there successfully. Third, I am a strong believer in the notion of servant leadership. To me, it is important for a leader to find a way to best, successfully, effectively and efficiently, enable their team to get to the destination.
For example, I just transitioned from a team of 70 people, to managing a team that's approximately more than double that size. There's no way I can get to the end goal by myself. I really view my job as "How do I best serve the 150 people on my team and enable them to get us there?"