JPMorgan Chase is the founding sponsor of and ongoing advisor to NatureVest, an initiative of The Nature Conservancy, focused on developing a pipeline of investable deals that deliver both meaningful conservation results and financial returns for investors. NatureVest brings together conservation leaders communities, policymakers and investors to build the field of conservation finance.
We are delighted to collaborate with The Nature Conservancy to build NatureVest and demonstrate that profitability and sustainability can work hand in hand.
Doug Petno, CEO of Commercial Banking at JPMorgan Chase & Co.
Dwindling Resources + Increasing Demand
With the global population estimated to peak at 9 billion by 2050, there is a growing need to maximize the pace, scale and effectiveness of efforts to protect natural ecosystems – along with the cities and communities that rely on them. Conservation projects that demonstrate nature's strength and resilience create value for habitats and communities, which can attract significant investment. Investment capital abounds, but projects that can translate investment into conservation outcomes and investment returns are in short supply.
NatureVest is working to close the funding gap that exists today by creating new opportunities to invest private and philanthropic capital in conservation projects that deliver financial returns and clear environmental benefits. Investors interested in a more sustainable impact from their capital can provide much needed financing for projects such as green infrastructure for cities struggling to manage stormwater, sustainable cattle ranching for grassland restoration and improved fisheries management systems, to name a few.
Develop a pipeline of conservation investments: NatureVest works with a variety of partners to source, develop and execute investable conservation deals globally engaging the participation of a range of investors to generate additional sources of capital for conservation.
Market insights: Through original research and convening of the industry's sharpest minds, NatureVest is developing the intellectual capital necessary to build understanding of the importance of a market for conservation. NatureVest has been a contributing author to two investor survey-driven research reports that scope and characterize the market for conservation investments, with specific focus on market segments, transaction participants, and deal types. The reports have been collaborative efforts led by Encourage Capital (2014) and Forest Trends (2017) with input and support from Credit Suisse, Cornell University, JPMorgan Chase, Encourage Capital, the Gordon and Betty Moore Foundation and the David and Lucile Packard Foundation.
In addition to JPMorgan Chase's founding sponsorship, NatureVest receives support from the Robertson Foundation and Jeremy and Hannelore Grantham Environmental Trust.
Additional Resources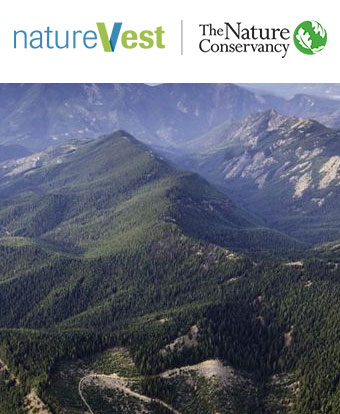 NatureVest brochure
With global population heading toward 9 billion by 2050, there is a growing, urgent need to protect natural ecosystems and the resources they provide.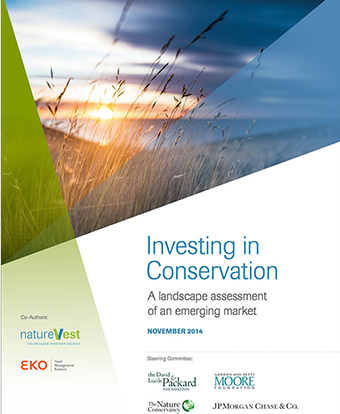 Research
Investing in Conservation: A landscape assessment of an emerging market.