Women on the Move is JPMorgan Chase's commitment to provide women with opportunities to succeed in their professional and personal lives.
The program's key objectives are to expand women-run businesses, improve women's financial health and advance women's career growth.
Through these efforts, our goal is to help secure an equal future for our female employees, clients, consumers and the communities we serve.
Our Focus Areas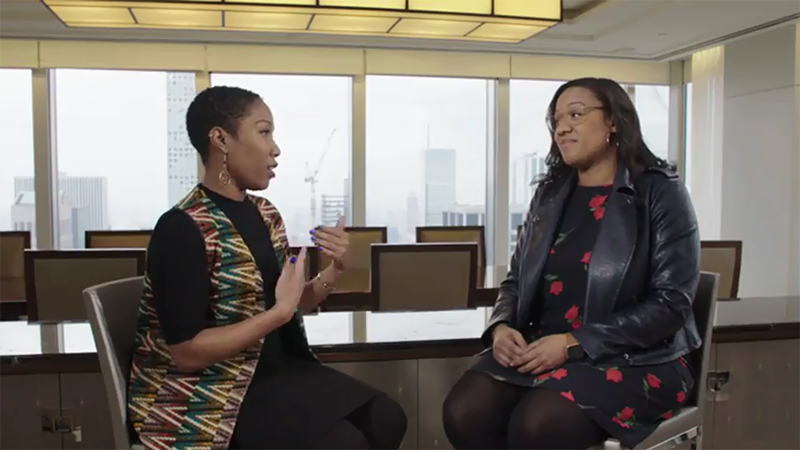 Empower Women's Career Growth
Stories
In Our Words
"Businesses like ours can have an amazing impact on the communities in which we live and work – we are the ones hiring the talent. We have the ability to change the rules and bring more women to the table early."
---
Lori Beer
Global Chief Information Officer
"The opportunity for women in asset management is massive. Women currently control 40-45% of private wealth in the U.S. and the number is growing. Women are living longer, inheriting assets and need financial guidance. I am proud and excited to see how Women on the Move will help us attract, retain and promote the best women in the industry as employees and clients."
---
Andrea Lisher
CEO, Head of North America, Global Funds, J.P. Morgan Asset Management
"Women are the cornerstone of our families and communities. When we help women advance, it has lasting impact on the broader economy, society and generations to come.."
---
Thasunda Duckett
CEO, Consumer Bank
"Women on the Move is our continuous effort to enlighten every office and branch across the global JPMorgan Chase network on the power of diversity"
---
Mary Erdoes
CEO, Asset and Wealth Management
"Women on the Move is forging the path where JPMorgan Chase thrives when women thrive, and I am pleased to be part of this movement."
---
Diana Farrell
President & CEO, JPMorgan Chase Institute
"Women have made great strides to date; and yet, there is so much untapped potential. Women on the Move serves as a building block to ensure that we reach greater heights in career advancement, wealth accumulation and the betterment of our communities."
---
Thelma Ferguson
Managing Director & Northeast Segment Head, JPMorgan Chase
"Our people are the firm's greatest asset and investment in our women's potential is one important way we continue to evolve and stay ahead."
---
Stacey Friedman
General Counsel, JPMorgan Chase
"There is a plethora of research that proves having more women in the workforce at senior levels…does improve the bottom line of companies"
---
Marianne Lake
CEO, Consumer Lending, JPMorgan Chase
"We're entering a great era of sisterhood among women in business – we help each other out, talk each other up, and we're honest and vulnerable with each other about the challenges we face every day. WOTM is a product of that change."
---
Kristin Lemkau
CEO of JPMorgan Chase U.S. Wealth Management
"Women on the Move is about harnessing the strength we have to empower women and support their growth, development and advancement. As women, helping each other thrive is critical to our shared success."
---
Robin Leopold
Head of Human Resources, JPMorgan Chase
"Our WOTM effort requires that we do many things right – from recruiting and training to recognizing and rewarding our developing leaders and valued clients. This is what enables us to attract, retain, encourage and support the best women employees, clients and consumers.  At JPMC, we think it's is a great day to be a woman."
---
Judy Miller
Chief of Staff, Office of the Chairman
"The scale and scope of Women on the Move magnifies its power for JPMC women. I'm proud that we are now also prioritizing female clients as part of our WOTM community."
---
Liz Myers
Head of  Global Equity Capital Markets, J.P Morgan Securities
"I'm proud to see us expand Women on the Move, which has been so meaningful to those of us at the firm these past five years."
---
Jenn Piepszak
Chief Financial Officer, JPMorgan Chase
"We're working diligently to develop an inclusive community at JPMorgan Chase. Now, we're proud to expand that mission in support of all women looking to achieve their highest potential and the men who champion them every day."
---
Laura Rossi
Chief Marketing Officer, Commercial Bank
Explore and Empower