OUR IMPACT

Women on the Move
Our initiative to fuel female ambition and advance financial equity
Overview
JPMorgan Chase has long focused on the empowerment and advancement of our women employees, and Women on the Move is our firm-wide commitment to create meaningful change.
Today, with more than 290,000 employees (almost 50% of whom are women), we are building on our success and reaching externally to expand our commitment to empower all women.
Expand Women-Run Businesses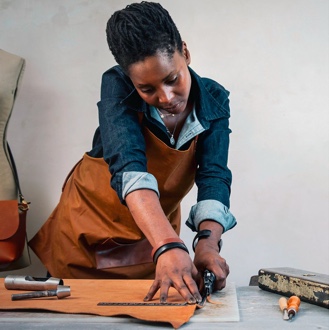 Expand Women-Run Businesses
We aim to provide greater access to capital, networking, expertise and advice to women-owned and women-run businesses of all sizes.
Improving Women's Financial Health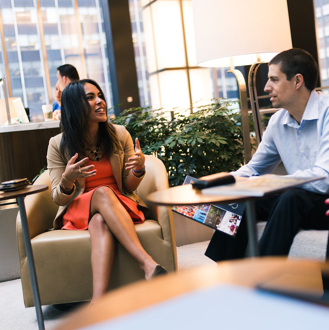 Improving Women's Financial Health
We provide education and tools to increase financial health and independence of women in our communities.
Advancing Women's Career Growth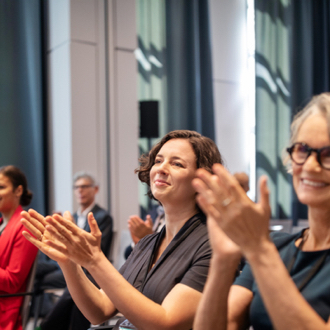 Advancing Women's Career Growth
We aim to recruit and retain more women at all levels, and help more women ascend to senior-level roles across the firm.
JPMorgan Chase helps fuel women's ambition and advance financial equality.
JPMC– Women on the Move Women's Leadership Day 2021 Anthem
[organ music]

Song:
I've seen joy and I've seen pain
Woman with Straight Hair and Brown Eyes:
We are all continuing to navigate global challenges.
Song:
I've seen fire and I've seen rain
Woman with Brown Hair and Light Eyes:
Especially women.
Woman with Long Hair and Brown Eyes:
While we're still tackling the lasting effects of the pandemic, women continue to grow, learn, and challenge expectations and limitations.
Song:
I'll keep on trying and trying again
Woman with Short Hair and Brown Eyes:
We've evolved, adapted, and shown up stronger than ever.
Woman with Shoulder-length Hair and Glasses:
We're committed, we're here.
Woman with Frosted Hair and Brown Eyes:
Women on the Move is here to help fuel the female ambition that will take us there.
Song:
'Cause I am a fighter I'm born to win
Oh
Woman 1:
To continue advancing gender equity and welcome the next generation of women.
Woman 2:
Let's make a future that works for all, with jobs that are more than just jobs.
Woman with Frosted Hair and Brown Eyes:
But careers that we can grow at any stage.
Woman with Brown Hair and Light Eyes:
Capital that builds wealth, and equity, and women-led businesses, and our local communities.
Woman 3:
Financial education to give women the tools, training, and confidence to succeed.
Woman with Wavy Shoulder-length Hair:
And give the next generation limitless possibilities. Because women are the driving force of our economy, society, and future.
Woman 4:
It's time to bring every woman together.
Woman 5:
Focusing on making our voices heard.
Woman with Long Black Hair:
Pursuing our dreams, staying curious, and building businesses to inspire future generations.
Woman with Short Black Hair:
Let's shape the workplace we want for 2021 and beyond.
Song:
No, I'm never gonna stop
Woman with Wavy Shoulder-length Hair:
I am the future.
All:
We are the future.
Woman 6:
It's time to come back together, stronger than ever.
Woman 7:
When we reinvest in ourselves and women around us...
All:
We can all power her.
[uplifting music]
END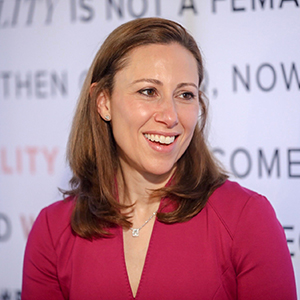 "We have an incredible foundation at JPMorgan Chase, with inspirational female role models and a great track record of gender diversity. However, there's no room for silence or complacency in the current environment, and it's critical that Women on the Move continues to support the professional and personal goals of all women."
_______
Sam Saperstein, Head of Women on the Move
View Transcript

(updates content above)
Hide Transcript

(updates content above)
Speaker 1:
Reconciling and making sure all three of those questions, who am I, who do people see me as? And who do I want to be aligned? And that's going to change because we're multidimensional and we change.
Speaker 2:
Okay.
Speaker 3:
Welcome back to season four of the women on the move podcast. I'm your host, Sam Safferstein women on the move is a global initiative at JP Morgan. Chase designed to help women grow their businesses, improve their financial health and build their careers. This season, we're taking you inside JP Morgan, Chase's annual women's leadership conference, where we addressed critical issues, affecting women, our diverse speakers, shared leadership lessons and career tips, and taught us how to take care of our wellbeing. Overall. They had one thing in common optimism about the future and unwavering positivity. It's a fascinating season. You won't want to miss this year. For the first time we decided to bring in a host for our leadership event. When we started thinking of the perfect woman for the job, Allie love immediately came to mind. Allie does it all. She's a wellness guru, Peloton instructor, host and entrepreneur, and women's leadership day. She took us through her three M's matter mind and meaning to help our audience stay grounded and present throughout the event. Allie graciously sat down with me to discuss her journey, to becoming a leader at Peloton and the vision she has for herself and her company loves squad.
Speaker 3:
Allie, thank you so much for being here with us today and our women on the move podcast. It's great to speak to you.
Speaker 1:
I am so grateful to be here with you, Sam. It's just exciting to be a part of women on the move and of course, to have this conversation.
Speaker 3:
So Allie, you're a Peloton instructor, the host of the Brooklyn nets, a health coach and the founder and CEO of love squad. So that is a lot of things that you juggle and do, which is very impressive. And it sounds very exhausting to me, but I'm really, I just want to, I love to start out and ask you, what does a typical week look like for you and how do you balance all of those responsibilities?
Speaker 1:
Uh, that's interesting Sam, because typical is not something that I subscribe to. I don't think that there is a typical weekend sincerity. And the reason is because I look at my life like a buffet where I'm not someone who wants to order, uh, already curated a plate of food off of a menu. I'd like to Alec Hardin. I like to switch it up. And that's something that I knew since I was a young kid, is I like to do multiple things and I like to do it differently every day. There's an excitement and a thrill, some adventure and spontaneity and waking up fresh on a day and saying, Hey, what's on my calendar. What's on my agenda. What's on my to do. And so I think when I look at my career, I pride myself on it. Not being typical, not necessarily a vertical career, there's nothing wrong with a vertical career. I definitely all my bosses out there that have vertical careers, you, but in terms of something that I know where I find joy and I find excitement is specifically around the concept of the slash generation of wearing multiple hats and doing different things throughout my weeks.
Speaker 3:
So I love that you take a real portfolio approach almost to a career with all these different things. And as you said, it sounded like you always wanted to have that for yourself growing up. And even when you were younger thinking about your career. Absolutely.
Speaker 1:
I think we talk about diversifying our portfolio. I often talk about diversifying our training program, but it's specifically, I guess, in this case, it's diversifying your career choices or career options or even career titles. And I think, yeah, at a young age, I knew that there was a lot in this world. And I guess growing up in Miami, Florida, I didn't necessarily have the opportunity to travel with my family. We were a middle class family, very blue collar. We hustled my mom and dad and made it happen, but I got to see it all on TV. And I said, you know what, if there's a world out there, I want to live it. And so I've always been adventurous inside and out. And in terms of not only being able to travel the world as an adult at forging opportunities, but also when it comes to my career, I know we get so caught up in what's my life purpose.
Speaker 1:
Or like, what's that one job I need to get that one job I've been in that position multiple times. And what I realized and I find solace in is that it might not be that one thing, that one person at one job, that one situation, it can be multiple. And so this concept of moving away from the one, the one and only, and just living a little bit more has been a part of me. I think it comes from my dad a little bit. He's like the hippie of the family. And I feel like he's given me that like, yeah, when it comes to life, you work hard. Don't overly stress about it. There's a lot out there.
Speaker 3:
That's such a freedom in a way to give yourself permission, to do a lot of things and not find the one right thing. So what would you tell, especially younger women who are thinking about starting out and a lot of people think I must find that one perfect job, or I'm going to have to aspire only to one thing. What would you say to them just given what you've built for yourself and what you see as possible?
Speaker 1:
I think I could probably use Sheryl Sandberg's words better than I could articulate it. Is that a career as a jungle gym? So there's never a straight line. There's never usually a destination. It's a quote, Kim Scott. There are times in our lives where we're superstars and then we're rocks are superstars. Or when we're in that jungle gym and we're swinging baby, we want more, we want to do more. We want to experience more than there are moments in our career and our lives, where we're rockstars, where we just want to be here, do well and stay in this one place. And so understanding that those moments in our lives are interchangeable. I think when I think about the listeners out there and in particular, a young woman or non-binary, or non-gender conforming person, who's listening and saying, yeah, I just kind of want that one career.
Speaker 1:
That is a great goal to have, but also understand that the first step and the second step may take you in a different direction and being open to that, listening to your gut, listening to intuition. And I am a person who I will say, I have this sensation around spontaneity and enjoying life, but I am pragmatic. I am realistic. So I do balance it out of listening to my gut, listening to my heart, but also listening to my head and asking for advice. But maybe it's not necessarily that one. It's just that one step for now.
Speaker 3:
So you said something along the lines that you don't want to be just inspirational. You want to be aspirational. So tell us what you mean by that and why that choice of words is so important. As people think about the role models they have and how to really internalize the things that you're coaching them to do.
Speaker 1:
Thank you for asking me this and noticing the difference in those two words. And so this actually came to me when I started my Peloton journey as an instructor, I would often see on the homes of the members when they would share on social quote boards. I too on social, always. I have a love note where I write a little note and I put it on my Instagram, a motivational quote, a reminder. And the reality is that you can find these things on Pinterest. You can find them in your home. You can find them on your own social media or on your refrigerator. Like I have in my home growing up. And that is inspiration. You can read something and it moves you. It gives you a little bit of goosebumps. It gives you that maybe internal butterflies in your stomach. But I think the reality is that the difference between those that are successful and those that aren't quite there yet is that they turn that inspiration into action and they become aspirational.
Speaker 1:
And they're doers of the motivational quotes or those concepts or those parables or cliches. They're the people that people talk about. They're the people that they write the stories about they're the people that the cliches were created for and about. And so when I think of being inspirational versus being aspirational, I would always encourage myself to push my brand to the point. And when I need brand those of you out there, you can use it interchangeably. If you don't like the word brand with reputation, my reputation, my social responsibility, I often push myself to the point to say, is what I'm doing with my life, encouraging people to take steps, to move, not just their body, but of course their mind, their thought pattern. And so to me, that's a different inspirational goosebumps. Butterflies makes you smile. You might even have a little bit of an epiphany like, Oh wow, that's inspiring. And then aspirational is like, you know what? I heard that, and here's my next step. Here's what I'm going to do. Here's what I did. And I think that that's the difference.
Speaker 3:
It's a huge difference. So I love that. So for people listening, it's that taking action step that you really want them to go forward. Not just feel good, but actually do something. So I love that. We're going to hang onto that. I think you've brought that aspirational approach really to two big things you're doing right now. Obviously one is love squad, which you started and the other is the Peloton community, but let's start with love squad. Tell us what it is and who you're targeting. What's your audience?
Speaker 1:
Absolutely. So love squad was created out of a sheer lack of resources and frustration as a young woman in New York city. I don't know if any of you have had this situation that are listening, but I came to New York wanting to follow my big dreams and whether it was New York or another place, or even in your own hometown, your dreams can be daunting. It can be overwhelming. You don't know where to start. And so in my case, I came to New York and I wasn't in any rooms where I was around women that looked like me or women that had variety of experience and thought that could influence me in terms of networking in terms of building my career in terms of providing insights of what the next steps talk about, taking that one step, what that one step might be or look like. And so I was completely lost for a while and it was, again, coming to that point, I was frustrated and it didn't have the resources to reconcile this.
Speaker 1:
And what I mean by that is I mentioned my family, you know, again, blue collar hardworking. My mom and dad are amazing. Did a great job. If they're listening, you did a great job. And so with that, I didn't necessarily have the resources at my fingertips to buy tickets, to events or go hear panels of other people that were inspiring to listen to. I didn't have that. And so I sat down one day and I was like, am I going to complain about this? Or am I going to boss up and figure it out? Because I know that I'm not alone. In most times in my life, I actually lean on that. Sam has that. I'm not alone. I know that my situation may be unique and a little different, but I'm not alone in going through something similar as other people. And so what I like to do is I'd like to provide a solve.
Speaker 1:
And so I created a small business that probably no one at the time cared about. And I called it less. What I love is my real last name. I called it squat. I wanted to be as inclusive as possible. Everyone's invited. And I wanted to basically offer the information that I had learned as a young woman. It's still being a young woman in New York city at a low to no cost. As we know, access is expensive, knowledge and information is expensive. So I want it to break down that barrier and take away that wall, that point of entry. And so I invited my friends to an event. I partner with a space, got everything for free, using the gift of gab. As you can tell, invited women in my industry that were doing amazing work. I had about three 8,000 followers, which is a lot of followers.
Speaker 1:
I'm not going to knock that. Yeah, it's a lot of people, but not all of them lived in New York. And so I invited everyone on my Instagram and I said, Hey, come out. This event will be free. You'll get a gift bag. You'll get food, make sure you have sustenance and everything. And you're going to get access to these women speaking about their career and how they made it. You're going to get information for free. And what ended up happening was I put that out there in 15 seconds on event, bright, I sold out. We could only hold 50 people, Sam, again, small event did what I could. So without 50 people in 15 seconds in a 75% waitlist. And in my mind, I'm like, Oh my gosh, people want to come. I will tell you on the low, since it's just me and you.
Speaker 1:
I didn't tell the people on the wait list. They couldn't come. Even though we could only hope 50, we packed out the house. Yeah. You know, because again, information and networking is expensive. And so we had that event. It was successful. And I will say I walked away from that event realizing for the first time, in a very long time that this is what I was made to do. I was made to hold space, create and curate community and have conversation. And so that's what I did. Low squat became a thing in terms of our target. The interesting thing is most times, you know, as a business woman, when you're looking, you have to have a target audience, you have to make sure that your marketing and your branding goes towards that target audience. And you're speaking their language and all of that, because at the end of the day, there's a bottom line.
Speaker 1:
Our target market is so vast that it's representative of our country. It's very diverse in age, race, and culture, which is what we pride ourself on. One of the founding principles of love squad is I remember walking into an event in New York city and I was the only black woman there. And possibly I think the only woman of color and I left right away. And I said, I'd never want to lose one event to be dead. I want you to walk into the room and I want you to feel like you belong. You don't want it to be homogenous. And like, everyone looks the same. But when you walk in, you see diversity because innovation and progress comes from a diversity of thought and seat at the table. And so if I wasn't holding space, there's no way that I was able to progress and feel good about it.
Speaker 3:
No, I love that. And I think we feel the same way too. I mean, all these movements have to be for all women, no matter who you are, age background, it has to serve all. I mean, that is a fundamental truth and starting point. So I love the fact that you brought that to so many people and resources that I'm sure many women are really desperate for. So thank you. I think that's our huge value this year too, especially is giving a lot of people cost to rethink their priorities. What do they want to do? What's their focus? How do they prioritize health and their wellbeing and the things we talked about at our leadership day. So what do you recommend to people especially now? And they want to make a change? How can they start to make that change? Especially when they don't know where to start
Speaker 1:
One, I applaud you for your vulnerability of even deciding to make a change. Personally, if you're in that position, because that's not easy coming to the realization of, Hey, I need to change my life or I need to change something about me. One is not an easy pill to swallow and to most people rather not think about it. So again, I applaud anyone who's in that position or even something similar. But I would say the first step is to answer these three questions and these questions, aren't easy to answer and take all the time you need. But this is how I had my moment. I think in the time of my career, again, like as a young woman in the city before even love squat occurred, I was lost. I told you, I didn't know what I wanted to do. And I remember walking down the street and a moment of frustration of like, who is Allie love.
Speaker 1:
And I would always say, Sam, I'm a good person. I'm a good person. What does that mean? I couldn't tell you what that meant. That was my description of self. Who are you? I'm a good person, but nothing else. And so I got frustrated with myself because I didn't have any other answers. And then I realized internally having internal dialogue, there are three questions, three fundamental questions in this self-awareness that we should ask ourselves. I do it by annually because we change often. So it takes time to even come to these answers. But it's who are you? Who do you want to be? And who do people see you as? Who are you being able to articulate beyond? I'm a good person for myself is really important. I am an impact. I am a motivational speaker. I'm a leader. I'm fun, which is important. Um, totally your favorite party guys, I'm approachable, which is also important.
Speaker 1:
And I am inclusive. The second question is who do people see you as being able to make sure that all three of these questions have the same answer is important. And so if I asked you Sam of like, after, you know, we've met a couple of times just virtually because we're experiencing a pandemic and I was a part of the event. I'm pretty sure some of the things that I just laid out, you might say about me. You might say, yeah, Allie, I see you as those things. I knew you a little bit before that translates on social. That's what I want to leave people with. Right? And then the last thing is, do I want to be all those things? Is that ultimately who I want to be. And so reconciling and making sure all three of those questions, who am I, who do people see me as? And who do I want to be aligned? And that's going to change because we're multidimensional and we change. But just know in those moments of your life, you want to be able to articulate all those things. And I think it doesn't come easy. It takes time. It takes you thinking about it. And I encourage, I encourage you to have those conversations with your internal love squad. So your BFFs, your moms, your coworkers, and say, yeah, crowdsource, who am I? Y'all when I leave this room, what do you say behind my back? Tell me beyond
Speaker 3:
Feedback. I love it. I just love how you express that too, because it's doable. It's very, I don't want to say simple because it's hard to think of those things, but you don't need technology to do it. You can do it any time. You're comfortable. You can build on these things over time, depending on how far you push yourself in, in your thinking. So I love that. And it's funny that you're describing things, you know, I would say for you, you're so authentic. You know, what you stress, I think to people really, really comes across and having had my ass kicked in your boss up classes. I know that you can have a great time on the bike, but be really tough too. And the funny thing is, when you say you're going to hate me for this, but you got to do it. And I'm like, yes, yes, I have to do it. Um, so it's a really hard balance to have fun and yet really push people and do it in a way that at least for me, I feel like you're pushing yourself too. So I really thank you for that. You know, you go out and you do love squad events. What are the things you hear from folks? Or is there a story that someone shared with you that made you think, Oh my God, this is why I do this. That was great.
Speaker 1:
Yeah. Testimonies are always important. And I appreciate any of you that have come to a love squad event in person or virtually. Thank you for sending me all the great feedback. I think one of the events that stand out to me current right now in this moment, we do in April equal pay day. And so we had an event around negotiating and one of the hardest things for most women, or non-binary that identify similarly is this idea of going into a room and negotiating someone about their worth. And we had a moment of, it was probably about 125 people at this event. And this was the most emotional event that loves what had put on, in a sense, wow, I did a one-on-one expert discussion with a financial advisor and a woman who runs a financial institution and an investment firm. And so we broke down into small groups, came back together and decided to do a little bit of a opening session of like, would you like to share with the group?
Speaker 1:
And of course just like any normal group of people, any usual group of people will say like, no, I don't have anything to share. So we waited patiently that awkward silence says pay off after a while. And so many of the women in the room actually raised their hand and came to tears. And the fact that, yeah, I got a lateral promotion, no money, no money, no money. So I said, so you were telling me that you got promoted to do more work without compensation. And while sometimes that can be beneficial, cause I'm not knocking it, but there was no clarity around it. Or I got to know, and I don't know what to do. I feel like they don't value me and I'm hurt. And so my advice, because as an entrepreneur and as a woman who, who has to figure out her career, I had to learn, negotiate a lot of contracts without a lot of knowledge behind them.
Speaker 1:
I said, the negotiation doesn't start until no. So what's the worst thing. And I'll give this tip for free. My love squat out there. What's the worst answer you could get when you walk into a room to negotiate for yourself. And most people said, no. I said, actually, that's the best answer you can get. The worst answer can get is yes, because guess what? Guess let's say you go in a room and you said, Hey, I need a promotion. And I needed this. And your boss says, Sam. Absolutely. And you walk out and you're like, I did it. You call your girlfriends, your mom, your dad. You're like, I did it. I got the promotion, I got the raise. I got more money. And they're like, how did it happen? You're like, I walked in there and I said, I needed this. And they said, yes. Okay. What you forgot though? Is that I think you're asking might've been too easy.
Speaker 3:
I think you're exactly right. Like, as you say, I did get that easy. Yes. I would think I should have asked for more number one or number two. Oh my goodness. They know I should have had this already and I've been late to the table and they're giving me something I should have had. So you are right. I'm not feeling good about that. I would, I think about a no. And then you come back to ask, so, so how do you tell people go back in, put out your next offer?
Speaker 1:
Yeah. So once you get that, no, you can either, again, some of us, including me, there are many meetings. I've gotten a little bit emotional and I don't want to be the emotional and not necessarily crying, but I'm like, okay, I need to actually think clearly. And you could say, you know what? I'd love to follow up on this meeting. Could I put something on the calendar, the next two, give yourself time. Since you really to think about it, digest it once you get that, no, you go back to your manager, your whoever you report to directly and say, well, what's the roadmap to find that yes, I'd love. I'd love a tangible roadmap to find that. Yes, because we're going to have, you know, you have your annual biannual reviews. We're going to have these reviews again in the next few months. And so I want to make sure that I'm applying myself and offering and being a value, additional value to the company.
Speaker 1:
They're always going to say its budget. It's always been with, it's always going to be something their job, just like when you want to hire someone to do anything in your house, you want to get the most amount of work for the least amount of money. So don't blame them for that because everyone wants the same thing. It's your job to say, Oh no, no, my value add is this. And now you help me get there. Your manager's job is to help you get there. Give me a tangible roadmap and let's follow up. Make sure there's a follow-up meeting. So there's much more to that because it's not just a one size fit all. So, but that's again, a more kind of cookie cutter approach that could potentially help many people. And that has come out of the event. So that event in itself was iconic for love squad, because I didn't realize that so many people had problems with negotiating. And I was like, yeah, let's talk about it. I love this moment for claiming agency.
Speaker 3:
It's a great reminder. And I think the more you do it, the more comfortable you get with it, the more comfortable you get with asking with maybe hearing no with taking the time to do the work, to go back for the offer and realize it's always a process and that the best things you're going to get might take that time. And that really good thought. But to your point, you know, managers who you might be speaking to, you know, presumably they want to retain you. You are terrific value for them. You're a great performer. It's a lot easier to keep you, then find somebody else. So keep those things in mind when you're asking for things and ask and always ask. So I'd love to talk about the Instagram series. You have basics of bossing up. Let's talk about that. What is bossing up and what are your best bossing up tips?
Speaker 1:
Absolutely. So basics of bossing up, nobody wants to be called basic, right? Everyone's like, Oh, I don't want to be called basic. There's a moment in this new Netflix show in Liam Paris where she has this moment. And he's like, well, you're just basic. And she's like, maybe I am basic, but I'm your customer. Like, I'm the one who's dreaming of your couture gowns. And all I can afford is this cheap key chain that I put on my purse. And so maybe I'm basic, but basic means something. And I'm like, you go girl, because I've always subscribed to that. This idea of getting back to the basics is not easy. Getting back to the basics, actually challenging. And so Boston got to answer your question is when I say be a boss, I'm not talking about, we were just talking about managers. I'm not talking about your manager.
Speaker 1:
Everyone has a boss in their own, right? Not because I said so, because your mother said, so your guardian said so and so in that it means setting the standard, establishing the tone. So setting the standard means when you go into work, you're not just going to follow the rules. What are the rules I'm going to do? Exactly. And the rules, no, you're going to be innovative. You're going to share thoughts and ideas. You're going to give yourself to each project. We all do that, right. Which is why they always talk about many of us, the millennials, or many of us in general, just that eliciting, how we overwork ourselves, right? We give ourselves to our job. And the second thing about being a boss. And when I say you establish a standard and setting the tone is that when you walk into the room, you have power, you have personal power to influence anyone around you.
Speaker 1:
So if you walk in a room, I don't know if you've experienced this in a meeting and someone walks in or you don't zoom at this point, people come in and they just have a really like sad, nasty face. You're like, Oh, why are we being sad, Sally today? Like, I don't need that energy. I just had my macho or my tea or my coffee. And I'm just trying to live my best life because that person has power. You have power, your energy is contagious. So as a boss, you want to go ahead and I talk about reclaim agency. You want to step into that power. When you walk in the room, you set the tone, you get to decide to be positive, to influence those around you, to smile, to provide energy, to be upbeat. You have that. And it's not to say, go against how you're feeling that day.
Speaker 1:
We're all entitled to many uncomfortable, bad days because we are a multifaceted people. But just knowing that's your responsibility as a boss, you know, and I think that that's what it boils down to is are those two things, a tone and a standard. You live by a standard that's higher than the rules. And not that you're above the law or above the rules, but that you push beyond that and being innovative. And that you set that tone. Whenever you walk into a room or zoom, you have that power people care and you have it, it's in you. And that means you're a boss.
Speaker 3:
What I love about that is it comes from within. It is not dependent on your level, your experience, what other people are bringing to the table. It comes from you and you always have that power to decide when and where you're going to bring it. And hopefully you can bring it consistently to your best ability. How did people respond to this? You know, when you're out there talking about this, and of course I hear and see it from a passive Peloton member when you're out there also just talking to people, love squad. How do people respond?
Speaker 1:
I think most people have the aha moment. So when I do my basics of bossing up, which is like a weekly series that comes out on my Instagram is less than five minutes. I'm usually talking like this because I want to get as much as possible most times. And I often say, this is that I'm not here to tell you anything new. I'm just here to remind you of who you are. And so the basics of bossing up is they're just reminders of how to be a good friend, how to evaluate friendship is just a reminder in terms of negotiating or budgeting or morning routines, how to establish new habits coming back to the basics. And so most times in the comment sections, a lot of the comments are, Oh my gosh, I forgot about this. Oh yeah. I used to do this and I need to start doing this again.
Speaker 1:
Or I was just having this problem and this reminded me of how to solve it or how to reconcile it. And so that in itself is that I know that I'm put on this earth. I don't think I can, for lack of a better cliche recreate the wheel. And I don't think that there's any upside in that. And what I think though, is that we get so inundated with media, social media, feeling down and ragged that we forget to get back to those simple things that work, the simple things that make us who we are. So that's the basics of bossing up.
Speaker 3:
Thank you. I love that. So let's talk about your role as a Peloton instructor and coach and this community, which is now 2 million strong or so. So you have this 3 million, whoo. This platform I think, has been so unbelievable, especially during this time when we've all needed to come together. And we can't physically the fact that the company modified things to do it from home. The fact that members encourage each other, you play a really strong role in this. And I think you bring a very unique angle and persona, frankly, to the instructors there. But I'd love to hear from your words, you know, what are you trying to convey? And especially when you have either your boss of brides or Sundays with love rides and you have very different rides during the week, I think that might cater to different audiences. So tell us about what you're trying to do and how you'd like to reach people.
Speaker 1:
Absolutely. I think one Peloton is an incredible company. I want to give a shout out to not only our members and our community, but of course our instructors and those that work for Peloton all over the globe. We're a global company, 3 million plus strong, and we've grown over the last seven years, quite a lot. And I will say, I am very grateful that I get to do what I do. I love what I do. I actually wrote this morning at 6:00 AM and a pop ride. And after the first song, I literally looked into the camera and I was like, do you understand that? I love my job. Like, I'm so grateful that I get to do this and what I try to remember each time that I get on that bike. There's a couple of things that I think makes Peloton unique. Obviously it's the intersectionality of fitness of media.
Speaker 1:
And of course of technology, this concept of innovating. When we have a bike, we have a bike. Plus we have a tread, we have a new Peloton tread that came out. And I think that we're always innovating, not only with hardware, but with software with content itself is that this level of humanity that not only is the foundation of the culture in the corporate office, but also in our community is what I think sets us apart. The ability to know that just because I'm on the stage and I'm on the camera, it does not make me any better than you at your house in Kansas and Wichita, Kansas, or in Germany or in the UK or in Canada. It does not. And I said this earlier is that maybe I might be going through something as a woman, as an individual. That's unique to me, but the fact that I am going through something, I know that I'm not alone. So saddling up, we have 25,000 people already counted themselves in for our first Sundays would love season two. That's happening this Sunday
Speaker 3:
Likely be there with you live and certainly more we'll take it on replay. That's a huge number of folks or dedicated.
Speaker 1:
Yeah. And I think it's, again, that level of humanity and say, we all want a great workout. We all want to enjoy it while we do it. But one of the things that's really important to me and to answer your question of what do I want to offer is that I want to make sure that I create space for everyone. Again, I, how it feels to be on the outside, looking in knocking. I know how it feels to walk in and be a party of one. We don't subscribe to that at Peloton. And so for our community, we want to make sure that whether I teach a classic rock, which I taught yesterday, or pop this morning or country ride or Sundays with love, which is thought provoking spiritually grounded, a celebration of life, or that boss ride that you might be hating me during the ride, but you'll love me at the end because it's so hard.
Speaker 1:
I want to make sure that I'm able to not only provide world-class fitness in terms of science-based workouts and roadmaps, but I'm able to speak to you. I always am here to change your heart. I'm here to change your heart with my words. And it's a full body experience. One of the things that I came to a conclusion about during this pandemic is that we talk about self care being only physical. You think you only saddled up to get a good workout. And the reality is, like I said, we're multi-dimensional yeah, your self care, your wellbeing is made up of your physical wellbeing, but also your spiritual, your mental wellbeing. So when you saddle up, you hear my words. And what I want you to do is I will also want you to feel my words. So you're getting that physical, that spiritual net mental workout that you didn't even know you needed. You're like, Oh my God, I was just listening to like a pop song. And I was just vibing out. I didn't know that it touched me in that way. And so it's kind of like wrapping your vegetables in some like cotton candy a little bit.
Speaker 3:
It's so funny. You said that when I took your pop class and you played fireworks at the end, by Katy Perry. Yeah. So I listen to that song and my nine-year-old daughter, and I've heard it a million times. And you said something along the lines of, and this is for all of you who don't know what to make for dinner and your kids are driving you crazy and you don't know what you're doing tomorrow. I'm like, that's me. And then I really started listening to the lyrics and I was like, yes, you know, really got it. It's just funny how you had that ability to encourage people and get really absorbed. So it is very meaningful. I'm wondering when you prep for any of these rides, so you have to think about the music. Of course. Are you thinking about what you want to say? Are you thinking about how to translate the music and those lyrics into your words of motivation and encouragement?
Speaker 1:
I think it depends on the ride. So Sundays would love, takes me quite a while. I have a bunch of notes actually right in front of me and my purple notebook, because that's the color of the ride around what we're going to talk about because each ride is based on a virtue. It was a juxtaposition of it being spiritually grounded, but it started off around Aristotle's 12 virtues to make sure that there was a level of philosophy. And so Sundays love takes me a lot longer to plan, which I don't mind, but other rides, yes, it takes an hour, a couple of hours depending on the ride itself. And we curate our own roadmap, our own playlist. And in terms of planning, what I'm going to say, I don't have the moment. Yeah. Humanity. I want to feel what you're feeling. And so if you took the bus ride yesterday, there was a moment in the ride where I couldn't even kill you because I told us to go to a place in that resistance that was heavy. And I went there and I'm literally breathless with a mic on talking to thousands of people. And the real truth is can't speak right now, need air.
Speaker 1:
Cause
Speaker 3:
I'm certainly like, but I can understand that. And that's good to see, and we know you're doing it right alongside of us. And I think that's a really special thing to have to recently introduce bar classes and yeah. Talk about how that evolved and what makes you so excited about this form of exercise?
Speaker 1:
Really excited. We, we released a collection with another instructor, Hannah Corbin and I, and it's 10 classes. And the reason why I was so excited about bars, cause I'm a dancer. I came to New York to dance and that's what I did. I dance with Beyonce. I dance with pit bull dance, a white class. I got to tour a little bit. I danced in like an on ballet. Like I've been able to dance and do summer programs and all these things while I was here in school. And so the ability to not only move my body on the bike, but then to unclip and take off my shoes and put my bar socks and go back to some of those dancing routes, which I might add was a little bit nerve wracking. Because if any of you out there went to ballet classes, when you were young, they were great for discipline, but they might have scarred you just a little bit.
Speaker 1:
And so I had some of those moments where I was just like, you know what I'm going to do. I'm going to actually wear all white in the first class. I shoot because I want it to go against the negative self-talk I had from those wounds that I had from ballet growing up. And so I were white and I was like, I'm going to live here. Everybody is welcome here. And I wanted to celebrate that for myself and just like, again, go against the negative self-talk. And so yeah, bars, a collection. It's also, I will say a direct reflection of how Peloton is always innovating listening to the community. That was something our community said that they wanted. And I was asked if I would be down to teach it. And I was like, yeah, let's rock and roll baby. And so it's incredible. It's there on demand under strength, you can find it. And so we're always listening to our members and innovating with them in the forefront of our head. And so just give us time if you're like, where's more, there is more, but we're here trying to not only be thoughtful around our content, but also make sure it's polished and up to standards so we can continue to lead from the front.
Speaker 3:
And these classes are hard. I can attest, they are killers, core killers, but very fun. So you talked to folks, obviously during your classes, you have a very robust social presence on social media. How do you maintain your privacy and how do you talk to folks out there, but sort of say, you know, kind of enough's enough at a certain point, putting a lot out there and sometimes you don't really need to hear back from everybody and what they think about every single thing you're doing, you know, how do you do that for yourself? Set those boundaries.
Speaker 1:
Yeah. Sometimes the DNS, you just got to look away, you got to look away. There's a lot of unsolicited feedback that comes my way. But one of the things that this came up for me quite early, when I started social media and being a little bit more in public facing, particularly when I started hosting for the nets, because that was my first platform where I was the only talent, the court, 18,000 fans, 41 home games, let's play off of preseason. And what I realize and what I've also just made sure that I've been steadfast about is privacy and transparency are two different things. And so I want to be transparent with my community. I want them to trust me because I trust them. I teach my community how we engage with each other, how we speak to each other, how you show up in my comment section, how I would show him your comment section.
Speaker 1:
I often remind our community. I am someone's daughter I'm someone's partner. I'm someone's sister I'm someone's granddaughter. And if any of my family, if my grandma looked at these comments section, even though she probably doesn't know how to work Instagram right now, but if she did, or my mom looked, I wouldn't want her to feel disappointed or hurt by a comment that you left. And so I make sure that I'm outspoken about that is that don't ever misuse the transparency and the trust that I have that I want to give your insight to what does a life around Allie love looks like? And it's not to say, I want to just boost my own brand. Sincerely Sam it's. It goes back to that concept of love. Squad is if I can help you get from point a to point B, which took me two hours.
Speaker 1:
If I can get you there in 90 minutes or 60 minutes, then job well done. And the only way to do that is to offer information, to offer insight. And that comes through my social platforms. And so I am transparent because I'm hoping not only to make sure that things are aspirational as we talked about, but of course, making sure that I'm offering information to those that follow me. That's useful within that. There's much about me that I make sure I protect when it comes to my family, because I don't think that it should compromise their privacy or how they want to live because I'm somewhat of a public figure. And so I'm mindful to make sure that there is a line. Sometimes it can be fine, but there's a line between transparency and privacy. And so I do pride myself on making sure that the public doesn't have access to certain rooms in my house or certain areas of my life or certain days of my week or certain people, because I want to be protective and respectful of my legacy of my heritage. And those that around me are the unsung heroes that you don't see on Instagram. I want to be respectful so they can continue to thrive,
Speaker 3:
Makes it all make sense. I love that. Now talk about this year. What's been some of the greatest challenges for you in this pandemic and have you gotten through them? You know, are there things you've done with your diet, your exercise, regimen, sleep, things that really helped you and made a difference to you.
Speaker 1:
What hasn't this pandemic has really put ourselves in the mirrors. We're like, Hey, go talk to the person in the mirror. Are you that person? I think that the challenges we face, not only with COVID-19, but also with family and work and finances, dreams and timelines. Wow. Timelines, those of you out there that are we're supposed to get married or we had timelines and those plans were put on hold, if not shut down, if not sincerely destroyed for some people. And so I think for me in facing these challenges, I often say in life, and you will hear it. If you ride with me on Peloton. If I say, if it's hard, I raised my hand, sign me up. This has been a hard time. And in the moments of it being overwhelmingly challenging, I remind myself if anyone can handle hard, it's me. I didn't say if anyone deserved heart, so whoever's listening.
Speaker 1:
I didn't say that you deserve this. I deserve this. My natural reaction to him is like, I don't deserve this. I don't deserve to be put in this position. It's not what you deserve right now. We're facing it and we're facing it together. And so if anyone can handle it, I think it's me. And so that's something that I've talked myself through during this time. I mean the silver lining here is I've used it for self-awareness. I've gotten a lot of my best thoughts. I've asked myself a lot of these questions. Who am I, who do I want to be able to people CVS, those three questions I had to ask quite a bit this year more than biannually. And so it's given me time to think, what kind of daughter do I want to be? Am I being that daughter to my mom? How can I be better of support?
Speaker 1:
I also had the luxury of audio books. I think reading is a luxury. I can't afford this point in my life. And so I have leaned into resources and really listening instead of speaking so much, because I do speak a lot here. You're still listening to this podcast on speaking. So I think, yeah, a lot of it to answer your question. A lot of it is hard, but again, I raised my hand if it's hard. And if anyone, I remind myself when I wake up, if anyone can get through hard it's me and something that my boyfriend, Andrew always says who he is my secret weapon, for sure. He always says around situations or circumstances, it may be hard and it may be easy, but it's not complicated. And so I think when we are living in the less complicated situations, even particularly with COVID, we're living in this grief or happiness, we don't know. It's just a very anticipatory state. Just share some moments that it's hard, cherish the moments that it's easy.
Speaker 3:
Speaking of challenges, I had read that as a child, you were in a car accident and you were told you might not walk normally after that, which is unbelievable news to hear as a child. I may, I can imagine what your parents thought. How did you overcome that? And what did that experience teach you in terms of your ability to overcome things like that? Talk about challenges. And this year certainly was, but sounds like you were facing a life-threatening challenge is significant one, and you've already had the experience of overcoming that. So how did that change? Who you were? You know, since that time
Speaker 1:
I was nine years old, I got hit by a car, going to the ice cream truck for my cousin, look, both ways crossed the street car was parked behind the ice cream truck and it hit me. I broke my left femur, put me in the hospital for seven days. And it was around the fourth day. I had to wait for four days with a weight at the end of my ankle separating my femur bone that broke because they didn't have a pin or a plate as they, it for a nine-year-old girl cause who breaks their hips, older people. And so the reality is, as we talk about COVID in this concept of hard, easy versus complicated, this story during this time has come up for me. I have never really shared this story until the last six months of being in a pandemic. And it was me doing this internal work, asking myself all these questions.
Speaker 1:
And I brought myself to start sharing this story in particular because I, along the journey of those three questions, who am I, who do I want to be? Who do people see me as I wanted to know to? Why did I believe some of the things I believe right now? Like why do I believe it now? Why did I? And I started just like taking moments of thinking. I put on moments on my calendar to think about thinking. And this moment came up for me. And I remember a conversation that I had with my mom. I never forgot the conversation, but I replayed it during this pandemic. And my mom said, she talked to the doctor, came in the room and I was laying there and she said, listen, it's not looking good. You have two options. Your first option is that if you feel like the fight is too hard, you can go on.
Speaker 1:
You can let go. You can let go. Your dad and I have spoken about it. We will support it. Your second option is that you can fight. You can pray to God and you can fight. I cannot fight for you if I could. I would. She said, why don't you think about it? And you decide, and you let us know what you want to do. I do not think at any point in my life, I could have that conversation with anyone, let alone my child who's nine years old. And this is why my mother has always had my respect in the utmost. Is that what she did that day shaped who I am. She came back. I said, Hey mom, I think I figured it out, mom, I do want to fight. Like, I'm going to keep praying to God. You know, in my little kids wise, I'm going to pray to God.
Speaker 1:
I want to fight. Like I want to, you know, and it wasn't like she was encouraging me to give up. She was what she did was she taught me a valuable lesson. I often talk about reclaiming agency, stepping into your power. My mother put me in a position at nine years old to make a decision about my life, to decide to live was my choice. And only I could make it. So not only did I make a decision, a big decision, I made a decision to live and I made a decision to pray and I never stopped doing those things. Since I live my life to the fullest every day, I'm always down for a party, a good time, and I always am praying. And so I think that that was the moment that I had forgotten for many years that put me on this course of sure.
Speaker 1:
Tell me no, I'm going to find a yes in here somewhere. By the way. That's always my line. Let's find the yes and here somewhere. Use it please. That's how I am to always live each day. Like each day could be your last. I know what this feels like. Moments are precious. Life is precious. As we know we're living through a pandemic, I always say, I don't want you to just live your life or be alive. I want you to live your life. Don't just be here and be alive. I know we are overwhelmed. I know we're underpaid, overworked, struggling, the relationship. Isn't perfect. Sometimes the friendships, where are they? The communication with the parents aren't always on. But if we could just decide to live each day fully because we don't know. And so being in that moment, yeah, I continuously pray and I continuously decide to live each day.
Speaker 1:
And so, yeah, that's shaped me in terms of how I make decisions right now. It shaped me in terms of how I persevere, how I look at life, how I'm grateful for my life and not to say I don't have bad days. Cause I too, I'm not positive Patty that sometimes I come across to be, I too have bad days. I try to share that as much as possible. Instagram is a small aperture of life. It is not real. It is curated on everyone's behalf. So that's why it's important to me. When I show up in these interviews, when I show up on that bike, when I show up on my IgE lives or basics of bossing up or low squat events or hosting the Brooklyn nets, that I'm as real as I can be. As honest as I can be about, of course, representing the brand with excellence and being my best self. So yeah, just keep that in mind where we're in it together.
Speaker 3:
Okay. That story gave me chills for so many reasons. I'm the mother of a nine-year-old daughter. And the thought that your mother said that to you. I mean, it's bringing tears to my ads. I, I don't know if I would have that strength to be that way with her because I'd be scared. And the fact that she was that way and then taught you something is really remarkable. But I think what came out of that too, is you prayed and you chose, but you also were a fighter through the challenging times. That is a really strong lesson. I just want to put that out in the record. So thank you. Thank
Speaker 1:
You. Thank you. Thank you.
Speaker 3:
So now that you've got your portfolio life and you're doing the things that you want to do, let's go back to this. What does fulfillment look like to you? Is there something else you want to between you, do you want to just keep going with all the things that you've chosen so far? Or is there something new on the horizon at some point, whether it's five, 10 years down? No. Do you think there's something else?
Speaker 1:
I think there is evolution. So I think that life evolves five years ago. I wouldn't, I haven't even been at Peloton five years. I wouldn't have told you that I'd be here talking to you about this. Basically the Boston globe didn't exist. This concept of what a boss looks like, setting the standard, establishing the tone was not a thing. Low squad was not a thing had just maybe started. And so I think when I really focused on the trajectory of my life and I talked about it to kind of tie it full circle in the very beginning is taking that next step. What does that next step look like? And the reason I do that and not necessarily have an end goal of what my ideal picture is, is that I might make a mess. I might think it's a masterpiece at the time. And then cut to five years later, I look back and I say, wow, that was a crappy thing that I put together there that I thought I should have been the person I should have done.
Speaker 1:
And so I don't want to put myself in a position where I'm like, I should've done this. I should've done that. I don't want to do that. And so I think of my career in more so terms of evolving over time and taking that next step right now, I will say that there's a lot of room for me to grow at Peloton. I'm learning so much about myself, about community and it's a company I want to always be a part of. Um, and I love my job as an instructor. I love this concept of live TV. So any way that I can continue to add that in, but I think it's more of how it evolves and not necessarily giving up something to do something else or adding something in. It's just like, how are these things going to evolve? They all evolved into each other and complimented each other over the years.
Speaker 1:
And I, would've never been able to articulate or see this or dream of this. And so I always leave myself to think about I'm very thoughtful and strategic around my career and my career trajectory. But in the short term, I do know I want a family. I do know that I have those pictures of being a grandma like somebody's MIMO. And I'm like baking this bread, the signature bread that I've been working on that for some strange reason, I don't know why that's a thing. So I do think of things like that. That's a little bit more, less career-focused and more, what do I want in my personal life is that I want my grandkids to walk in the house and inhale and say, Oh, is our grandma here? Because we smell her bread. You know, I don't know. That's true happiness for right now. Long-term
Speaker 3:
That is a vibrant picture. And I'm so glad you brought up the personal side because when people are asked that career question, they often say, Oh, I want to get to X, Y, Z place. And it's all about the professional side without that balancing personal side, of course we all have that. And you can't have that fulfillment without thinking about both of them. So that's great. So Ali, thank you so much for being here with us on this podcast. It's been such a pleasure to speak with you and really hear from all aspects of your life. And I know our audience is just going to be really inspired and aspire to do great things.
Speaker 1:
No, thank you so much for having me. It has been a pleasure and those of you that have stuck around to the end, I want to say thank you so much for not only allowing me into your ears, but also into your hearts and the, hopefully the conversation that Sam and I just had is just a starter. Please share it with anyone because that's true conference.
Speaker 2:
Wow.
Speaker 3:
If that conversation doesn't give you motivation to boss up, I'm not sure what will, I'm so impressed by Allie and how thoughtful she is about the content she delivers to her audience through her Peloton workouts and on social media, she shared so many great insights, including negotiation tips, the importance of self-reflection and perseverance. I hope you found inspiration and aspiration from our conversation. The mission of women on the move is to help women in their professional and personal lives. Our goal is to introduce you to people with great ideas, inspiring stories, and a passion to make a difference. If you enjoyed this episode, please rate, review and subscribe. So you won't miss any others for JP Morgan Chase's women on the move on Sam Sapper seen JP Morgan chase bank, N a is a member of the FDI C.