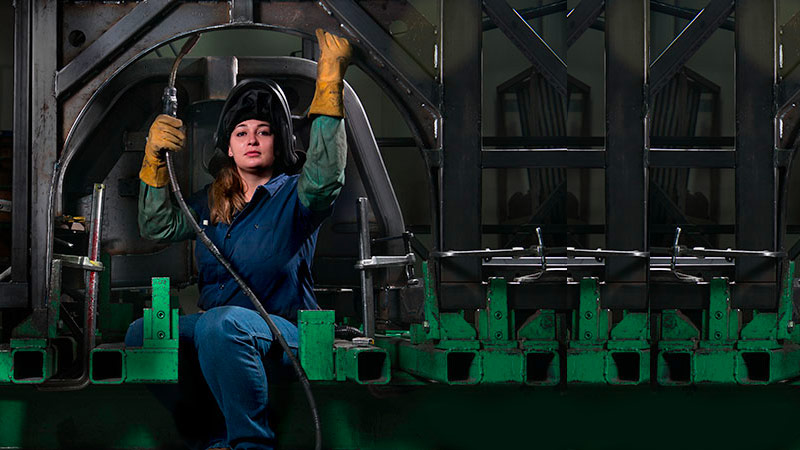 Stories
Women Can Build
In honor of Women's Equality Day, we are highlighting a photography exhibit from one of our partners, Jobs to Move America. The images captured demonstrate that women can excel in traditionally male-dominated fields such as manufacturing and transportation.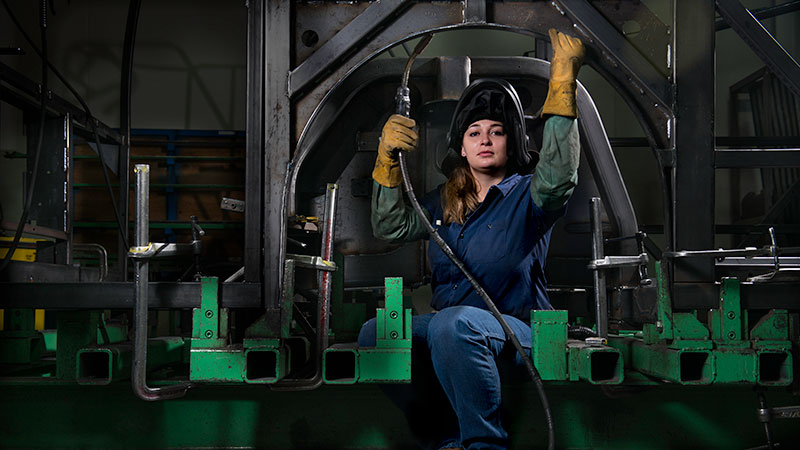 "There are people out there who are old fashioned and set in their ways and think this isn't a women's field. I want to show them that people can do whatever they set their mind to, by being a living example."

Chancy Davis, welder at New Flyer Industries Bus Factory in St. Cloud, Minnesota
"I was a little intimidated with so many male coworkers, but I thought, why not take the challenge. I just want to keep learning! Keep pushing, stay motivated, dedicated, and follow your dreams. Never give up."

Ruby Diaz, "Wire 1 Team" electrical worker at Kinkisharyo International Railcar Factory in Palmdale, CA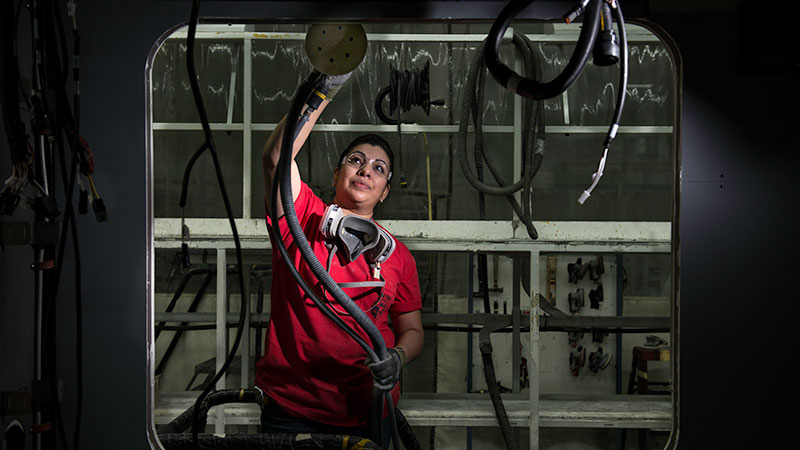 "I had no idea how much, how many hours, you have to put into building one bus. It's amazing because many people do not believe women can do it."

Judith Melendez, decal painter at New Flyer Industries Bus Factory in St. Cloud, Minnesota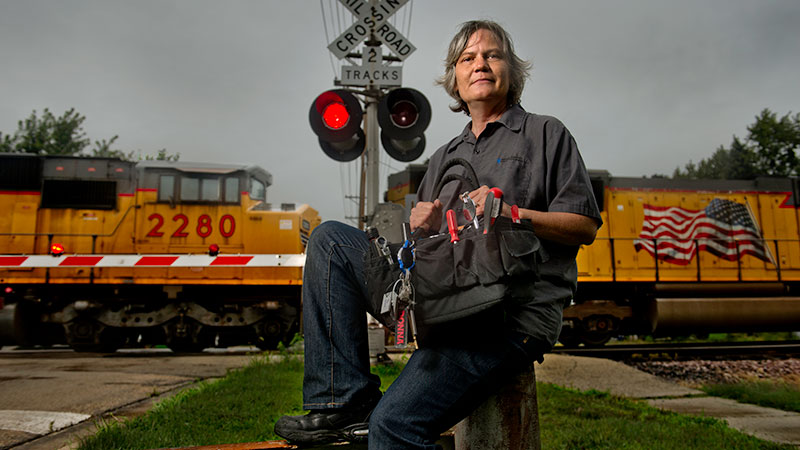 "Since March 2012, I've worked at the Nippon Sharyo railcar assembly plant in Rochelle, Illinois. I started out when a temp agency assigned me to write down defects for the customer of the cars in the Quality Assurance (QA) department, and after 90 days, I was hired full time as an inspector."

Donna Comp Penwarden, quality assurance inspector at Nippon Sharyo Railcar Assembly Facility in Rochelle, IL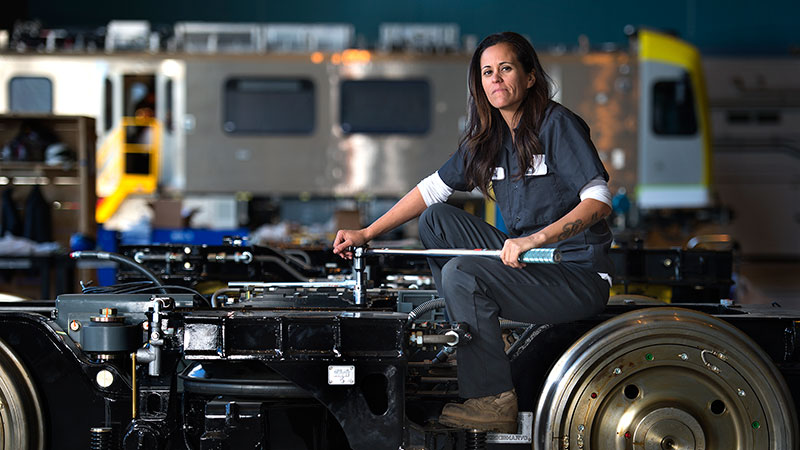 "The knowledge I got from the military really helped me here... just to know what a rachet is -- the average woman might not know these things. I was in charge of 78 guys in the military, so I thought, I got this."

Ami Rasmussen, "Interior 2 team" worker at Kinkisharyo International railcar factory in Palmdale, CA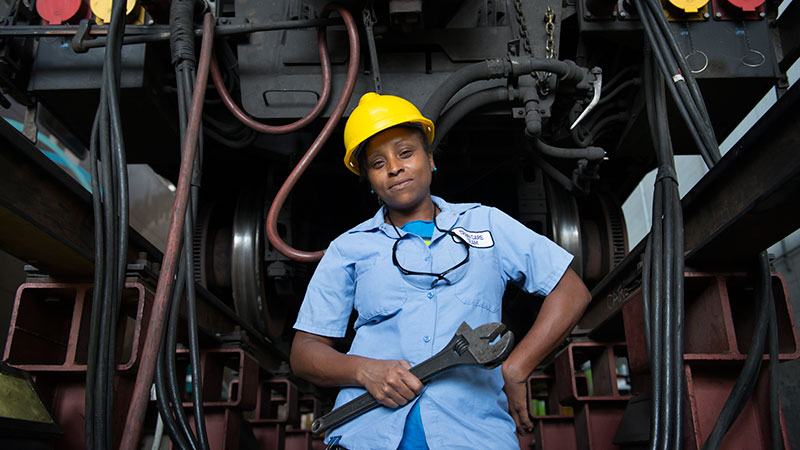 "I work inside the garage, the Service and Inspection area called S&I. When [my coworker] Fatima moves the trains inside, we start working inside the cars. We do two cars a day – the whole thing! It's detailing, elbow grease, hard cleaning, hard work."

Lilla Wallace, cleaning specialist at Railcar Maintenance Facility in Los Angeles, CA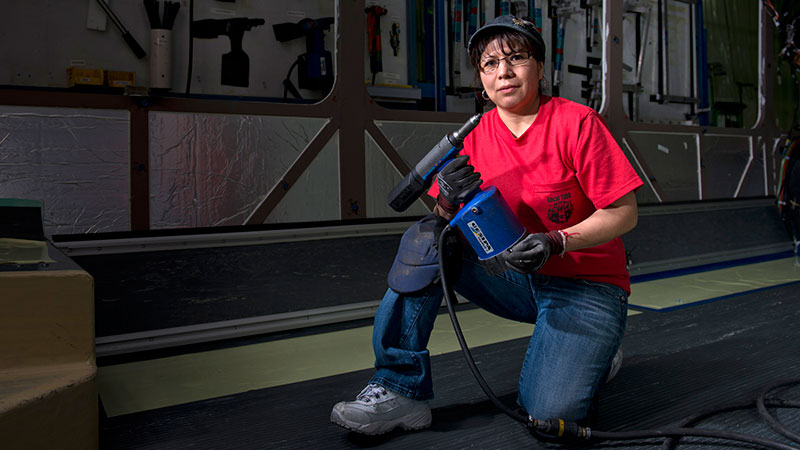 "If you think you can't, you won't do it. If you think you can do it, you will."

Maria Rothstein, technical assembly technician at New Flyer Industries Bus Factory in St. Cloud, Minnesota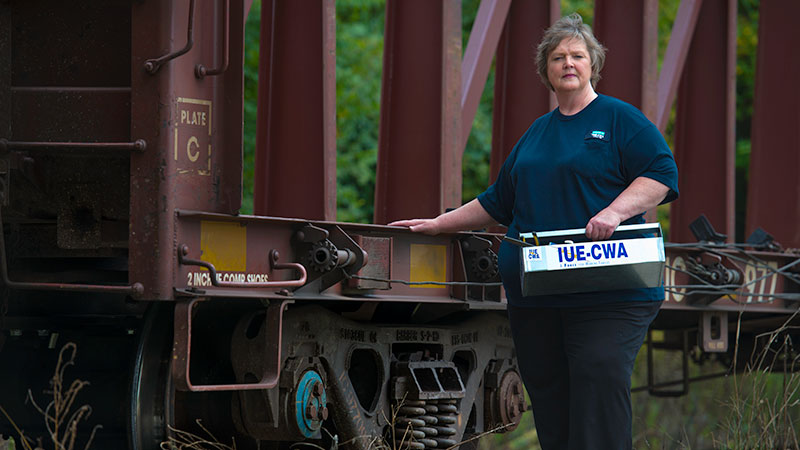 "I'm the only woman in the traction motors department. I've really enjoyed working there… I'm always up for a challenge. I thought to myself, 'you know, Connie, this is something new. I'm just gonna go for it.'"

Connie McCoy, traction motors assembly technician at Siemens in Norwood, Ohio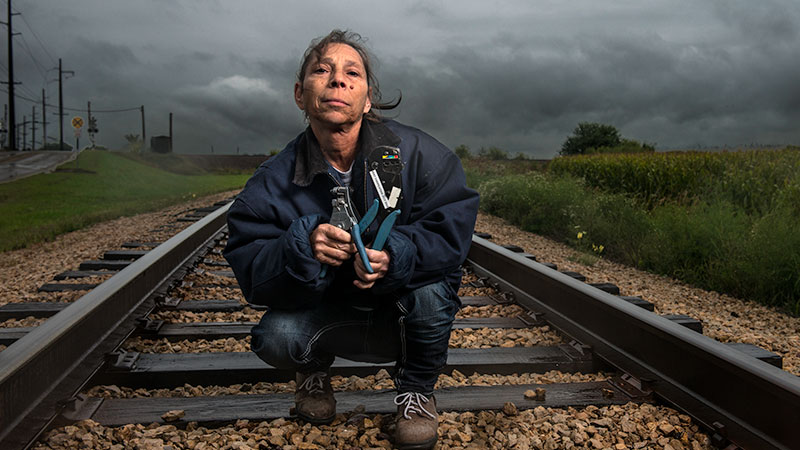 "I'm only four foot four, and I build trains! And I'm a woman. I've been doing this for 24 years. What more proof do you need?"

Stacey Corcoran, electrician at Nippon Sharyo Railcar Assembly Facility in Rochelle, IL
Photos by Deanne Fitzmaurice

During World War II when men left for war, American women filled a labor shortage by taking jobs traditionally held by men. The iconic image of Rosie the Riveter was born—a strong capable woman, able to swing a hammer just like a man, showing that women are capable of anything they set their minds to.
While manufacturing and transportation have advanced considerably in the 75 years since Rosie the Riveter made history, 87% of the workforce in the American transit manufacturing industry is male; female workers in the American transit manufacturing industry have actually been on the decline, according to new research by University Southern California Program for Environmental and Regional Equity (USC PERE).
To help change that, we are supporting Jobs to Move America, a national initiative aimed at developing stronger training programs. These open up new opportunities for women and other underrepresented populations to enter careers in railcar and bus manufacturing. As part of this initiative, Women Can Build worked with Pulitzer Prize-winning photographer, Deanne Fitzmaurice, to visually capture the power and pride of women who have successfully entered these fields. The images help bring awareness to the hardworking and capable women building America's 21st century transportation.
Evoking the spirit of Rosie the Riveter in a modern context, the photographs demonstrate that women truly can build—America's transit system and anything they set their minds to—with hard work, determination, strength, and commitment.
---