News
'Fear of Missing Out' Mindset Changing Outlook for Homebuyers, According to Chase Survey
Searching for a home goes DIY with the rise of digital and tech
March 24, 2016 (New York, NY) – With the rise of digital and technology and the 'always-on' mentality, homebuying trends are shifting, according to a Chase national survey, "Insights from the Mind of the Modern Homebuyer". Survey results show that 3 in 4 homebuyers don't plan to stay in their homes long-term, suggesting that today's consumer is always searching for the next best thing. Digital is also changing the way Americans search for homes with more people taking a do-it-yourself approach.
Survey findings show that 68 percent of Americans are starting the home search on their own, with 45 percent using a computer or laptop as the first step and thirteen percent using their mobile device. 11 percent of Americans would first check their local listings in a newspaper or magazine.
While Americans are more independent during the initial steps of the home search, Chase research found that homebuyers still rely on the pros. In fact, roughly three quarters of Americans want to meet with a mortgage professional as they consider financing options and also feel that a realtor is essential.
"With more options and endless information at the consumer's fingertips, it's changing the way people look at major purchase decisions. While homebuyers are using technology to find their next home, more than 70 percent still rely heavily on a mortgage professional."
Sean Grzebin, head of retail mortgage banking for Chase
Separately, Chase's survey shows that Americans are optimistic about the value of their home, with 66 percent of homeowners expecting their home's value to increase over the next five years. Among homeowners, 38 percent have used or are considering using a Home Equity Line of Credit in the next five years, with the majority (58 percent) putting it towards home improvements
About the Survey
This report presents the findings of an online survey among a nationally representative sample of 1,014 adults (18 years old and older) living in the continental United States, with an oversample to obtain 100 respondents in the following cities: Dallas, Miami, San Francisco, Sacramento, Chicago, Columbus, Phoenix, Tampa, San Diego and Seattle. The total sample was 1,852 respondents.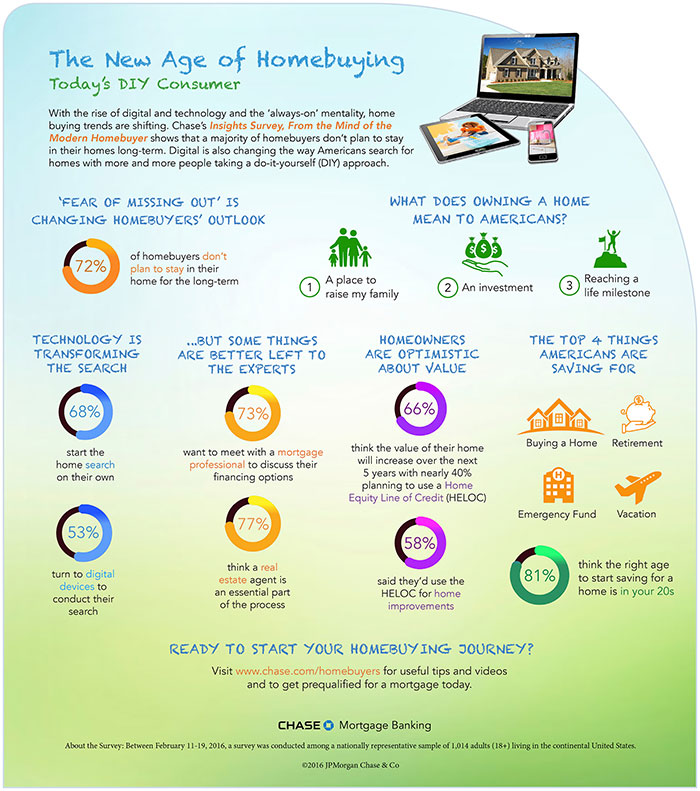 ---
About JPMorgan Chase & Co.
JPMorgan Chase & Co. (NYSE: JPM) is a leading global financial services firm with assets of $2.4 trillion and operations worldwide. The Firm is a leader in investment banking, financial services for consumers and small businesses, commercial banking, financial transaction processing, and asset management. A component of the Dow Jones Industrial Average, JPMorgan Chase & Co. serves millions of consumers in the United States and many of the world's most prominent corporate, institutional and government clients under its J.P. Morgan and Chase brands. The firm uses its global resources, expertise, insights and scale to address some of the most urgent challenges facing communities around the world including the need for increased economic opportunity. Information about JPMorgan Chase & Co. is available at www.jpmorganchase.com