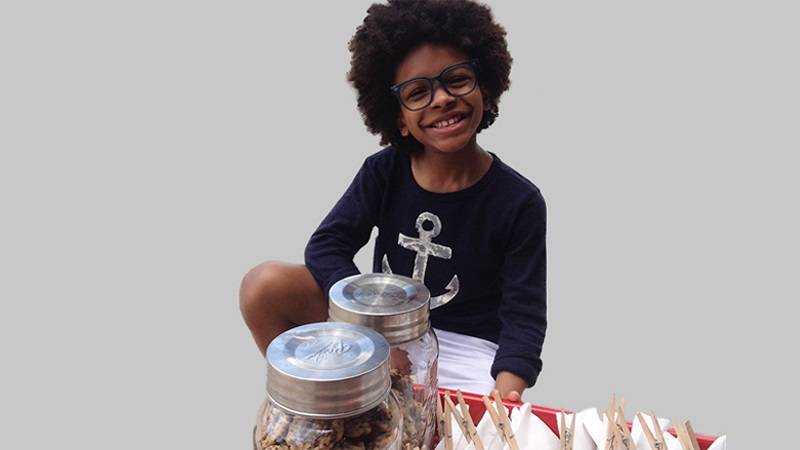 Stories
How a Teen Entrepreneur Turned a Pop-Up Cookie Shop into a Thriving Enterprise
Cory Nieves turned to making cookies to adjust to a new city and help his Mom make ends meet. He built a thriving business in the process.
When Cory "Mr. Cory" Nieves launched a pop-up cookie business at six-years-old, his goal was simple—he wanted to contribute to his family's finances and help his mother make ends meet. Fast-forward nine years later: Today, the 15-year-old Nieves is at the helm of a successful company that does business internationally while maintaining the same spirit of giving back.
Nieves and his mother, Lisa Howard, moved from the Bronx to Englewood, New Jersey over a decade ago in search of a better quality of life. "I wanted a better life for my son, and it was hard," Howard recalls.
But the transition was far from easy—among other things, you need a car to get around in New Jersey, which Nieves and his Mom didn't have at the time. His first goal was to help his mother buy a car, so as a six-year-old, he began selling hot chocolate at a family friend's restaurant. He was so successful that he soon ventured into the cookie business and launched Mr. Cory's Cookies.
Using a recipe they developed together, Nieves and Howard baked chocolate chip cookies and sold them in front of his home and at pop-up stands across Englewood. The cookies quickly became so popular that Howard—who became known as "the Cookie Mom"—shifted their baking operations from their home oven to a commercial kitchen.
As the business grew, Howard doubled down on her investment in Cory's future. "I started a 529 savings plan to save for my son," says Howard. "I wanted him to be better than me. So when the cookie business took off, I made it all about him."
Reaching Out for Help
As a longtime Chase customer, Howard turned to the bank for help in managing the rapidly growing resources from her son's successful business. "Our financial advisor has really been helpful to me and my son," she says. "When we were going through challenges they taught us [a few things] about finances."
Nieves says that, over the years, the depth of their relationship with Chase has deepened. "I've been going to Chase since I was five or six years old," he explains. "The financial advisors even help me with my homework for my finance class."
Thanks to a growing customer base, and strong profits, Nieves says they've expanded their operations to include online sales, which has even enabled them to sell their cookies internationally. Some of their highest market sales are in Canada and Saudi Arabia. And the pair also occasionally return to their hometown of New York City to sell cookies.
"Once we gained profit we learned the ropes of how to sell online, get our seller and getting shipping labels," says Nieves. "That's when we really transformed from just pop up shops."
Giving Back
As Mr. Cory's Cookies has grown, Howard and Nieves have prioritized giving back to the community, and continually support organizations that help single mothers and at-risk youth.
Together, they host workshops for children and their parents at the local Boys & Girls Club; the Center for Great Expectations, a shelter for young pregnant mothers and mothers who've struggled with substance abuse; and Bergen's Promise, an organization that provides wraparound services for families who have children with emotional, behavioral, developmental, mental health and substance abuse needs.
In the wake of COVID-19, Nieves and Howard have scaled down their operations and have sold their cookies online.
"We were heavily affected because 85 percent of our clients are corporate, and the rest are retail," Nieves says. "We have to find another way to stay alive since all of our clients are virtual, and they usually buy cookies for their office and their employees as a gift – so that's one of the struggles right now."
But in spite of the near-term challenges the pandemic has caused for the business, Mr. Cory's Cookies is continuing to thrive thanks to a strong customer base in their local community. In fact, they've expanded their cookie flavors for the holiday season to include chocolate chip pumpkin, 'smores and bourbon pecan.
Through it all, Nieves is tapping into the power of positive thinking that helped the business grow into what it is today, and he has a strong message for the community: "Keep your head up during this time, smile and eat a cookie."
Explore JPMorgan Chase's Advancing Black Entrepreneurs offering which the firm developed to provide practical advice and resources to help Black-owned businesses navigate the COVID-19 pandemic and prepare for long-term success.
Reprinted with permission from JPMorgan Chase Bank, N.A
JPMorgan Chase Bank, N.A. Member FDIC. Equal Opportunity Lender.