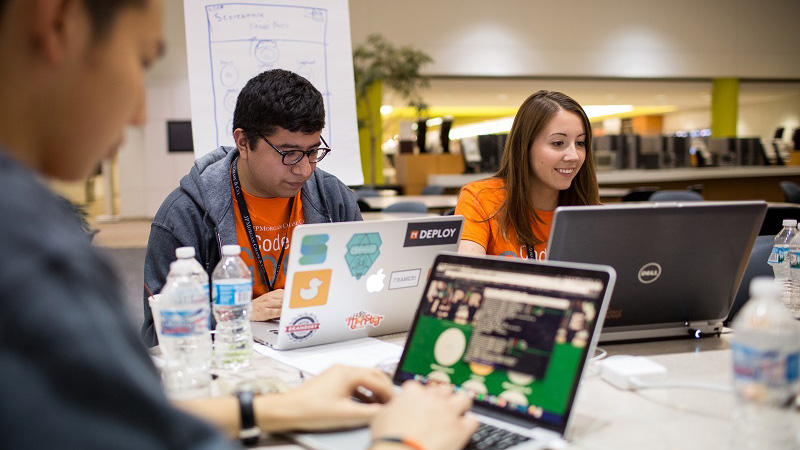 Stories
How Can One App Help the LeBron James Family Foundation?
Our employees have volunteered to create solutions for the LeBron James Family Foundation to provide underserved students what they need to succeed.
Graduation opens doors and excites confidence for a student's future but navigating one's academic career can prove to be both overwhelming and challenging. Financial issues, lack of support networks, poor grades, and an absence of one-on-one attention can all contribute to children dropping out before finishing their education. "When I was a kid growing up in Akron, I didn't always have the resources and guidance to get to school every day, and now that I'm older, I realize the importance of education," LeBron James says. Making it to graduation can be an uphill battle for many of today's students. "For me, it's all about these kids. Seeing them succeed in school and in life is my passion." This is what inspired James to start the LeBron James Family Foundation (LJFF) to work with Akron Public School kids of all ages to help them when they've fallen behind in school and encourage them to be healthy, work hard, give back to their communities and graduate.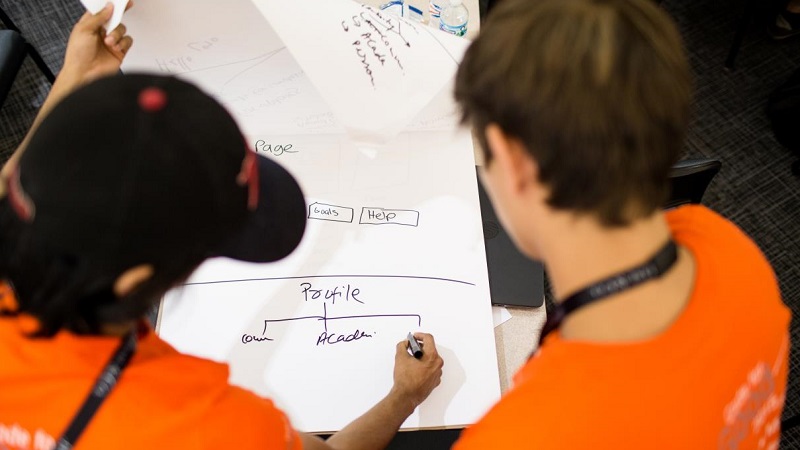 Early in the evening, students begin white boarding ideas to map out what their solution will look like.
Currently serving nearly 1,100 students, LJFF is now partnering with the University of Akron to provide four-year scholarships to students in the Akron I PROMISE Network. Students who have met all academic requirements when they graduate high school in 2021 are eligible to participate in the program, with as many as 2,300 students able to qualify. But to help students and families meet those criteria, LJFF needed a way to track students' progress, empower them to participate in their education, and identify where one-on-one attention is most needed.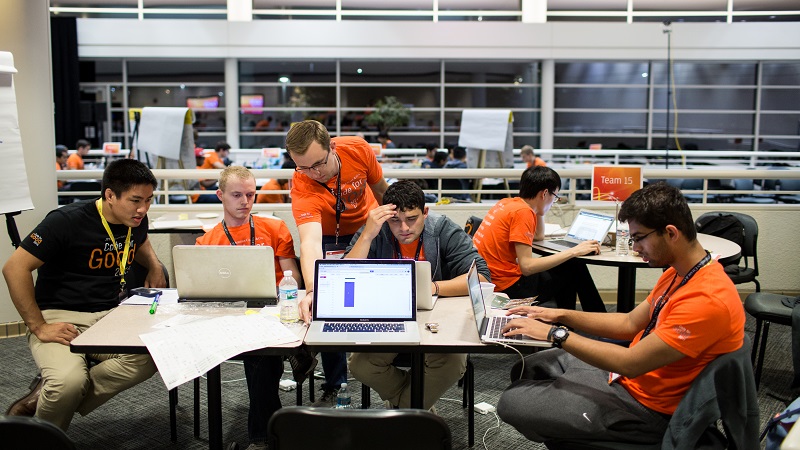 A JPMorgan Chase technologist stops by to help the students think through their solution.
That's when JPMorgan Chase came in. Every year, over 2,000 of our employees volunteer their time around the globe to provide tech solutions to local nonprofits. To offer opportunities for our employees to give back to the community, Technology for Social Good invites our employees to collaborate with college students to develop technology solutions for local nonprofit organizations around the globe through the Code for Good challenge. These 24-hour challenges run overnight, with students coding in teams and racing against the clock and each other to come up with creative technological solutions to solve real challenges faced by nonprofits. The students' innovative ideas are developed into working prototypes with the support of JPMorgan Chase technologists who work directly with the students, serving as mentors and subject matter experts.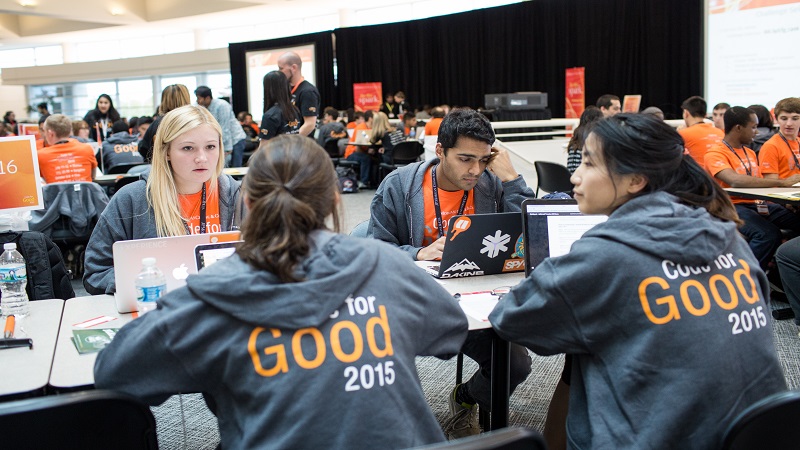 As the night goes on, students stay focused and continue to code.
LJFF presented its challenge in Columbus last year. Code for Good paired college students with employee volunteers to brainstorm IT solutions while also inspiring them to consider technology careers. At the event, nearly 80 students worked on teams to develop creative solutions for LJFF. The winner, a team of Ohio Dominican University students developed an application allowing LJFF to track student's progress toward earning their scholarship. From there, the JPMorgan Chase Force for Good program takes the rein. A team of our employees worked to turn a handful of different concepts and ideas presented at Code for Good into actual products that will have real social impact.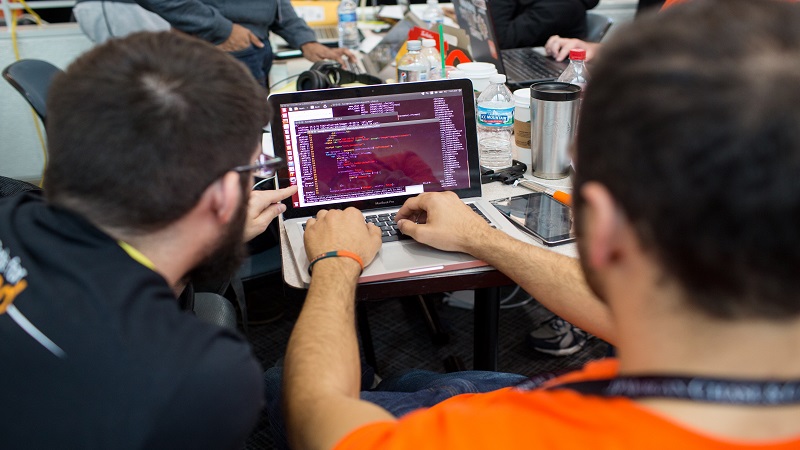 One of our JPMorgan Chase tech experts leans in to help a student fix their code.
"Listening to parents describe how their children went from being drop-out risks to honor roll students really demonstrated the impact the Foundation is having on Akron families and the greater Akron community."
—Brent B., managing director at JPMorgan Chase
The Force for Good partnership afforded an opportunity to not only help LJFF continue to be successful, but also help the volunteers develop leadership skills, client management skills and network with other participants. The tool will be an invaluable way for students to actively participate. "I think they're going to love it," says LJFF member Nick Lopez. "It's going to be a very intuitive experience for the students. They'll be able to work on their own progress and know exactly where they are on that path.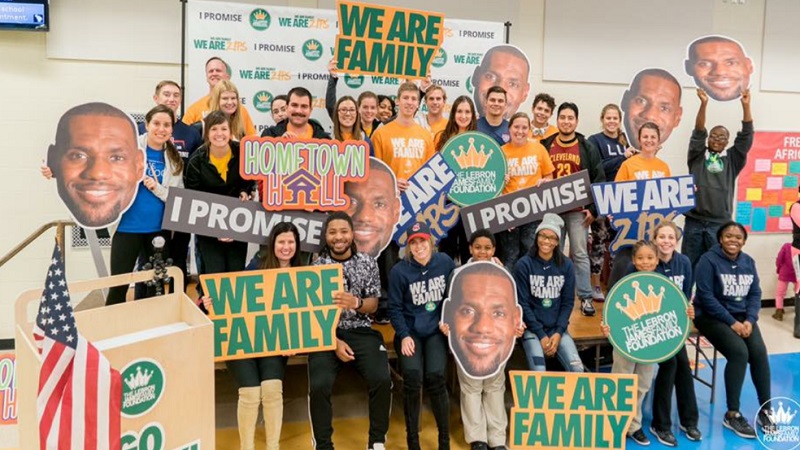 JPMorgan Chase employees visit the LeBron James Family Foundation in Akron, OH in November 2016 to kick start the Force for Good project for the upcoming year.
"When you look at what this is enabling us to do, it not only helps individual kids, but also that child's family and our entire community," says Michele Campbell, LJFF executive director.
Learn more about upcoming Code for Good events at the JPMorgan Chase careers site, and remember to stay up to date on our Technology for Social Good initiatives. For more information about the LeBron James Family Foundation, visit its site or follow the organization on social media.
---
Learn more about technology career opportunities at JPMorgan Chase & Co.