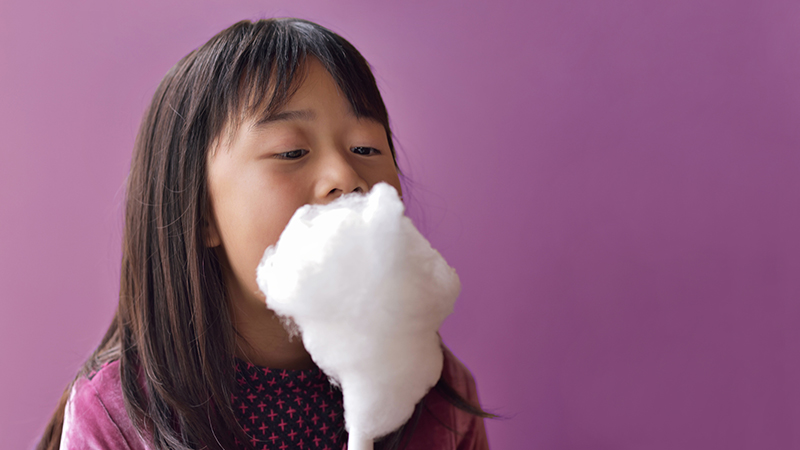 Stories
Chase Center Offers an Authentic Taste of San Francisco
In partnership with local organizations, JPMorgan Chase will host area small businesses in the Chase Center.
Foodies visiting San Francisco's Chase Center might notice that the arena features a host of locally-owned Bay Area restaurants. That's no coincidence.
The reason? Taste Makers at Chase Center program, an initiative supported by JPMorgan Chase and launched with Bon Appétit Management Company to support Bay Area businesses, like Berkeley's CC Made and San Francisco's Sugar & Spun. The program offers networking opportunities—as well as the chance for local businesses to sell their unique snacks and sweets inside the Chase Center.
The opportunity is especially important for minority-owned businesses. San Francisco is among the top cities for minority-owned small businesses—over 56 percent have been in business for more than six years and more than 42 percent have revenues of $500,000 or more.1 To help spur this growth, JPMorgan Chase is collaborating with local nonprofits Working Solutions, ICA Fund Good Jobs and Pacific Community Ventures to help women and entrepreneurs of color remain and thrive in the Bay Area.
"This is such a big opportunity for me and my staff that I can't even quantify it," Cassandra Chen of CC Made exclaims.
Chen immigrated to San Francisco from China when she was 10 years old and initially embarked on a conventional career path per the expectation of her family. "I went into banking thinking that it was the career track I should be in. I came from an immigrant family, so I did the track that I thought I was supposed to do."
Her tenure as a currency trader allotted Chen the opportunity to experience fine dining with her colleagues, the likes of which she had not seen before. "I ended up just realizing that I enjoyed food way more than I enjoyed banking," she admits with a laugh. "Going from simple restaurants to fine dining and wine pairings... it was such a revelation."
Chen's fine dining experiences inspired her to enter the restaurant industry, where she started on the pastry line before eventually becoming a pastry chef. After stints in several restaurants, she perfected her caramel recipe and subsequently went on to found her own artisanal caramel confectionery, CC Made, in 2009.
Similarly, Jason Angeles and Justin Isip, co-founders of gourmet cotton candy outlet, Sugar & Spun, started small and took time to perfect their recipe. They began their company in 2013 and according to Angeles, "were lucky to make $20 [a day]."
Nonetheless, the Sugar & Spun team believed they had a unique idea: cotton candy made with organic ingredients. "We were making a niche product that didn't exist in the market place," says Isip. In time, the business began to grow. "Tech companies' office managers started coming and making catering orders," Angeles recalls. "Soon, our operation grew significantly."
Sugar & Spun and CC Made are two examples of the type of sustained, inclusive growth that JPMorgan Chase is looking to stimulate through the Chase Center. Small businesses are the engine of the Bay Area economy and equalizing small business opportunity will drive momentum and job growth for years to come. Collaboration is key to achieving this lofty goal. JPMorgan Chase introduced the Entrepreneurs of Color Fund to San Francisco in 2018, a $40 million multi-city initiative providing access to capital and technical assistance to minority-owned small businesses. Since 2018, the company and its partners have distributed nearly $2.3 million to Bay Area small businesses like Sugar & Spun and CC Made.
Beyond the financial support, the Chase Center Taste Makers program is working to get the word out about some of the Bay Area's homegrown entrepreneurs, so they can share their culinary talents with the broader community.
Angeles says that the Bay Area's progress is thrilling—particularly the opportunities that it has given small entrepreneurs like him. "I'm able to provide for my family by doing something that I'm proud of," he says.
---
Learn more about JPMorgan Chase's commitment to the San Francisco Bay Area.

1.
Wylie, Melissa. "Places Where Minority Entrepreneurs Are Succeeding." LendingTree, 8 Jan. 2019, www.lendingtree.com/business/where-minority-entrepreneurs-succeeding