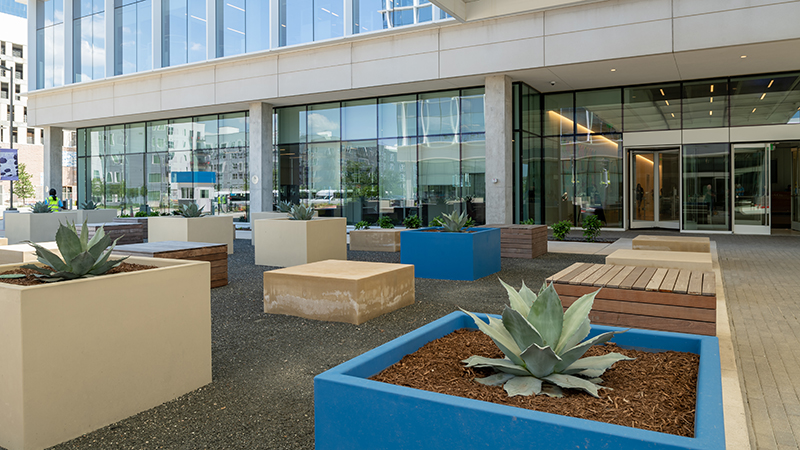 Stories
A World-Class Campus Brings Quality Jobs to Dallas-Fort Worth
JPMorgan Chase's state-of-the-art Plano campus will host 6,500 jobs and is designed to foster a creative, inclusive work environment that values employees' personal and professional well-being.
Imagine a different way to work. Not just a different desk or a technologically-enhanced conference room, but an entirely new environment that is designed to ease the typical stresses—like wellness, childcare, and healthy eating—that can weigh down your workday. A place that gives you spaces to clear your mind and take care of your physical health—all within a few minutes' walk from your desk.
That's the idea behind JPMorgan Chase's new, world-class campus in Plano, TX. With amenities like a health and wellness center, on-site backup childcare, restaurants, and a meditation space, the campus is designed to give its employees everything they need to maintain a healthy work-life balance.
The greater Dallas-Fort Worth region is a top priority for JPMorgan Chase: with over 200 branches and thousands of employees, the company is one of the top ten employers in the area. And the Plano campus is at the heart of that. Currently, it is home to 4,500 employees, but that's expected to rise to over 6,500 by the end of 2019.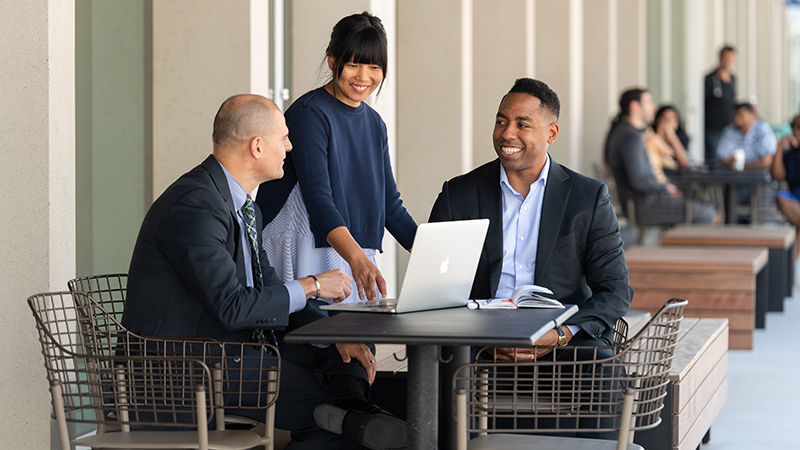 But even with thousands of workers in the hub, each employee seems to have found their own favorite space or amenity that makes their workplace feel more like a home. Trey Gordon, a Product Analyst, says he often visits the health and wellness center, "It's so nice to have a beautiful wellness center on-site that anyone can visit at any point in the day," he says. "The staff is friendly, and the facility is quite remarkable." With an array of exercise options, a convenient and confidential healthcare office, and a full-time staff, the center even hosts interactive team events, such as "chair yoga."
For some employees, Plano's most attractive feature is its on-site, back-up child care. "It is vital to support working parents, especially during those hectic early years," said Steve Hemperly, site manager for the Plano campus. "Child care emergencies are bound to come up, and that's why JPMorgan Chase made it a priority to build a top-of-the line back-up child care center at our new Plano campus. It lets our employees know that we support them, and it helps our business as well."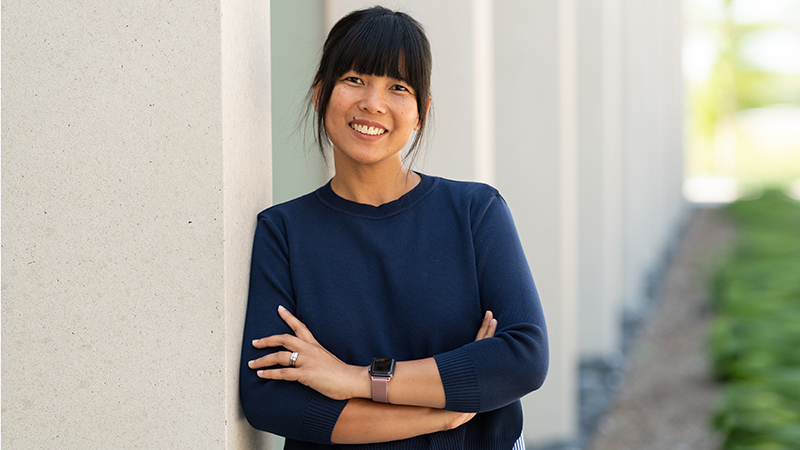 Affordably priced, the center offers an educational development curriculum designed to help children build a strong foundation in science, technology, engineering, arts and mathematics (STEAM) topics. "The best part is it's within the hub," says Katherine Norris, a mother of three who works in Technology Operations. "We can check on them and eat lunch with them," she adds.
Whether employees have children or not, they can all enjoy the extensive food options on the Plano campus. From standard fare like Starbucks to innovative fare like an on-site smokehouse making barbecued brisket, Plano gives its employees everything they need to power their body through the day. And with meditation spaces, a tech support desk and an arcade, it gives them what they need to charge up their creativity.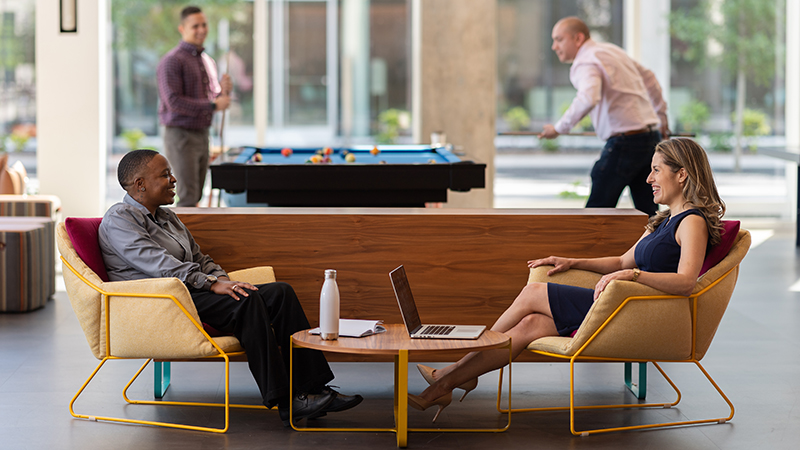 For Jesus Rodriguez, the outdoor areas around the campus help him clear his mind. "For a tough day I take a walk around the pond, enjoying the huge water fountain and the relaxing sound of the water," he says. "After a five minute walk, I am able to bring my brain back into place."
Ultimately, the Plano campus is more than the sum of its parts. Not just a child care and a wellness center, an office space and a food court, it is a serene, fully-integrated environment, designed to foster creativity, create community, and give JPMorgan Chase's employees everything they need to contribute to the vibrant and growing Dallas-Fort Worth community…and the rest of JPMorgan Chase's customers around the world.
---
Learn more about JPMorgan Chase's commitment to Dallas-Fort Worth.