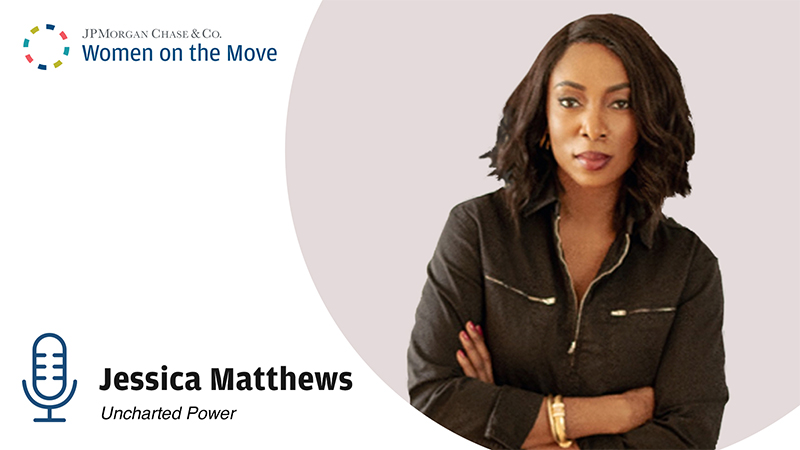 WOTM Podcast: S3E7: Jessica Matthews
For Jessica Matthews, access to critical infrastructure is a human right, not a luxury. After she invented the Soccket, a soccer ball that produces renewable energy through play, she realized that it wasn't addressing the global infrastructure problem in the communities she cared about.
Power lines on the big poles and a centralized massive power grid are the power infrastructure standards of yesterday that negatively affect low income communities around the world. They are susceptible to severe weather and cannot support renewable energy sources efficiently. Jessica did not want to sit on the sideline and wait for someone else to create a better solution, so she started Uncharted Power, a company dedicated to new energy infrastructure solutions that can take communities into the 21st century.
Harlem Tech Fund
Jessica founded her non-profit, the Harlem Tech Fund in 2016. Harlem was the perfect place to base Uncharted Power because of how its diversity and exposure. She wants to establish Harlem as the "Silicon Valley for the Underdogs," and believes in nurturing talent from a young age and introducing them to the world of innovation. Additionally, she has established a STEM program called Uplift. The program has been conducted all over the world, using her company's legacy product to teach kids how to invent with limited resources. These programs and funds are her way of giving back to the community that gave her so much.
View Transcript

(updates content above)
Hide Transcript

(updates content above)
Jessica Matthews:
The next Einstein will very likely be a woman, likely to be Black or Brown. It's just one of those things where we need to put this infrastructure in these communities so that the Einsteins can come out and make this world better than what we have right now.
Sam Saferstein:
Welcome to season three of the Women on the Move Podcast. I'm your host, Sam Saferstein. Women on the Move, is a global initiative at JPMorgan Chase designed to help women grow their businesses, improve their financial health, and build their careers. In the first two seasons, we spoke with a range of business leaders about gender equality and the leadership lessons they've learned along the way. I highly recommend you go back and listen to those episodes if you haven't already. In season three, we're focused on female business owners. While many business owners are struggling during this pandemic, women and people of color have additional challenges. We wanted to tell their stories of resilience and grit and how they're meeting the needs of their customers and communities. Jessica Matthews is the CEO and co founder of Uncharted Power, a power infrastructure company dedicated to increasing access to sustainable and affordable energy sources. Jessica was innovating at a young age and in college invented the socket ball, a soccer ball that produces renewable energy through play.
Sam Saferstein:
Jessica joined me to talk more about her company, gender and racial equality in the tech and VC industries and how COVID has impacted her business and the market. I hope you enjoy the conversation. Jessica, thank you so much for being here with us again. It is great to be able to speak with you today.
Jessica Matthews:
Thank you so much for having me.
Sam Saferstein:
So to get our listeners really the background on you and your career, I wanted to ask you how you went from creating the socket ball in college to CEO and co founder of this company, Uncharted Power. And tell us about that journey about how you created not just a soccer ball company, but really a technology company.
Jessica Matthews:
Uncharted Power was founded on a very core belief that access to critical infrastructure should not be a luxury, it should be a human right. And our mission has always been to bring sustainable power infrastructure to under-resourced communities. What has evolved since me being 19 years old, having in many ways, a very different company and a co founder, actually to the company we have right now where I'm formerly the founder and CEO, has been my understanding of what the actual solution would need to be to achieve that mission. For me first, I always knew the problem was infrastructural, but at the age of 19 and as a woman, and as an African American woman, I guess I just assumed that there would be smarter, more suited people to solve the infrastructure problem. And maybe my role, and it's kind of cute when you think about it, given that this is women on the move, the role that women often, we put ourselves in like, okay, let's be the supporter of the person who's going to do it. Let's inspire the person. Let's make sure he's in the right mindset to go and do something amazing.
Jessica Matthews:
I mean to a certain extent that's what I was trying to do. I wanted to create a solution that would inspire my male cousins, that would inspire people all around the world, who I thought were much more suited to address these massive power infrastructure issues. But for some reason, felt blocked or felt like the default would always be the status quo. So that's how I started making energy generating play products, looking at sports that were incredibly popular around the world, incredibly engaging around the world and seeing how we could bridge the gap between that passion and excitement that people have on the field, on the pitch, and bring that to a space that I felt needed just as much, if not more passion. What ended up happening was yes, that we'd built products that were very inspirational, energy generating soccer balls and jump ropes. Fortunately, I also ended up being in that group of people who got inspired. And once I got into that space, I kept on going back to my why of knowing why we're in this and adjusting and seeing if we were actually getting there.
Jessica Matthews:
So while it would have been easy to just make a million soccer balls or do this and do that, I saw that it wasn't really moving the needle to addressing the infrastructure problems in communities that I really care about like Nigeria and what I soon found out was really more of a global issue. I think for those who lost power over the last couple of days, the fact is that when there's a little bit of wind to not have power for a week in Connecticut will tell you that there's an infrastructural issue, right? And so looking at that, it was great to get into this space and start to do that. But then I realized that it wasn't actually solving the problem. So we thought, well, maybe the issue is that people don't have a very tangible model for decentralized infrastructure. Yes, there's different renewable technologies, but at that time, about six, seven years ago, people were trying to design them like the old school infrastructure grids, centralized, massive power, long transmission lines. They would just have these massive solar field arrays and just try to push it out the same way.
Jessica Matthews:
So we went ahead and started to actually build out models of how to think about decentralized energy grids, not only from a generation perspective, but really thinking about the algorithms around what transmission and storage would need to be. And that actually ended up being my favorite granted patent that I got, it was actually an algorithm for thinking through how you would share energy with a decentralized generation system. And so that's how we, again, from a soccer ball to that. We started to make progress again, started to partner with Fortune 100s on their decentralized energy solutions. But it was still in the consumer space because I thought, well, we're just going to show you a model of something cool, like an energy generating stroller, and then other people will take it where it needs to be. That wasn't happening and in fact, it was going to take two to three years to make an energy generating stroller and that still wouldn't solve the problem for my family.
Jessica Matthews:
And so we said, you know what, why don't we go ahead and jump into infrastructure? And infrastructure truly had always felt very scary and very big, but we made the transition in 2016 and announced our company name change in 2017, going from Uncharted Play to Uncharted Power. From there, we were able to do some work still on the generation side, but within the last three years found the problem that we're all feeling now, with the trees going, the power cables. We saw that the real thing that's been holding back sustainable infrastructure in all communities, but especially in under resource communities, is a lack of a sustainable technology when it comes to our power grid. And that's what brought us to where we've been and what allowed us to now create a solution that we're getting ready to deploy actually domestically first, that will be a first of its kind of example, of a truly smart and sustainable city. That's how I got here.
Sam Saferstein:
Yeah. Well, tell us a little bit more about what you are piloting. How are you breaking down the problem? What are you trying to solve here in the pilot and then how do you hope to scale that beyond?
Jessica Matthews:
This project for us, it's really important because one, we now live in a world in 2020, where a lot of problems that were important are now important and urgent. We're seeing how inefficiencies in the way that we build infrastructure are becoming more than just annoyances, but truly life and death situations, no matter where you are. People need to understand also the connectivity of a power infrastructure with everything that we take for granted. If you don't have power, you definitely don't have internet, right? If you don't have internet in today's world, you are blocked off from the entire world. If you live in a community that cannot afford to have the highest end power infrastructure and will often be hit by storms, honestly, right now, it seems like it doesn't matter what your affluence level is, to be honest, you're going to get hit by these things. But if you're in the community that will often be ignored or attended to last, then most likely your parents are probably of a working class that have been even harder, probably the most hard hit, right? Given COVID, right?
Jessica Matthews:
These are, we're talking about essential workers who are usually the idea for the American dream and in any type of societal dream, right, is to work so that your kids can have a better life. So what we're talking about here is such a nuanced and dynamic issue because you have these communities that are being harder hit by things like COVID, going back to homes that may not have power. And if they have power, they very likely do not have quality connectivity infrastructure for broadband, for their kids to go to school. And the concept being that their kids would go to school so that their kids would have opportunities that would allow them to have jobs that aren't these. And so what we're seeing really is a time where more than ever, we are incredibly impassioned to get this done right. And not just show again, a new technology that's cool, and that only rich communities can do or communities that are able to take on debt around the world. But really say, what does it mean to essentially be almost like an ethical Google for power infrastructure?
Jessica Matthews:
And so in the way that Google has provided amazing digital infrastructure, essentially for free, right? From Google Hangouts to Gmail, to Google Search, they figured out a way to monetize us based on their platform and to monetize data. What we do is we partner with these communities hand in hand, we do not own the land, we do not own the data or anything like that, but we've designed a technology that makes it easier to build and manage this sustainable power infrastructure, thinking about power and connectivity. And we're able to finance this, not by asking for increased payment for services, not by asking for higher taxes or for the cities to take on debt through bonds. But very specifically by monetizing co-location space in the ground, that's created from our panels and helping the communities monetize their own data in an ethical way to reduce the payback period on this infrastructure. And so I think I'm also very excited that what we're going to be demonstrating with this pilot is not just a technology, but a truly holistic business model that's necessary to bring anything new to market.
Sam Saferstein:
Right. That business model. And as you said, the way you're going to monetize and just have different ways of thinking about sharing that cost and then obviously the value to you. So obviously COVID has really shaken everything up in a way no one could have imagined. And I'm curious how your company is actually doing right now. And it sounded like you're really positioned to accelerate in this period, just given what you're trying to take on.
Jessica Matthews:
Yeah. We've been lucky, we always had a nimble team, we had always leveraged somewhat of a modular workforce that consisted of a smaller group of full time employees and then a larger group of part time advisors and consultants that are primarily compensated through equity. And so we were able to ratchet that up this year and actually double the size of our team with really brilliant people who have very specific superpowers that would be necessary for us to achieve this big goal. We have had to obviously adjust to having very much a decentralized and remote team other than very specific work we need to do at our pilot site or for development. But we actually found that a lot of our work can be done remote. And it's opened us up because while before we were focused on expanding the team with individuals who could be either in Harlem or at least in New York State, now we have a team of people who are engaged and showing up that hail from all parts of the country and all parts of the world.
Jessica Matthews:
And in some ways it's been a very exciting opportunity to scale without the forced walls, literally and figuratively that we've placed on ourselves over the last couple of years.
Sam Saferstein:
You mentioned the way you bring people on into the company. And I think this could be interesting for other founders out there. You try people out, you have an interesting model of bringing in experts and seeing how they might fit in before a longer term relationship. Talk about that model and how that's worked for you.
Jessica Matthews:
It's a very interesting thing to build an organization that thinks about innovation from a sustainable perspective, right? Because anyone can have an idea, but to a certain extent, if you're not careful, you're actually being quite inefficient by going in alone and just constantly having to figure out how to rebuild the wheel. And so what we launched in 2016 that has been pivotal in our growth thus far, has been this advisory board platform. Where we pair younger, full time individuals on the team with very seasoned professionals in various specific areas that we know we want to grow to push and work together. So you have this balance of experience and openness to new things. But then it also allows us to make the exploration project based, every three months or six months and extend from there.
Jessica Matthews:
So that again, there's this space and room to try something out and not feel like you have to fully commit. And that the result has actually been that multiple advisers on that platform have then found that it made sense for them to join the company full time, or simply just dedicate more time in what would be considered somewhat of a full time capacity. And that funnel has, I think not only made it easier for us to have a streamlined way to grow immediately, like you can bring on someone on the advisory platform within a week. When normally if you're bringing on an executive, it would be three to six months of vetting and conversation and then all of these different things. So we can move quickly, react to the market and grow in that way, but then still have this safe process of evaluating so that we can also be nimble if things aren't actually making as much sense.
Sam Saferstein:
That's great. So let's talk about investors for a little bit and how you did raise money for the company. In 2016, you raised $7 million, which was at the time, the most series, a funding that a Black female founder had raised. What was your strategy for going out and raising that initial amount? And have you seen any change in investors during this time when it comes to investing in women and people of color?
Jessica Matthews:
If I'm being honest, initially my strategy for that round was to work primarily with angels because I had the belief that raising a venture capital based around would be very difficult because I hadn't really heard that many successful stories of anyone looking like me doing that. It wasn't actually until I had a conversation with an individual who worked at a fund and I came out and said, I'm very afraid of raising venture capital. Yes, I went to Harvard and yes, all these other fancy things, but there's also enough about me that's very different from the pattern. And at the end of the day, I truly believe that an investor needs to be a partner in the business and needs to be someone who understands your core humanity, and what gets you up in the morning and what drives you. They need to understand your decision making process so that it's not only being happy when things are going well, but having faith in you when things aren't going well. And in my past experience, that's really not what's happening.
Jessica Matthews:
When you walk into a room with someone who's an investor who does not look like you at all, does not have a shared life experience with you in any real way. That individual now must lean much more on the quantitative evaluation metrics versus the qualitative evaluation metrics. Every person is a human being and they're coming into a situation, making a decision based off of qualitative and quantitative metrics. And so you feel like you have to fight harder. You feel like you have to show more, you feel like you have to do twice as much to get half as far. But one thing that came out of that conversation with that individual, from the fund that really helped me go forward and actually start to explore venture capital, is that at the end of the day, the color that an investor cares the most about is green. And a good investor will understand that if you have a very unique and specific connection to the problem you're solving, and there's an appreciation that entrepreneurship is in fact, just problem solving without regard for resource, they will back you, they will believe in you.
Jessica Matthews:
They will be happy that you came into that room. And again, it doesn't mean that it hasn't been tough, but it ended up meaning that we actually were able to raise more and at a higher valuation than we had expected. Because we went through that process and started to work to get in front of institutionals. Since then, the strategy has actually really just been, I think, still fully understanding that there is this somewhat vanilla narrative around raising that is not particularly applicable to people of color or to nontraditional startup companies, right. Companies that are in the hardware space, that are in the infrastructure space, that are in the B2B space will need to explore avenues for capital there not as straightforward as angel to VC, to PE series A B, C, et cetera. So we really started to get comfortable with this concept and to be honest, I started out being comfortable with this concept.
Jessica Matthews:
I knew I would have a smaller friends and family round than some of my peers who don't look like me, and also knew that we'd have to build a profitable business, a multimillion dollar business, just selling soccer balls and jump ropes. With a 64% gross profit margin, that way we could use millions of dollars to invest in the R&D that would actually allow us to even raise our series A. And then going out beyond that, we really started to look at grants, which if you have the time really can be helpful when you're trying to explore very specific technical issues that are more R&D related. So, since then we've gotten over $1.8 million in grants that have been very helpful. It's been a wild ride, but there's been nearly $20 million of capital that have gone into this, which may seem like a lot, but actually is still a very small amount compared to some of our peers.
Sam Saferstein:
No, let's talk about some things you mentioned just very early on about what COVID and lack of power and infrastructure really mean to disadvantaged communities and people of color. Have you seen now the climate become more supportive of what you're trying to do to really help these communities just in a different way, have we really changed the conversation?
Jessica Matthews:
Well, you know what it is? First, there was the battle of people understanding that this was a global issue and that you could potentially create a technology solution that would be applicable to a global market. Is an interesting belief set where oftentimes people in the US will assume that something made for over there could never actually be helpful here because there's this subconscious like, oh, well, that's, it's almost like a charity versus it being something that can actually be influential here. And then on the side of Subsaharan Africa, what's really interesting is they also get that sense. And so there's a preference of wanting whatever the US has, wanting the thing that represents more of an equality there. And so it's funny sometimes people will say, well, how do people in Subsaharan Africa feel about you doing your first demonstration here? And I'm like, oh, they think it's great. Usually it's, oh, there's some new medicine or vaccine, let's try it out in Africa and then bring it to North America and in Europe.
Jessica Matthews:
And I'm basically saying, we're going to test it out here and once we know it's great, we're going to bring it to you. And they're like, that's awesome. Again for us, why it's really important to do it locally is that when you're doing something difficult, you do have to make sure that you are very clear on what you're testing and what you're not testing. And there are going to need to be adjustments to our business model when we really scale in the developing world, but the core technological issues around how you build better infrastructure, how you manage this infrastructure and how you finance it. That is a universal system to establish and we want people to have ease, to be able to fly to our pilot city and just walk around and be like, okay, yeah, this definitely makes sense.
Jessica Matthews:
I think this year in particular, COVID definitely has placed the pressure on people. I think understanding why really cutting edge infrastructure should be something that's available to everyone. I think people now understand that, especially now that people aren't going to main downtown areas, they have to live their lives from their homes, to a certain extent, even with the vaccine or medications, the world is going to be a little different for a little bit of time. I think people are now realizing, how are we going to make sure that we can decentralize infrastructure to meet the needs of a new decentralized society? I think just very recently, it's been incredibly beneficial, that a lot of the people were speaking to they themselves did not have power for days. It used to be a well, I'm not sure if this is really a problem here thing, and now it's a, hi, I am a affluent hedge fund manager living in Connecticut and I have not had power for a week.
Jessica Matthews:
So now it's like, yeah, you don't have power, imagine what's happening if ... So we've always been pushing, we've always been working on this, but it's always nice when you don't have to convince people the problem.
Sam Saferstein:
That is very true. And so with that in mind, what is your vision for power in the next five to 10 years? Whether that's something that the company is working on, or just describe to us what that great new world look like.
Jessica Matthews:
The big thing really is when people think about the power cables over their head, right? So think about energy, a big part of our grid system is not just about where it comes from, whether it's renewable or nonrenewable or where it's stored, but how it gets there. And that's a system that has not been upgraded in the last 100 years. And that's the system that we realized we would need to tackle to ensure that these networks of power systems, whether they're being rebuilt on the US or being built at real scale for the first time in the developing world, we would need that to be totally disrupted and thought about in a much more dynamic way that matches the technological needs of people today and tomorrow. And so that's what the Uncharted system does. It's an easier way to put those cables in the ground, it's an easier way to then manage these sprawling decentralized networks.
Jessica Matthews:
And it's an easier way to finance these networks of power and data cables going all around through the ground. Because we're able to essentially monetize the space in the ground for co-location, which is just technology companies leasing space to put their tech stuff, which is actually very lucrative. And they need more places to do that. And also helping these communities monetize their data.
Sam Saferstein:
And so would we not see anymore, the big poles and the power lines, it would all look different?
Jessica Matthews:
To a certain extent the world we're envisioning is a world where any type of pole or cable, you will not have to see. Because whether it's the polls from the power lines or the polls that are going up so they could put 5G antennas and all this other smart tech up there, we're actually now saying here's a safe, sustainable, cost effective way to put all of that in the ground.
Sam Saferstein:
And as you said too, I mean, to really upgrade the power infrastructure in this country would be enormously expensive. So there have to be better options to do that, options that you're developing and again, sustainable, but also a lot more cost efficient.
Jessica Matthews:
The grid in the United States is very interesting, I think the American Society of Civil Engineers gave it a D plus that's D as in dog. So it's a system that is worth 2 trillion, but would take 5 trillion to fix it. Some insane number where it's like it actually wouldn't be cost effective to continue to upgrade it. And so it's different when you're working in brownfield markets, you have to go into each community and find out what's their current power system, who owns what and how do you play friendly, but also place the pressure for people to change. Because a lot of times, especially the larger utilities, I mean, they are investing almost nothing in their R&D. This is just true. They're investing nothing in their R&D, they have found that it's easier to say, sorry, after than to avoid the problem. So how do you place pressure there, right? When they have certain rights and certain things going on in these communities?
Jessica Matthews:
And so this pilot is going to be important as well, because we are actually exploring having essentially two, almost like halves of the pilot. One half, where we're going to work with the utility and really say, look, this is a way that you can extend your grid sustainably to scale up. But then the other half, but we're going to work a hundred percent just with renewable energy that's islanded off, to also say, if you do not do this, here's who's coming to eat your lunch. This is very possible, we don't need you to do this, so here we go. And so I think it becomes fun. Even if you just look at some of the larger solar firms that almost operate like utilities, they start to create this space for comparison, and hopefully to start to see productive partnerships and how we can get to this future a lot faster. Because it's definitely an ecosystem of partners. We're making one thing, well enough, that the telcos, the utilities, the renewable energy companies, everyone can plug into it for a community.
Jessica Matthews:
So we're thinking through the strategy of how to get this ecosystem of partners to play well with each other as well. To build and present a technology that when used at scale, we want to get to a point where any developer can buy our system very cheaply to use, to develop this infrastructure. We have now unlocked the potential of that community in a way that's very freeing. And so to me, the vision is mass scale distribution in the next five years, mass scale accessibility and distribution of our system, lots of development that's built from that system. But also now a keen idea to this future world that we've all been talking about, that hasn't happened because there's been a massive disconnect between the smart grid and the smart city. So all these cool technologies, this AR or autonomous driving vehicles, all of these things that people have been working on and they can work and some of the richer communities, but they will be available and accessible at scale.
Jessica Matthews:
It's really about creating the platform for unlocking the potential of our society in a way that's equitable. The next Einstein will very likely be a woman, will likely be Black or Brown. It's just one of those things where we need to put this infrastructure in these communities, so that then Einstein's can come out and make this world a hell of a lot better than what we have right now.
Sam Saferstein:
I love it. I totally agree with you. So let's quickly talk about your nonprofit arm, the Harlem Tech Fund, what its mission is, and in particular, how it will help children, in creating a safe environment for children.
Jessica Matthews:
Definitely. We started the Harlem Tech Fund back in 2016 when we raised our round and felt it would be very important to move the company from downtown in New York City, up to a community that is very much a microcosm of the world that we're going to serve. I believe that innovation really comes yes, from nature, but also nurture, and by nurture, I mean, exposure to the world that you're trying to help. And so one thing that's really beautiful about Harlem is that there are so many different types of people who live in Harlem, from your rabbi in 96th street to your barber in 125th, your teacher's on 145th, and you have little Africa here, and there's actually a little, Italy's also in Harlem. It's just a wild community and I felt though that if we were going to do this, it would be very important that we had a mechanism for giving back as well, because I felt like we're going to get so much. And so we created the Harlem Tech Fund as a 5.1 C3 essentially to help transform Harlem into a Silicon Valley for the underdog.
Jessica Matthews:
And we focus on three pillars that we felt any company like ours and any other would need. One, would be education, right? You need to have a community of people that are prepared to work on these ideas. And so we did that basically through partnerships. We brought the USPTO to Harlem to train people on how to protect their big idea. We did different partnered events and panels for people to learn about pitching, one of my favorite events we did, pitches be crazy, it was a very successful event. But we also did a lot of work with our STEM program, Uplift. This is a program that we've done all around the world, it's a program that uses our legacy products to teach kids how to invent with limited resources. And it's a program that even to this day, when all of this other companies are freaking out how to just survive, we not only were able to not furlough anyone, we were able to transition this program to digital.
Jessica Matthews:
And I've already put a few hundred kids this year digitally through this Uplift program, kids running around their houses, taking their parents garbage and inventing new prototypes, which has been really fun. So that was one big part of it. My other two pillars were access to space. So that's obviously very different now, but we have space in Harlem where we do different events and access to financing. And we would partner with different organizations in the community to see how we could bring investors. But the biggest thing we've been able to hold on to, even during this year, has been that first pillar around education. So much so that it's something that we actually expand very much beyond Harlem. What I do love about Poughkeepsie, where we have our technology and demonstration facility and other places like Poughkeepsie and Harlem is that the world is very much more of the small towns outside of the big cities or the diverse urban communities of like Harlem. And so we like to place ourselves in these communities to be connected to real people and then to build there.
Jessica Matthews:
We're gearing up to do some Uplift work in upstate New York, as well, related to the same idea of giving back to the community that we hope to gain so much from.
Sam Saferstein:
Jessica, thank you for joining us. It was so great to listen to you talk about your vision, your vision for the future of power. I am so inspired by the things that you're building and I can't wait for more people to hear your story.
Jessica Matthews:
Thank you. It was a really fun conversation.
Sam Saferstein:
Many thanks to Jessica for joining us today and sharing her vision for the future of our power infrastructure. I am so inspired by how she's thinking big and isn't afraid to disrupt traditional business models. I know we will hear more about Jessica's innovations around technology, partnerships and hiring in the years to come. I hope you enjoyed this season's episodes and getting to know some incredible female business founders. In season four, we'll talk about financial health topics. So please look out for that later this fall. The mission of Women on The Move is to help women in their professional and personal lives. Our goal is to introduce you to people with great ideas, inspiring stories, and a passion to make a difference. If you enjoyed this episode, please rate, review and subscribe so you won't miss any others. For JPMorgan Chase's, Women on the Move, I'm Sam Saferstein. JPMorgan Chase Bank, NA is a member of the FDIC.
Subscribe