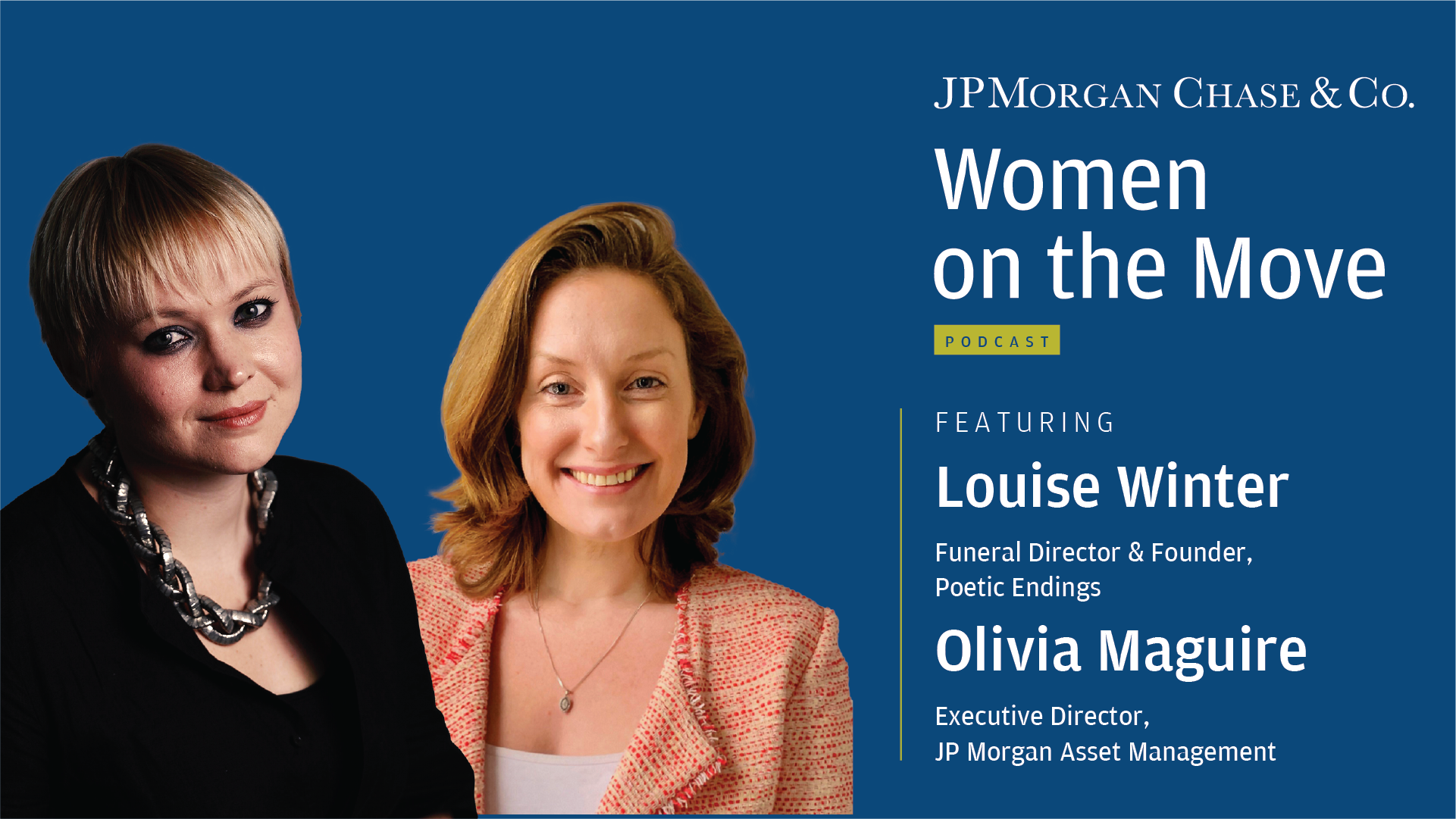 Finding success in J.P. Morgan's Founders Forward Mentoring Program
In the very best mentoring partnerships, both mentee and mentor learn and grow from each other—and that's exactly what happened when Olivia McGuire, a J.P. Morgan portfolio manager, was matched up with Louise Winter, a funeral service founder, through the firm's Founders Forward mentoring program. Here, Olivia and Louise sit down with Women on the Move host Sam Saperstein to discuss their careers and what they each gained from one another.
Forging a career in finance
Olivia has spent her entire career of twenty-plus years at JPMorgan Chase, starting in the firm's technology graduate recruitment program after earning her master's degree. Five years later, she moved to a role in asset management as a portfolio manager. Having applied for a similar role and not been the first choice a few months earlier, she got the call when a new one opened up on the same team. "And I'm still in the same team today working as a money market fund portfolio manager," she says. She shares that she wasn't sure she had the requirements for the first job, but she applied anyway since the position description said no experience required. The moral of her story? Take the chance and apply for the roles you want.
Olivia says she's been excited and motivated by her career—and that she was lucky enough to have strong female role models early on. "But I think that as someone who has a couple of decades in their career, I think it's really important to give back and be a role model to those who come behind," she explains. "It's trying to combat that imposter syndrome and the perhaps perceived barriers that you've put in front of you from going after what you want. And having someone as a mentor is really important in helping people to achieve the things that they want to do but may be too reluctant or scared to grasp and go after."
Olivia knew the Founders Forward program would be a good place for her to give back and help other women—and yet she was also intimidated. "I have never run my own business," she recalls. "What could I possibly tell a very brave and successful entrepreneur who started up their own company? And some of the companies that were described, I thought, wow, that's so impressive. They don't really need me as their mentor. So it took me a little time before I was brave enough to say, I'm going to do this. And I've done it twice now. Louise and I, that was my second pairing."
Finding purpose in helping families plan funerals
Louise Winter was a 26-year-old creative strategist when her beloved granddad died. She describes his funeral as a "typically British cremation service in a really grim crematorium." She says she had an epiphany moment of realizing there had to be a better way for people to both grieve and celebrate their loved ones. "I found the thing that I knew I was going to concentrate on for the rest of my life," she says. She soon founded Poetic Endings, which she describes as a progressive funeral service company.
"I think the main difference between progressive funeral directors and more conventional funeral directors is taking a more emotional approach, not being so closed off and telling people what it is they can have, but asking people what they need, giving them space to explore what might work for them and providing them choices," she tells Sam. She's since become a leader in the field of progressive end-of-life care and collaborated with end-of-life doula Anna Lyons on a book, We all know how this ends: Lessons about life and living from working with death and dying, which was published last spring.
Like Olivia, Louise talks about being hesitant to join Founders Forward. She had already gained confidence in another woman's entrepreneurship program, but knew she wanted to learn more about running her business—especially the finance side. "At first I was really intimidated because I wondered how anyone who works at J.P. Morgan and has a big career in finance, why they would want to hear about me saying how I don't understand what my accountants are talking about," she recalls.

Finding Success in JPMorgan's Founders Forward mentoring program
Olivia Maguire
Executive Director J.P. Morgan Asset Management
Louise Winter
Funeral Director & Founder, Poetic Endings
Subscribe