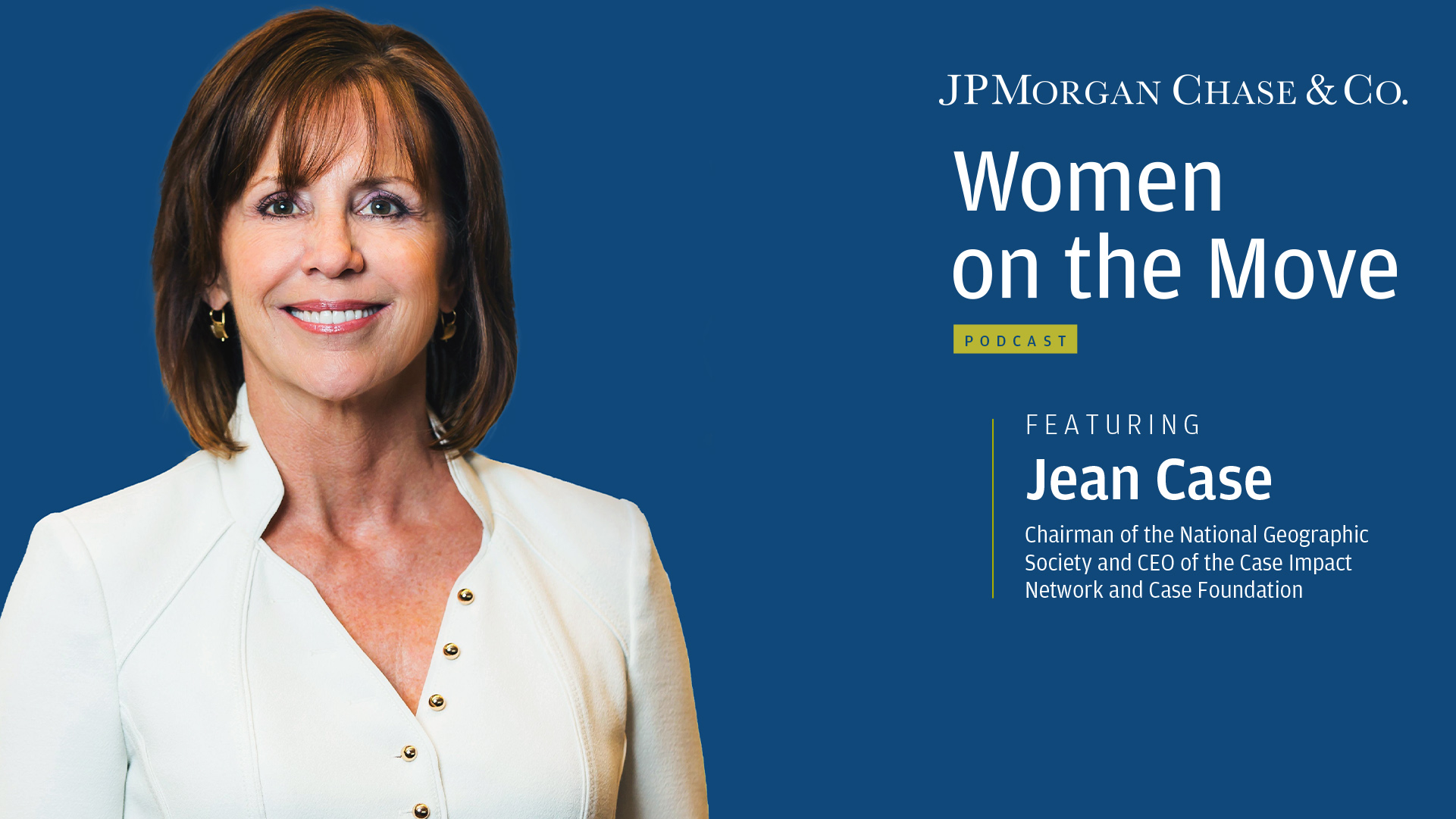 Stories
Embracing a more fearless approach, even in a pandemic
When Jean Case published her book, Be Fearless: 5 Principles for a Life of Breakthroughs and Purpose five years ago, she had no idea that we were about to experience a life-altering global pandemic—and she certainly didn't anticipate that the book's principles would remain relevant during such a crisis. But, as she discussed with Women on the Move host Sam Saperstein, that's exactly what happened.
Case's book centers on five principles of a fearless approach to change and growth: making big bets; being bold in taking risks; making failure matter; reaching beyond your bubble; and letting urgency conquer fear. And as Case, who's also CEO of the Case Impact Network, the Case Foundation and chairman of National Geographic Society, told Saperstein, she was a little uncomfortable in the beginning of COVID-19 to have a book about being fearless at a time when we all needed to take safety measures. "But obviously the kind of fearlessness that I talk about in the book is the fearlessness that looks past what's right in front of you and sees a different future, and clearly that's what we've needed in this last year," she said.


Big risks, big bets
At the core of Case's advice to innovators is the idea of starting where you are. "What is not well understood about entrepreneurs, for instance, is that in most cases they're really solving a problem when they start a new company," she says. "And in most instances it's a problem that they've either dealt with, or been up close to. And it turns out that's universal for change makers around the world." Once you've envisioned a solution to a need that's before you, you often need to take a big risk and make a big bet to put that vision into practice.
In Case's own life, her big risk and her big bet came in the early days of the internet, when she had a dream job shepherding the new "online services" vision at corporate giant GE. But when a tiny start-up came calling, she was interested in joining an organization with risk-taking in its DNA. Against the advice of horrified friends, she joined the start-up, which later became AOL.


Silver linings of the COVID era
The current pandemic has impacted several areas of life over the past year—not the least of which is people's willingness and ability to take big risks and make big bets. But Case says the pandemic has led to great innovation as well: she tells the story of an emergency-room doctor struggling with a lack of PPE who devised a process so that 80,000 masks a day could be sanitized and reused.
And pandemic life has provided fertile ground for another of Case's priorities: advancing equity and inclusion, especially amongst women. Amidst research showing that organizations with diverse teams outperform those without, today's virtual meetings are more diverse than when people had to physically meet in an office. She noted a very specific reason why female entrepreneurs are benefiting from the propensity to virtual meetings: "There's a very sad narrative through the years as entrepreneurs sit in front of investors, they get hit on, they have to put up with a lot . . Well, it's a little harder to do that over Zoom."


Looking forward
Case continues to advocate for diversity, equity & inclusion in her roles at both the Case Foundation and the National Geographic Society. When she became chair at National Geographic, the organization's explorer class was more than 80 percent male; today it's 51 percent female. At the Case Foundation she continues to both invest in and champion organizations that strive to give women opportunities.
She's currently putting her passion to work as co-chair of the American Women's History Initiative at the Smithsonian Institution. "This initiative sets out with one goal in mind, and that is to make sure we are adequately capturing the unbelievable contributions and achievements of women through time in America," she said. "It is a very intentional effort to open up the archives and look across fields and say, where were the contributions of women left on the cutting room floor?" To Case, it's an extension of her life's work: recognizing when women have been fearless in the past is a step toward encouraging women to be fearless today.

Embracing a more fearless approach, even in a pandemic
Chairman of the National Geographic Society, CEO of Case Impact Network and the Case Foundation
Subscribe