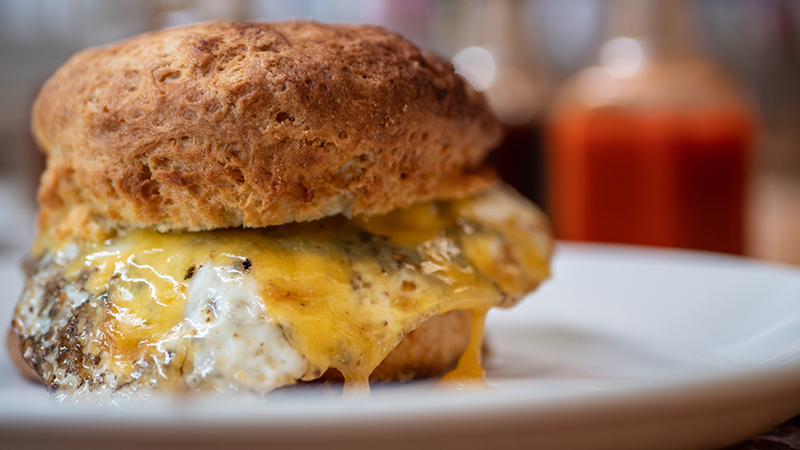 Stories
When Too Many Cooks in the Kitchen Is a Good Thing
A local kitchen incubator helps chefs become restaurateurs with the help of JPMorgan Chase.
Nashville is famous for its music scene, which draws top musicians from far and wide, but it's also becoming a major food destination, increasingly well-known for its vibrant, diverse culinary community. Chef Michael Gilbert has experienced the city from both sides, first as a musician, and later as a rising star in the restaurant scene, offering signature dishes that creatively reimagine many of the region's famous comfort foods.
Gilbert moved to Nashville in 2002 to pursue a career in music, but he quickly shifted his focus to the restaurant business.
"I worked for the campus caterer in college and always loved food," he says.
He worked his way up through the culinary industry, ultimately becoming head chef at several restaurants. But while he enjoyed the energy hustle of the food business, he wanted to spend more time with his family and work his own hours.
The solution? In 2016, he bought a food truck, which gave him the opportunity to stretch his culinary muscles—on his own schedule. "I started out trying to be all things to all people," he says. "I named it 'City Kitchen,' because I wanted it to be a kitchen serving our city."
Collaborating at Mesa Komal
In the winter of 2017, Gilbert was looking to expand into the catering scene, but he needed to put his food truck in park and find more space.
He was able to find space at Conexión Américas' shared kitchen incubator, Mesa Komal Kitchen. The first commercial culinary incubator of its kind in Nashville, the kitchen provides an affordable, shared spaced for food entrepreneurs who need licensed space for food processing, preparation and storage. Its name is an ode to its mission: "Mesa" is Spanish for "table" and "Komal" is Kurdish for "community."
Mesa Komal was established by Conexión Américas in 2013, a nonprofit focused on assisting Latino families with their integration into all aspects of life in Middle Tennessee. As part of that mission, they provide knowledge and resources to entrepreneurs looking to launch their business. To date, Mesa Komal has supported over 90 food entrepreneurs, many like Gilbert who have joined a new wave of entrepreneurs that continue to shape Nashville's food scene.
In 2016, JPMorgan Chase invested $200,000 to expand the size of the kitchen, offering space for more entrepreneurs to use Conexión Américas' Mesa Komal Kitchen resources to develop their business.
"The original impetus for Mesa Komal was to help immigrant entrepreneurs, but once we opened the doors, we realized that the demand for it was broader and we were happy to welcome local food entrepreneurs like Michael Gilbert," says Conexión Américas Co- Founder and Finance Director Jose Gonzalez. "That's one of the outcomes we're most proud about—the collaboration, friendships, and culture that have been created in the kitchen by people from all over the world."
Mesa Komal's affordable prices and supportive community were exactly what Gilbert needed to build his catering business. "Mesa was hugely integral for our growth," he says.
Growing Into His Own Space
After a year and a half at the Mesa Komal Kitchen, Gilbert had grown his business into three arms: City Kitchen Catering, Sucker Brunch Food Truck and MacHenry's Kitchen – all operating out of a new location in Nashville.
While he's no longer making biscuits alongside like-minded food entrepreneurs at the Mesa Komal Kitchen, he says he's still seeing the benefits from the time he spent there. He's grown his network and even gets referrals to his catering company from the people he met at Mesa Komal Kitchen.
"I love people. I love serving people," he says. But, while he's excited to be back in the kitchen and in his own space, what Gilbert is most looking forward to is providing good jobs for his growing staff of 13 employees.
"This year, we're able to offer health insurance to those who want it," he says. "We're pretty proud of that.