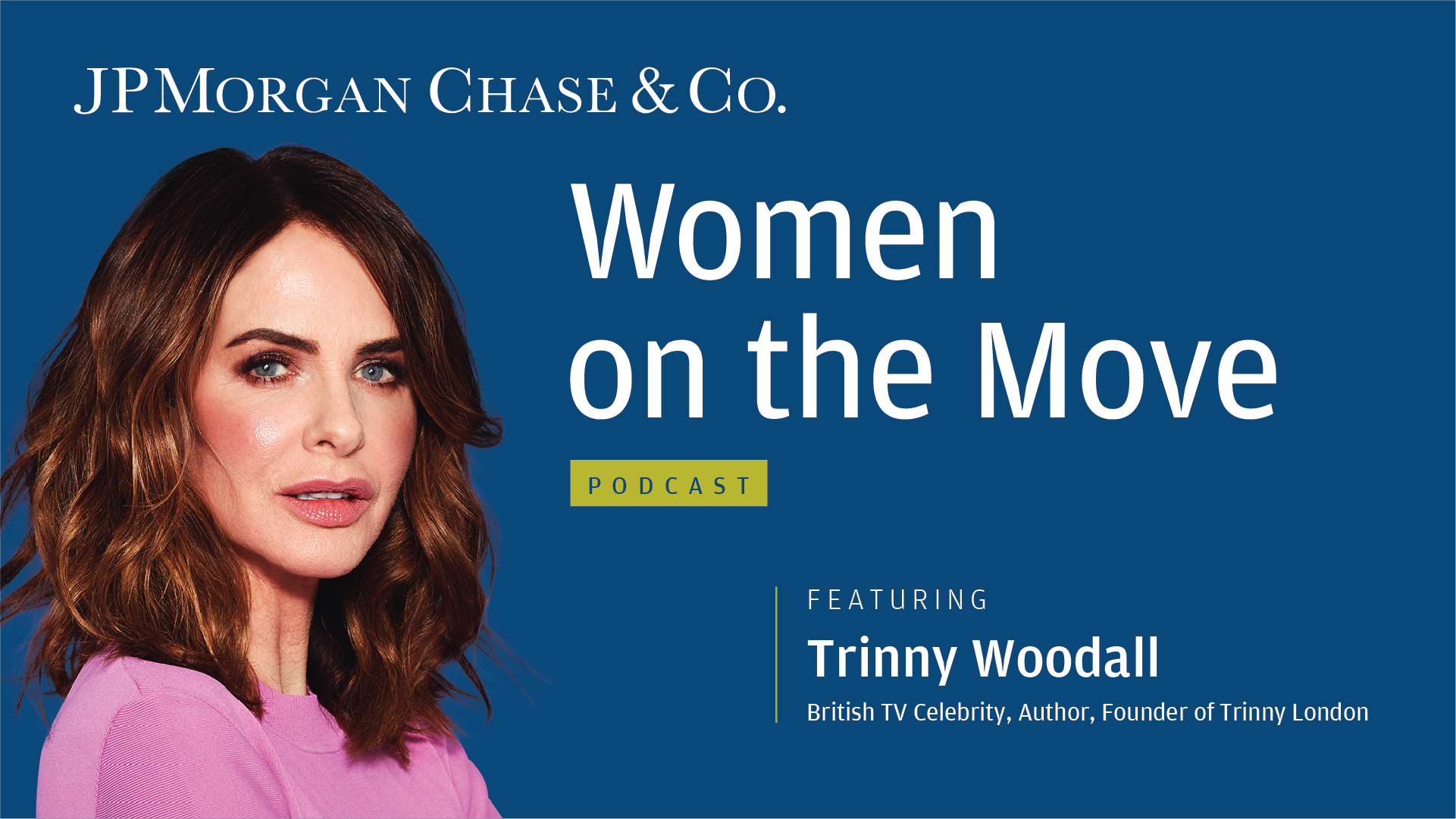 Stories
Trinny London CEO helps women find and flaunt their unique beauty
Trinny Woodall wants all women to experience the joy of showing your best self. As CEO and founder of global beauty brand Trinny London, Woodall creates makeup personally tailored to women's unique skin, hair, and eyes. "I love that feeling somebody gets when I make them feel better, it's just such a secret sauce, such a magical thing to be able to do," she says.
In this episode of Women on the Move, host Sam Saperstein sits down with Trinny to discuss her passions, her path to success, and lessons she's learned along the way as a renowned makeover expert, best-selling author, mother, and TV personality. Listen in as they discuss Trinny London's unique approach to personalization and its mission to give customers the confidence to be their best.
A passion for the power of makeup
Trinny started her career in finance, before getting her break as a fashion columnist for the Daily Telegraph in the 1980s. She and her columnist partner soon enjoyed success as fashion makeover experts. From there, she tells Sam, the transition to the makeup industry was a natural step for her. "I think that founders come either from a passion of understanding a hole in the market or that coupled with what they really would want for themselves," she says. For her, it was both: Her years working with fashion had taught her how much women value the concept of an individually tailored makeover, and her personal experience with makeup gave her a passion for it.
Growing up with acne, she explains, made her fall in love with what she calls the power of makeup at a young age. At 15, she recalls, her godmother took her to a makeup counter in New York City. "And going into an American beauty counter at that stage when England was so boring and behind . . . there was that feeling of, I can be transformed by this," she recalls. "For me, it's like, how can I be the best me, but still be me? And that was always what I felt as a woman. I didn't want to become somebody else. I wanted to just be able to look in the mirror and feel happy with what I saw."
It was the idea to personalize makeup that helped her stand out in the market. She says that once she had identified the need, she wanted to invent trends, not follow them. "And so I thought, okay, don't put red on every single person, because this woman has brown skin, a blonde hair, a greener eye," she explains. "This woman has a peaches and cream skin and a blue eye and a brown hair. So why would you do the same thing? And I just thought back in my head, I'd love it. And that was that beginning of all, match-to-me technology."
She began making the formulations in her bathroom and sending them off to the lab. Early clients would come to her bathroom, and she would track their products on a large physical chart on the wall. From that early data, she developed an algorithm and "things evolved from there." Today, clients log onto the Trinny London website, put in their skin profile, and get customized examples and suggestions of what to pick.
Lessons learned
Trinny says she was confident early on that personalized makeup would work. "I knew from the 5,000 women I've made over in that 10 years, I knew there was a need," she says. "I knew women would love it." Developing Trinny London into what it is today, however, was facilitated by the help and advice of others. One mentor "was fantastic," she recalled. "She said, you need suppliers. You need somebody who can help you manufacture what you're making in your bathroom. So, she put me in touch with people. I developed relationships."
She credits much of Trinny London's success to her staff and her hiring philosophies. "At Trinny London, we look for raw talent," she explains. "I literally glide over somebody's university degree. When I look at the CV, I glide over nearly everything. I just want to kind of understand What's their passion? What's their motivation? What motivation have they inherited from their family life?"

Trinny London CEO helps women find and flaunt their unique beauty
Trinny Woodall,
British TV Celebrity, Author, Founder of Trinny London


Subscribe