News
JPMorgan Chase Tops Nation in Deposits
Customers add $96 billion in net deposits in last year, bringing total to $1.3 trillion, the FDIC reports.
New York, NY, (October 3, 2017) – For the first time in 23 years, JPMorgan Chase & Co. led the nation in total deposits as consumers and businesses added $96 billion to their bank accounts in the last year.
The Firm's U.S. deposits grew 7.9 percent to reach $1.3 trillion on June 30, 2017, according to Federal Deposit Insurance Corp. data released this week. This is the fifth consecutive year the Firm led the nation in deposit growth. Over the last five years, customers added $447 billion in deposits, a 51 percent increase.
"Customers continue to trust us with their money as we help them bank whenever, wherever, however they want," said Thasunda Duckett, CEO of Consumer Banking at Chase.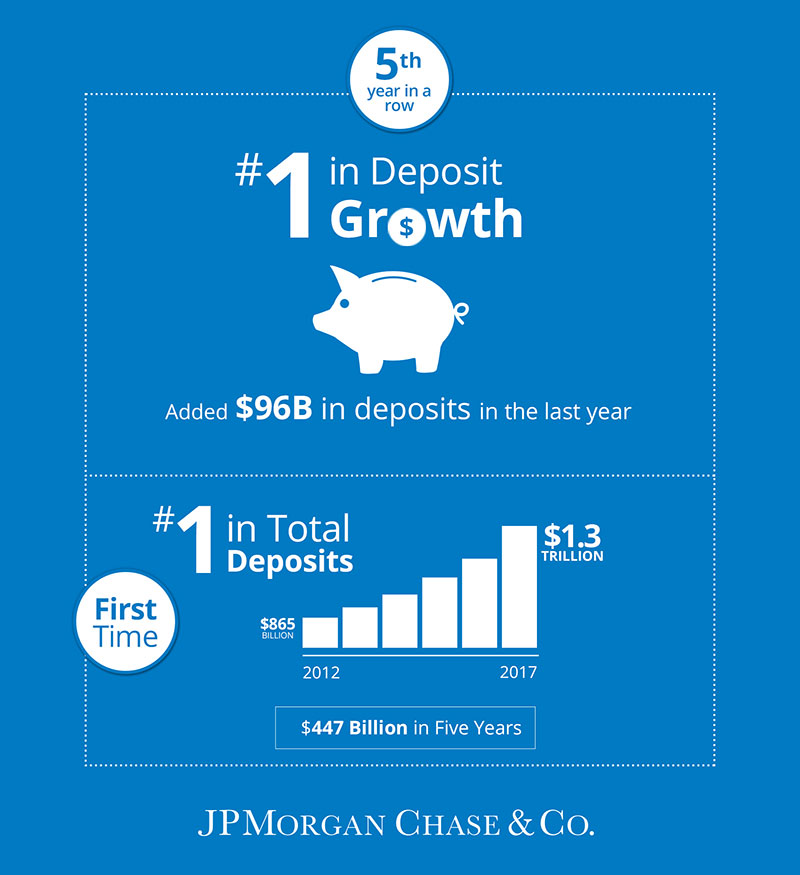 ---
About JPMorgan Chase & Co.
JPMorgan Chase & Co. (NYSE: JPM) is a leading global financial services firm with assets of $2.6 trillion and operations worldwide. The Firm is a leader in investment banking, financial services for consumers and small businesses, commercial banking, financial transaction processing, and asset management. A component of the Dow Jones Industrial Average, JPMorgan Chase & Co. serves millions of customers in the United States and many of the world's most prominent corporate, institutional and government clients under its J.P. Morgan and Chase brands. Information about JPMorgan Chase & Co. is available at www.jpmorganchase.com.