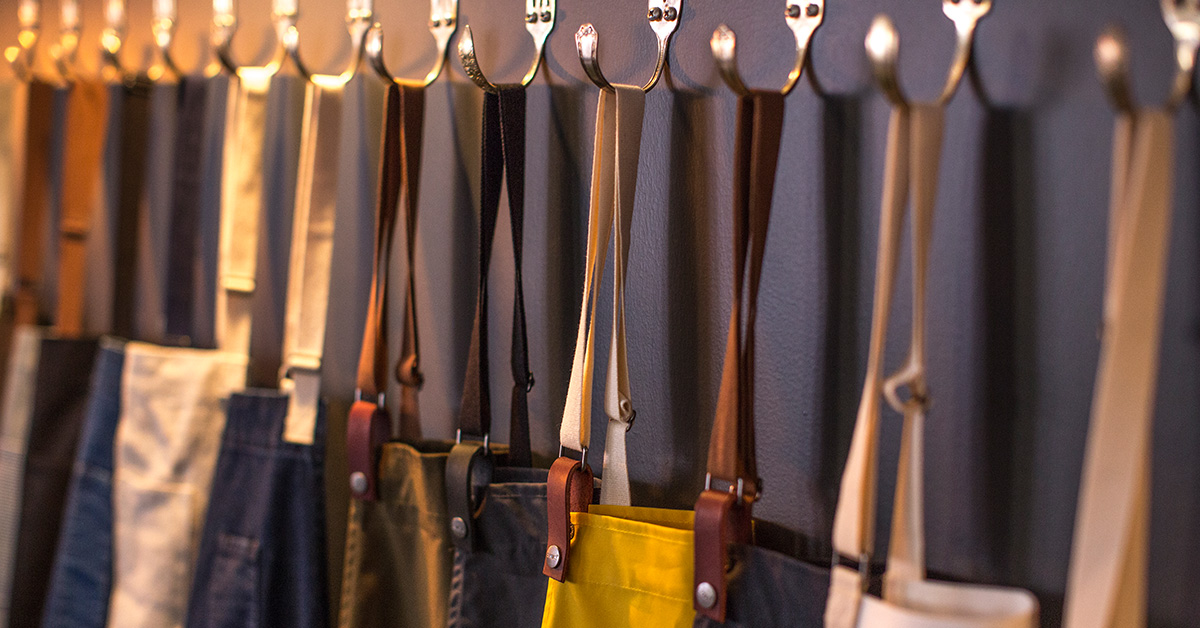 Stories
Kitchen Style, Made in America
A small business born and bred in New York City is bringing innovative modern style to chefs.
After working in kitchens for almost 20 years as a chef, Alex McCrery got tired of the clothing options. Chef pants and coats were baggy, hot and ugly, with loud patterns. Out on the street, "a chef can look a little bit like a clown," he says.
So, in January 2013, Alex and his wife, Jenny Goodman, started Tilit Chef Goods. They aimed to create functional work wear that's comfortable, modern and stylish.
They launched the company in their small New York City apartment, which was soon crammed with 5,000 garments. People stopped by to shop or to simply peruse the line. Alex took sewing lessons, while Jenny enrolled in an MBA program.
Tilit quickly took off, and the couple moved their business into an office that doubles as a showroom. Starting with five items, including aprons and work pants, the business grew to include coats, shirts, and bandanas.
"We're really fortunate to be at the center of garment manufacturing," says Jenny. "There are still so many factories and manufacturers that have highly skilled laborers." Alex and Jenny hope to buoy the industry and they are committed to keeping Tilit's production in the United States.
"We're floored and so appreciative of Chase. It's going to do so much for our business and the people that work with us, not just our employees in house but everyone we work with: fabric suppliers, local manufacturing, and the people that wear our goods."
Alex McCrery, Tilit Chef Goods
"I started Tilit because it was something that I wanted," says Alex. He knew from experience that the little details, such as breathable stretch panels on the sides of a coat, make all the difference. McCrery sketches the designs himself and is thrilled whenever he sees someone wearing their items. "When you're a chef, the joy comes from having people eat your food," he says. "Making clothing is the same thing. We can't keep the shelves full which is a great problem—but it's still a problem," he says.
A $100,000 Mission Main Street Grant from Chase will allow Tilit to continue to grow and keep up with the demand. They plan to invest in additional inventory and hire an account manager to maintain a high level of service and stay connected with customers. "Customer service is really important to us," says Alex. "We're both southerners, so the hospitality side is big."
With an account manager, Tilit hopes to secure more re-orders from current customers and more large orders from new customers. That income will allow the company to hire a digital marketing strategist and reach more of the country's 14 million restaurant workers.1 As Tilit grows, they hope to create more jobs in New York City's Garment District, and support pattern makers, fabric suppliers, manufacturers and seamstresses.
"The Mission Main Street Grant is going to do so much for our business and the people who work with us," says Alex. They started Tilit banking with Chase, and "it feels really good to know that your local bank is there...[It means a lot] just to know that an institution like Chase really cares about small businesses and shows it by doing a grant program like this," Jenny says.
Learn more about Mission Main Street Grants®
By Rebecca Dalzell
Rebecca is a journalist who lives and works in New York City.
---