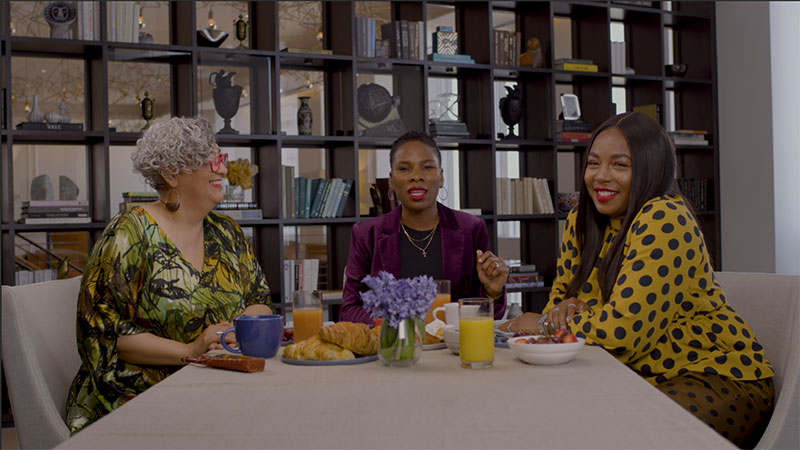 Stories
Taking Charge: How to Leverage Credit and Debt to Your Advantage
JPMorgan Chase and Essence sat down with media personalities Luvvie Ajayi and Kela Walker, and financial coach Saundra Davis to chat about their credit journeys and share insight for black women charting their own financial paths.
Q: What were your first experiences with credit?
Walker: I was first introduced to credit in college. We all remember in college, when we saw that table in the student union and they're essentially saying, "Come for this free money!" And you think, "Yes, money!" It wasn't until later, when I started realizing what I had done with my credit, that I knew how important credit was.
Ajayi: When I went to get my first apartment, I hadn't had a credit card at that point. They essentially told me I didn't exist because I didn't have credit. I had to get a secured credit card as my first card. It's one of those cards where you're considered a risk, so you have to put up an amount of your own money as your credit limit. I put up $500 and my limit was $500. I had to spend six months using this card and paying it off before I could have credit and exist as a person to the system.
Davis: I, too, had to start with a secured card, but it ended up being okay because it really did help me rebuild.
Q: What misconceptions do people have about credit and debt? How can we make credit and debt work for us?
Davis: There will be things that you do that will cause your credit to dip for a while. That's not a bad thing if you understand what you're doing. There are a lot of myths about credit: people are afraid, for example, that checking your credit score can harm your credit score. That's not the case.
Going from no credit to good credit is really a journey. I get a little worried when people say negative things about credit and debt, because here's the thing: how many people do you know who can buy a home without debt? How many can get a car without debt? Or go to college? Or send their kids to college?
Debt is leverage. That's all it is. Now, when we use it to manage our lifestyle, that's when it becomes an issue. But if we're using debt as it was intended to be—as a wealth-building tool—debt in and of itself is not bad.
Q: How can one start the process of figuring out their credit status?
Davis: Chase Credit Journey is a tool where you can check your credit score and it doesn't harm your credit score. If you don't know what your credit score is, it's a good first step, because you can know where you are and then decide what things you need to do to improve.
Q: How early should we start learning about credit and debt? Or teaching our children?
Davis: I tell people that as soon as your children can say 'I want," they're ready to learn about money.
Ajayi: My nephew just turned 12 and, on his birthday, his dad asked him what he would like. He said he wanted an investment account. I didn't know what an investment account was at 12! I was so inspired that this 12-year-old knew this. What would you tell your 12-year-old self about credit, about debt, about money?
Walker: That knowledge is power. And to start early on is really important. It would be probably something as simple as opening a bank account really early.
Q: How can we start the conversation with others about credit and debt?
Walker: I want women to just do this, to gather. We go to brunch, we have these great meals and we show up and show out. Let's show up and show out and talk about debt and credit with your girlfriends. Be honest.
For me, it's starting where you are and really knowing what's important to you. Start with your why and your where. Take an honest inventory of exactly where you are with your credit and debt right now, and then you can decide what you want to do next.
Q: What immediate tips should people take from this conversation to get started?
Ajayi: Check your credit score. You can use the free Chase Credit Journey tool to do that. Manage your debt by living under your means. And join us at Essence Currency Conversations and make a commitment to better your financial life.