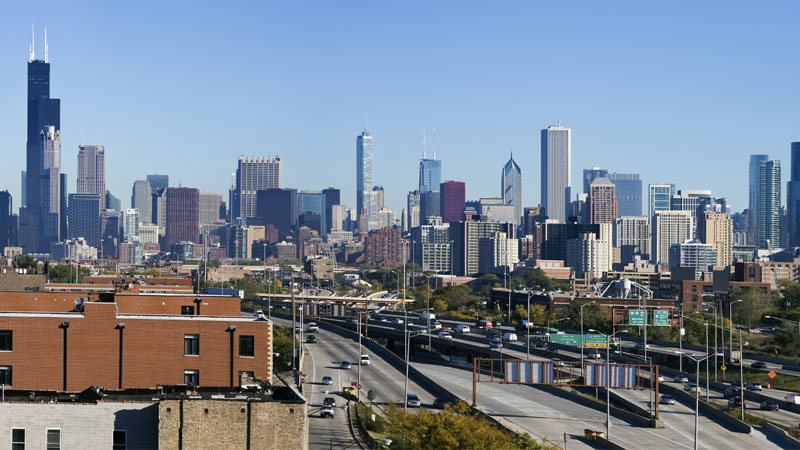 Stories
Getting Creative to Tackle Chicago's Unemployment
Local organizations work together to provide healthcare skills to Chicagoans in need of better paying jobs.
Working as a certified nursing assistant at Advocate Trinity Hospital, LaTara Ward wasn't only focused on paying her bills. She wanted to offer her five children, "a higher quality of life, one they can feel proud of." And thanks to a new employment program launched by Advocate Health Care, and other local Chicago stakeholders, she's doing just that.
Ward recently graduated at the top of her class from Advocate's healthcare-focused, skill-based training program targeting unemployed and underemployed Chicagoans. She added, "I can already see the positive effects that my new career has had on my children's self-esteem."
By many measures, Chicago is a global city -- a tourist mecca rich in culture, commerce and urban vitality. But beyond the city's core, certain neighborhoods face deep challenges.
While high unemployment and crime plague some sections of the South and West sides, an abundance of jobs, opportunities and amenities in other neighborhoods speaks volumes about the socioeconomic disparities that leave many of the city's residents feeling left behind.
Fortunately, Advocate Health Care, Illinois' largest integrated hospital system and one of the most prominent healthcare providers in the Midwest, is opening employment doors in healthcare for economically disadvantaged individuals in the Chicago area. The Healthcare Workforce Collaborative which launched the workforce program at Advocate Trinity Hospital in Chicago's South Side, offers hope for boosting employment and creating a new path for Chicagoans who are struggling to find good paying jobs and get themselves on a pathway to financial stability.
In 2015, JPMorgan Chase & Co. committed $3 million to Advocate Charitable Foundation to launch this initiative. As the biggest corporate commitment in Advocate's 20-year history as an integrated health system, the Collaborative is part of JPMorgan Chase's focus on workforce development, a critical component of economic opportunity.
The Collaborative also includes a broader group of area medical centers working together to solve shared workforce issues, such as lowering barriers for people with criminal backgrounds and educating employers to better prepare trainees for employment. At their core, these efforts and the organizations leading them are transforming the workforce system to the benefit of employers and community members like Ward. Together, they're also serving as an example for employers in other cities and communities to replicate across the United States and represent JPMorgan Chase's commitment to scale innovative and successful programs that are making an impact on the ground.
"The healthcare sector is projected to be the largest producer of new middle-skilled jobs in Chicago in the coming years," says Owen Washburn, vice president of global philanthropy for JPMorgan Chase. "Through this program, Advocate is partnering with training providers in neighborhoods across Chicago to expand pathways into these positions, as well as joining with other leading healthcare providers in the region to address systemic barriers to opportunity in a sector with a concentration of good jobs. A skilled workforce in neighborhoods across Chicago is good for our regional economy and good for businesses like JPMorgan Chase."
In fact, healthcare occupations are expected to experience rapid growth through 2024, by 19 percent, which is much faster than the average for all occupations, according to the Bureau of Labor Statistics. This demand will be driven by an aging population and federal health insurance reform. Employers like Advocate can play an important role in building a pipeline for middle skill jobs in healthcare, as was highlighted by a recent Urban Institute report.
A number of hospitals and healthcare systems are involved in the Healthcare Workforce Collaborative. Economic development and workforce entities such as Skills for Chicagoland's Future, Chicago Workforce Funders Alliance and Chicago Cook Workforce Partnership are all strategic partners in the initiative.
"We were very strategic in the hospitals selected based on the needs of the surrounding communities, for example, looking at employment rates and socioeconomic disparities," says Clayton Pryor, director of workforce development for Advocate Health Care. "This initiative allows us to offer innovative training and employment solutions to some of the hardest-hit populations, supporting the individuals and families in those communities that we are privileged to serve."
About 1,000 participants are expected to receive training through Advocate over the course of the grant, which runs through 2020. More than 200 participants have been trained so far and nearly 100 people have been hired in such positions as nursing assistants, technicians and phlebotomists. As the job market continues to shift, the healthcare industry has seen an increase in men entering roles that have been traditionally pursued by women. Starting wages are typically $13 an hour but can be higher based on specific job duties.
"One of the groundbreaking things about this initiative is that it's an employer-led, demand-driven initiative," says Pryor. "This program is spearheaded by a leading healthcare provider in Illinois, which allows us to ensure that the training is aligned with the evolving industry standards and employer demand."
Advocate also provides opportunities for trainees to complete externships, internships and clinical training at an acute-care Advocate facility. "They are completing their on-site training with our practitioners at the hospitals within the Advocate system," Pryor says.
Participants who successfully complete the program are guaranteed job interviews within the Advocate system and receive job placement assistance through the community based partners for careers with one of the region's healthcare providers.
Pryor pointed out that connecting job seekers with employers is "a matter of understanding and thinking through" key barriers to employment, including child care and transportation to jobs. Trainees are offered supportive services which include referrals for subsidized child care or public transit cards.
"When you look at the neighborhoods that have high unemployment, there are a lot of contributing variables," says Pryor. "Some individuals need the supportive services to help them identify and remove those barriers to employment. Those are some of the benefits integrated into the program."
JPMorgan Chase's strategic relationship with Advocate represents the company's dedication to investing in Chicago's neighborhoods and expanding access to employment opportunities. The company also recently announced a $40 million commitment to helping more Chicagoans climb up the economic ladder by focusing on several different growth areas including small business expansion, workforce development, neighborhood revitalization and financial health.
"JPMorgan Chase is a great partner," Pryor says. "The company has invested in understanding the market here in Chicago, where the jobs and demand are growing. That's what forged such a strong relationship with the Advocate Charitable Foundation. We were identified as a prominent healthcare system with the ability to provide training and access to jobs for communities in need."
---
Read more about our commitment to expanding inclusive economic growth in Chicago.
Learn more about our work to help people develop the skills they need to compete for today's jobs.