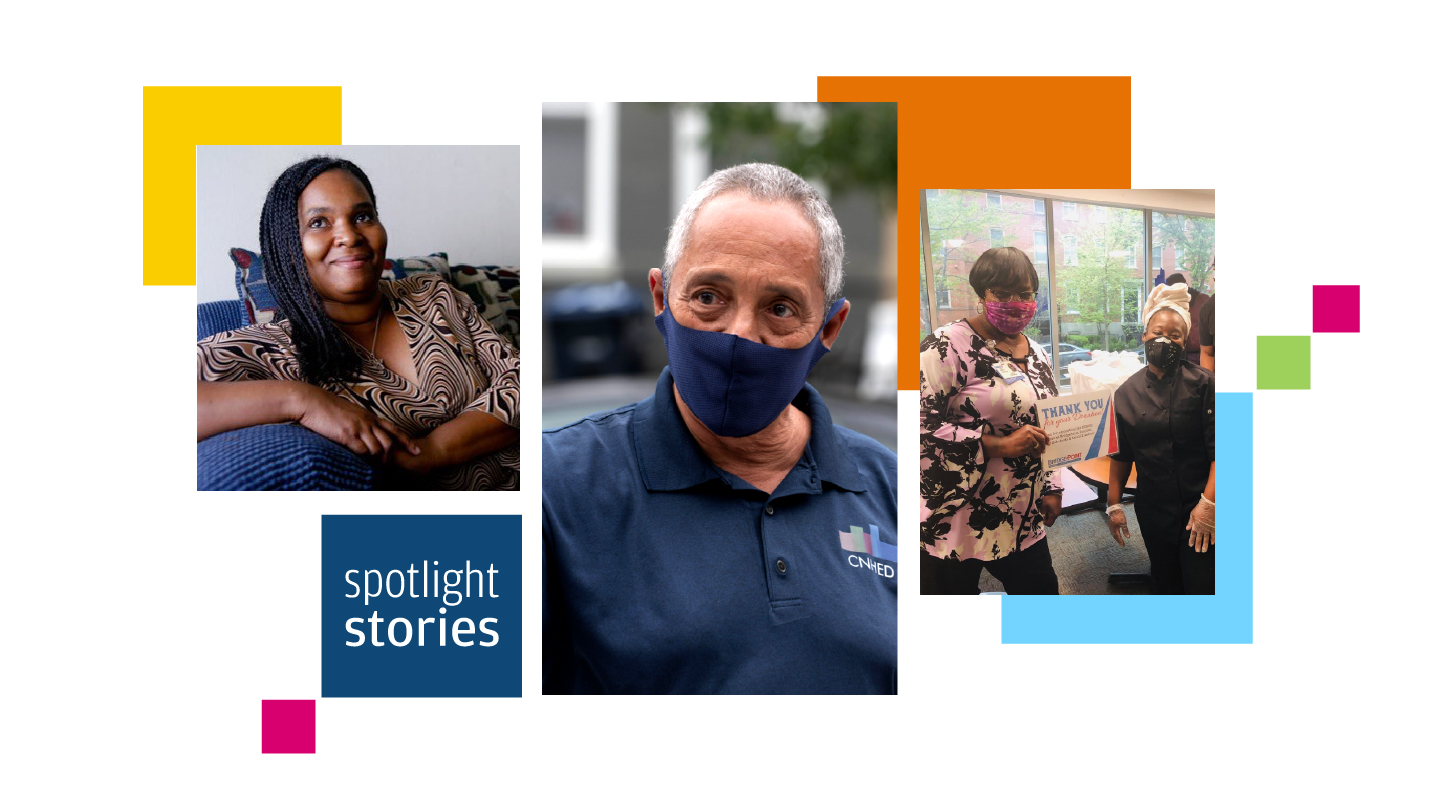 Stories
Business Savvy Meets Big Heart
Steve Glaude builds communities. How? You could call him a matchmaker. His greatest strength is making savvy connections between small business owners who need support and the people and tools that meet their needs. He brings a pragmatic approach to crisis management and a big heart for the challenges people face—and not just during a pandemic. Combine that with JPMorgan Chase's investment and business expansion in the D.C. region, and you have a powerful tool to help the community.
Pinkey Reddick has a passion to serve others, and she put that passion into action by opening a small catering business called Pinke's E.A.T.S. But just as her business was growing, the coronavirus changed the world.
As the economy took a hit and state regulations changed the ways people socialized, Pinkey was on the verge of financial collapse. She still deeply wanted to continue feeding the community she loved but was at a loss for how to make it happen.
Nobody was ordering catering anymore, yet there were still many people in the community who were struggling to find food. Many, including elderly people, couldn't make it to grocery stores or count on restaurants for meals. Essential workers still had to be on the job every day, under extraordinary conditions. How were they going to eat?
Pinkey's catering company and many people in the D.C. community needed each other. And Steve Glaude knew he could help.
Steve is an equitable community advocate and the CEO of the Coalition for Nonprofit Housing and Economic Development (CNHED) in Washington DC. But you could also call him a matchmaker.
Steve listens—really listens—to both small business owners who need support to sustain or grow their businesses as they face challenges as well as city governments that need help implementing equitable economic development solutions that will benefit their communities. And when he sees organizations with resources to help those local small businesses, he springs into action.
Through his nonprofit, Steve organizes monthly community events for small businesses to meet each other, share resources and build connections. During those events, Steve got to know Pinkey and learned about her business aspirations. He saw Pinkey's drive, tenacity and passion to serve others. He was so impressed, he even hired her to cater meals for the meetings. He had a feeling Pinkey was headed for big things.
Fast-forward to early spring of 2020: As COVID-19 began to spread, Steve's concern grew for the small business owners he'd met. He thought of Pinkey and gave her a call. Pinkey told him the realities she was facing—which were causing her let go of staff and lose money by the day. She needed help for her business to survive.
Although her "can-do" spark was being tested, Steve believed that, with some support, she could propel her business forward.
After speaking with Pinkey, Steve thought of the work JPMorgan Chase was doing and reached out to Dekonti Mends-Cole, a Vice President of Global Philanthropy at JPMorgan Chase & Co. Dekonti oversees philanthropic investments in the greater Washington region for the firm.
Steve suggested a program in which local minority food vendors contract with hospitals and universities to provide meals to essential workers. Philanthropic investments from JPMorgan Chase helped food vendors, like Pinkey's E.A.T.S., pivot their business models to deliver meals to essential workers during the pandemic. That pivot proved fruitful, sustaining essential workers and continuing to grow Pinkey's E.A.T.S. in line with Pinkey's drive to "serve her community."
From her experience with other businesses like Pinkey's, Dekonti understood how difficult it can be for black and brown entrepreneurs to work with large regional hospitals and universities, and she knew that resources were needed to get contracts to more diverse entrepreneurs.
"JPMorgan Chase's philanthropic investment wasn't just an investment in one business or individual," Dekonti said. "Working with CNHED, we were able to connect the dots: the pandemic caused a disruption in the supply chains of essential service providers, like hospitals and universities, who desperately needed goods and supplies, and local minority-owned small businesses were well-positioned to step in and meet that need. This strategic pivot at the height of pandemic supported the stabilization of minority-owned businesses who hire and serve their communities."
That was just the boost Pinkey needed to get going again. Word got out about her catering, and other organizations pitched in to sponsor more meals for essential workers.
Realizing that her catering services might need to evolve into more mobile options, Pinkey worked with JPMorgan Chase, and Washington Area Community Investment Fund, a community development financial institution partner, to buy a food truck. She also worked with local churches to create grab-and-go meal packages for their congregations and the public.
Pinkey saw this as a way of strengthening the community she lived in—a remarkable resurgence infused with energy from Steve's networking connections.
Steve helps create those connections with skills he's developed over years of working in the field:
Listening to the concerns of community members.
Thinking creatively about resources and solutions.
Tapping into a robust network to find organizations who can help.
Connecting them to the people and groups who need their support.
"We're the voice on behalf of small businesses," Steve said. "CNHED helps open doors that an individual just can't."
Nobody can do anything by themselves, Steve says. It takes a community to support the struggling or new kids on the block. That's what being an advocate is all about.
"We're building and supporting the community," he says. "Not only the homeless and the starving, but those on the fringes, who just need a little boost."
Spotlight Stories: Celebrating the stories of those who rise to the challenge and inspire us every day. Stay tuned for more.
JPMorgan Chase is not responsible for views expressed other than our own.