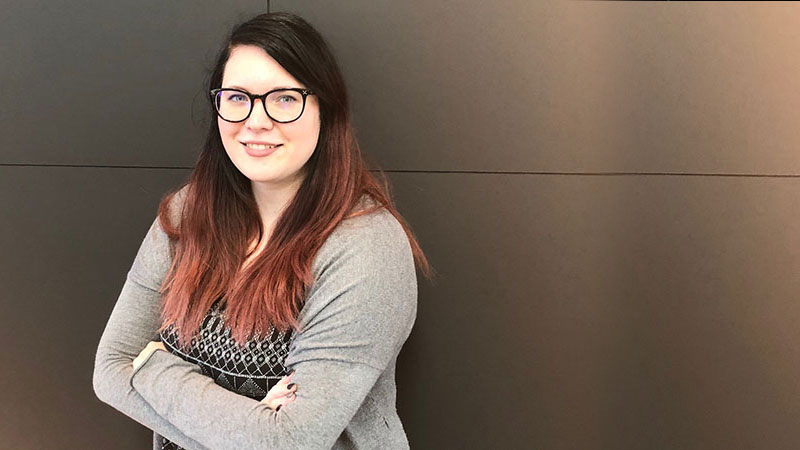 Stories
Speaking Up and Standing Out as a Young Woman in Tech
A JPMorgan Chase intern-turned-full-time employee shares tips for owning a seat at the table.
Hannah Mateja has always been passionate about STEM. As a high school student, Mateja excelled in her math and science classes and even considered pursuing a math major in college. But the course of her career changed when she enrolled in a computer science class.
"I really like the problem-solving aspect of computer science," she says. "There wasn't a distinct moment, but I thought to myself, 'I'm actually pretty good at this and it's a lot of fun, so why not pursue it?'"
But you don't have to be a rock scientist or computer scientist to know women have been historically underrepresented in STEM fields. Less than 20 percent of computer science students in the United States are women.
Most people think "finance" when they hear JPMorgan Chase, yet you interned for a tech department. What about JPMorgan Chase's tech initiatives caught your attention?
JPMorgan Chase's need for precision and consistency — and that the company maintains that accuracy and consistency — was extremely impressive to me. Start-ups and other tech companies do great things technologically too, but JPMorgan Chase has to keep running and serving customers all across the world. They're consistently pushing boundaries and finding new ways to improve their technology. One of my projects was to work on tools that help other developers. For example, if you're working on a website, you need a way to test whatever you're adding or changing. We built a tool that improves how developers test their projects.
Learning new coding languages always bolsters my confidence because I know I can rise to the challenge, learn new skills, and still be productive.
Women are historically underrepresented in the tech industry. What is it like to be a woman in tech at JPMC?
I rarely feel alone as a woman in tech. While there were more men than women on my team, I was supported by everyone around me. I never felt like I was put down or unheard, which was important to me. It was nice to be in an environment where gender didn't matter.
What was the biggest challenge you faced during your internship? How did you overcome it?
JavaScript is a unique and sometimes quirky programming language that I had little experience with previously. JPMorgan Chase has a specific dialect and way of using it, so they had specific tutorials for JavaScript, security, and a lot more. My intern colleagues and I dove into it, which was nice because we could help each other out. Learning new coding languages always bolsters my confidence because I know I can rise to the challenge, learn new skills, and still be productive.
What other tips do you have for staying confident at an internship?
Always being willing to ask questions and make your voice heard. If you sit in silence, people probably won't think you need help. It takes confidence to speak up and ask for help.
What advice do you have for women who want to break into the tech industry?
Knowing and believing that your voice and your experiences are valuable is a great way to stand out to employers, and better represents your skill sets! People are normally very supportive of what you have to say, and sometimes you have to be that person to cut in and speak up when there's no other opportunity to get a word in.
As a Gen Z woman, do you think the attitudes toward women in tech are changing?
I think they're changing for the better! During my freshman year in college, a male peer joked that women couldn't code. His jokes upset me, but I didn't let them deter me — it only drove me to work harder. The sentiment that women can't do something is slowly disappearing, and it gives me a lot of hope for the future.
---
JPMorgan Chase DNA explores the career paths, quirks and experiences of individual employees who propel the company forward every day—highlighting their unique backgrounds, passions and commitment to "doing good," while redefining success at every level of the company. Learn more about career opportunities at JPMorgan Chase.