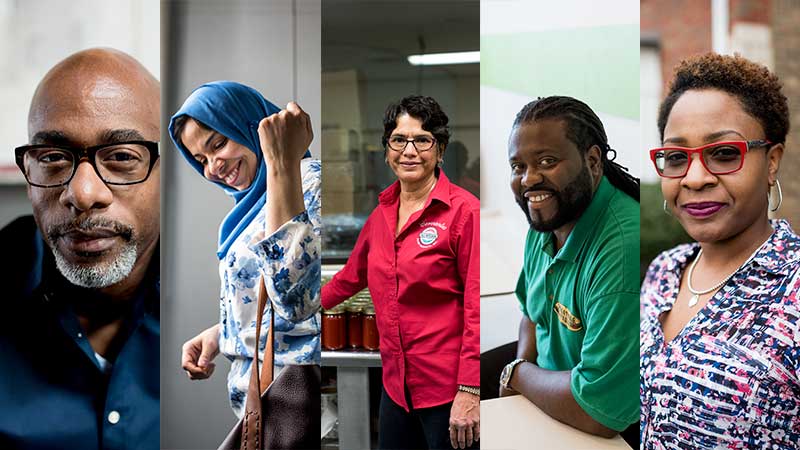 Stories
The Big Difference Small Businesses Can Make
By supporting minority entrepreneurs who can't get traditional funding, nonprofit community-development funds are transforming "micro businesses" into engines of economic growth.
For anyone aiming to start or expand a small business, one critical necessity trumps all the rest: the need for capital. And for people of color, that need has been growing more acute. During the economic expansion of 2002-2007, the Small Business Administration (SBA) increased its loans to African-American-run businesses by 60 percent, four times the rate of increase to Caucasian-owned firms. But after 2008, when the black community lost half its total wealth, SBA loans to African-American-run firms dropped by almost half, even as the SBA's total loan volume increased by 25 percent.
Beyond the crucial issue of equal opportunity, there are important economic reasons to work against that disparity. Small businesses create about two-thirds of all new jobs in the private sector, and a lot of those jobs are in businesses with fewer than five employees, such as local dry cleaners, hairdressers, shoe stores, and diners. These so-called "micro businesses" carry outsized economic weight. If only a third of them hired a single person, according to one study, there would be full employment in the U.S.—and that would set off the virtuous circle in which increased consumer spending leads to more and better businesses and stronger communities, the bedrock for economic expansion.
That's why "micro loans" to aspiring small-business entrepreneurs who don't yet qualify for traditional bank loans have economic and social impact far beyond their face value.
Access to capital is especially crucial for businesses in distressed communities, where the need for jobs is greatest and conventional small-business loans can be hardest to get. To help grow such small businesses and strengthen local economies around the world, we support community development financial institutions (CDFIs), nonprofit sources of financing for businesses that don't qualify for traditional funding. CDFIs also offer hands-on help with business plans, marketing, financial management, and other "back-office" disciplines required for success. As Janis Bowdler puts it in our latest Corporate Responsibility Report, CDFIs are "basically an on-ramp that enables entrepreneurs to turn their business idea into a reality."
What follows are the stories of five minority entrepreneurs and the CDFIs that smoothed the path to greater prosperity for themselves and their communities.
---
Arian Gonzales, Cervantes Food Products
The inspiration for Arian Gonzalez's business came from the spicy hot chili and salsa at Cervantes, one of Albuquerque's most popular Mexican restaurants. Lucky for her, the owner is her mother-in-law, Roberta Finley, whose recipes have been drawing a steady and appreciative crowd of diners since the restaurant opened in 1976.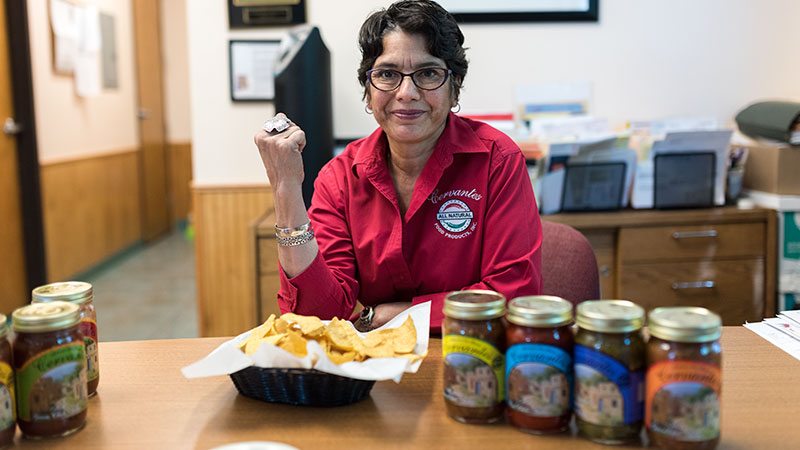 "New Mexicans tend to smother everything with a red or green sauce," she says. "We're crazy about chili." With husband Richard by her side, she approached Finley with the idea of forming a company to distribute the restaurant's chili and salsa to the specialty food market.
Like 80 percent of startups, Cervantes Food Products was initially self-funded. "When I finally decided to make this a viable business, I poured every dollar of my 401K into the project," says Gonzales. That self-funding lasted through the start-up period, when the company relied on co-packers—established food-manufacturing businesses—to actually produce and package their product.
By 2010, this approach was no longer viable. "When you use a co-packer, you are really at the mercy of their scheduling," says Gonzales. "We were starting to get bigger retail customers, and we wanted to make sure we could fulfill our orders in a timely fashion. It was imperative for us to get our own equipment."
But Gonzales knew that traditional funding was unlikely. "In 2010, it was clear that, given the size of our business, we were too big to continue self-funding"—but not big enough for traditional funding programs.
That's when Gonzalez found out about Accion, whose four member CDFIs serve business owners across the country. Globally, Accion is a nonprofit organization dedicated to financial inclusion, funded in part by JPMorgan Chase. "We've secured three separate loans from Accion since 2010," she says. The first two funded an inventory of supplies and a custom-label business, the third to cut the cord with co-packers and create their own manufacturing facility. What made the difference was that the lender was not a distant angel but part of the community. "All the people there are local business leaders. They know who you are as a business. Many of them have even purchased my products. So when I went and got a pretty significant loan from them, they knew that we were in this to be successful."
---
Nadira El Khang, Designer of Handmade Bags
Nadira El Khang was born and raised in the Moroccan city of Marrakesh, a place with relatively few business opportunities for women. She grew up playing in her father's store in the city's Djemaa el-Fna bazaar, passing the time by fixing old bags and leather goods. She kept it up even after moving to New York in 2009 to attend LaGuardia Community College. Her brother, on one of his annual trips to visit her, helped her see that she had become good enough to sell what she made.
After that, whenever he came to visit, "I would give him my stuff, which he would sell at Chelsea Market and the flea market in Williamsburg," she remembers. "Whatever I gave him, it sold right away. So I felt I had something special."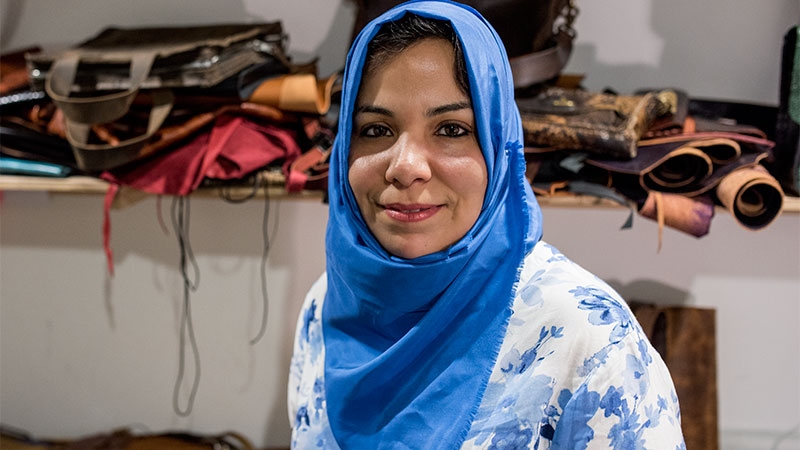 Even before her graduation in 2014, she was confident enough to apply to Accion East to set herself up in business. It was "a big jump" for a young woman in a new country, she says, and as a recent immigrant with no work or credit history, she could not lean on typical self-financing methods.
Nadira has been exceedingly careful about spending the money she borrowed. Not yet ready to go into New York's retail market, she is selling her wares from an online-shopping site at nadirabag.com, which the money helped her build. "Retail stores request too much of a percentage, and I'd rather use that money for marketing than throw it away. I sell on my site, and on Etsy." She also used the money to get her own workspace at NYDesigns, a nonprofit incubator and shared workspace for design and tech startups in Long Island City, New York.
When she does open her own store, she says, she wants to pattern it on the bazaars of her homeland: "But I need to start with something smaller in order to raise capital—maybe a cart in Columbus Circle, or the holiday market at Bryant Park."
No one who knows her will be surprised if Nadira becomes an employer someday, in a thriving business that is a pillar of her community. For now, though, her community is made up of struggling women entrepreneurs like herself. "I just graduated from a program for women entrepreneurs," she says. "There were 29 college women going through the same challenges. That gives me confidence."
---
Tequila Jarrett, Founder of We Jus' Wanna Klean
For Tequila Jarrett, success is about more than making money. Does she want to strike it big? "Absolutely," she says. "Nobody is in business not to make money." But above all, she wants the small cleaning company she runs in the south suburbs of Chicago to be a force for good in her community.
"Success is not always determined by the dollar you have in your pocket," Jarrett says. "It can be determined by how many lives you've changed."
Jarrett's company, We Jus' Wanna Klean, began back in 2002 as a one-woman operation. Today, she has seven employees and says that one of her main goals is to give people a second chance. Jarrett estimates that about half the employees who've worked for her have some kind of criminal record.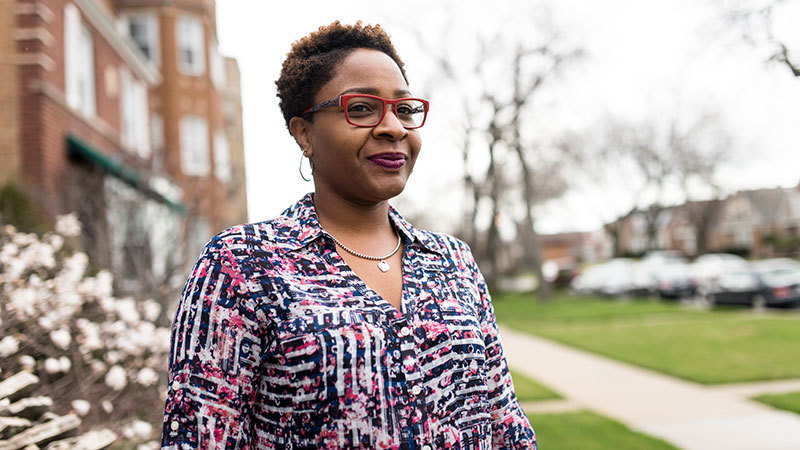 "We honestly believe that the best people can make a bad mistake or make a bad choice at times," she says, adding that some of those with the most troubled pasts have become her best employees. "They work so hard, probably because they see that the life they lived before is not productive, and it doesn't lead them to anything positive. So I feel like me giving them an opportunity—they work that much harder to be able to prove themselves."
Jarrett knows how important it can be just to get a foot in the door. In the beginning, she cleaned homes for free, every day for four months, just to demonstrate the quality of her work. Four years ago, though, after nearly a decade of operating hand-to-mouth, she discovered Accion Chicago, which gave her two loans to help buy equipment, recruit new hires, and make payroll while she steps back from the day-to-day cleaning and concentrates on developing a strategy for expansion.
Her progress has not been easy, Jarrett says, but it has already paid off. "At the end of the day, I can tell my son, this is what Mommy did," Jarrett says. "Mommy provided this many jobs. She was able to help this many families. I'm really trying to leave a legacy for him."