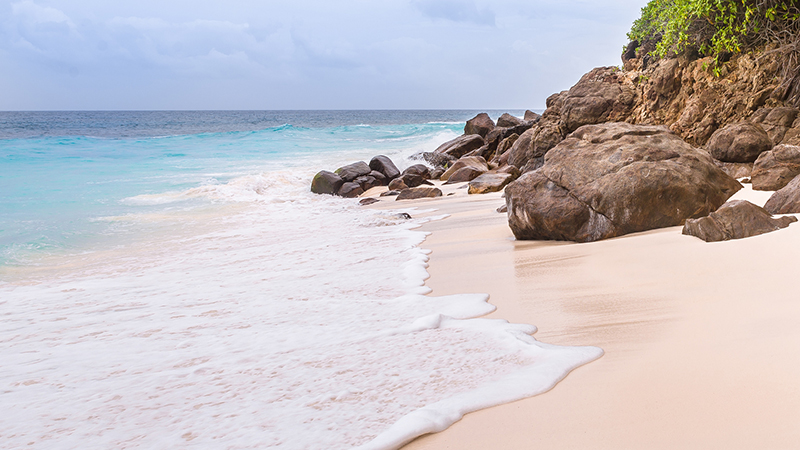 Stories
Saving Natural Resources One Investment at a Time
In areas like the Seychelles, innovative partnerships are helping vulnerable ecosystems not just survive but thrive.

Originally published by OZY on April 12, 2018.
Individuals living in the most vulnerable areas around the globe are already familiar with the daily effects of climate change, and for small island nations like the Seychelles in the Indian Ocean, the impacts are devastating.
The Seychelles are disappearing as sea levels rise. The coastlines of its 155 picturesque islands have been eaten away by elevated ocean waters for nearly two decades.
Widespread coral die-off from warmer ocean temperatures compounds the issue: as coral reefs die, they are less effective as a buffer making the waves that reach shore more destructive.
For a nation that depends on tourism, disintegrating beaches and crumbling coral reefs paint a grim picture. More than 300,000 people visited the Seychelles in 2016, and tourism currently contributes 22 percent to the country's gross domestic product. Yet it isn't just tourism at risk from climate change—it's the country's entire way of life. Diminishing coral means less protection for young deep-sea fish and sea turtles, depleting the marine ecosystems that affect fishing and other industries.
Conservation grant-making efforts alone can't reverse these threats, and so unique corporate partnerships are stepping up to help stabilize places that are vulnerable. One such partnership is NatureVest, the conservation investing unit of The Nature Conservancy. NatureVest, launched in 2014 with founding sponsorship from JPMorgan Chase, which continues to provide strategic advice to the initiative, works at both the corporate and grass-roots levels to protect some of the world's most at-risk areas. "We have a simple view that we can invest in nature and people," says Marc Diaz, managing director of NatureVest, "and by doing so, we can help people and nature thrive."
By convincing businesses, governments and capital markets to invest in conservation, NatureVest promotes the concept that sustainable management of natural resources creates a form of long-term capital. This belief, says Diaz, "drives The Nature Conservancy's efforts to create ways of stewarding nature that enable people to derive benefits from it, while also ensuring nature's ongoing protection and, in some cases, even its restoration." George Ingram, senior fellow at the Brookings Institution, adds, "There's a new generation of corporate managers who have the rigor of a corporate approach alongside social consciousness"—and they form an invaluable network with a vested interest in improving environmental outcomes.
To achieve these goals, NatureVest looks for places where private investment can support sustainable business models. Places like the Seychelles, where the organization began a major conservation effort in 2014—a collaborative, multistakeholder effort that, three years later, led to the creation of the country's largest protected marine area, a deep-ocean reserve that represents 15 percent of the Seychelles' territory.
To finance these efforts, NatureVest, helped the country restructure more than $21 million of sovereign debt in 2015, which funneled money into climate resilience efforts and grants for local marine conservation efforts. This February, the country's government designated the first 81,000 square miles for protection from activities like commercial fishing and oil exploration.
For Diaz, this is news worth celebrating. "We expect this to be the first in over a decade of work that will enable the Seychelles to have a sustainable funding flow to protect and restore degraded areas," he says. Ingram also applauds this as a rational, innovative approach. "As social entrepreneurs and social impact investing continue to grow, we see social entrepreneurs taking a double bottom line of return on investment and also a long-term return to the environment," he says. This forms the crux of the relationship between citizens, private investors, corporations and policymakers who have to come together to create meaningful environmental change.
One thing is certain: The pace of change shows no signs of slowing. To keep up with ever-adapting times, companies need to find and use methods that allow them to move with the speed of the times.
Our goal is to make these models sufficiently attractive to private investment so that they become like any other investment tool.
Marc Diaz, managing director, NatureVest
One of the most noteworthy results of NatureVest's work in the Seychelles is the opportunity to take the investment models to scale with counsel from both expert advisers at JPMorgan Chase and other collaborators in the banking world. This critical, in-depth support has given NatureVest the map it needs to build a sustainable business. "Our goal," explains Diaz, "is to make these models sufficiently attractive to private investment so that they become like any other investment tool—a familiar and effective way to finance activity that will create more value." The reasoning is simple: "Private investors can help natural resource managers steward their underlying natural capital," says Diaz.
Most important, Diaz notes, is NatureVest's potential to familiarize investors with new environmental models. "Most of us don't really have a sense for where the majority of our wealth, which is typically in our retirement savings or long-term investments, actually lives," he says. Through NatureVest, Diaz ultimately wants to give people the same opportunities for managing and investing long-term wealth as they have in their day-to-day financial choices.
This would signal a big shift in financial management, according to Diaz. "We actually have a huge amount of potential to create choices for people to see their values live out in the world," he says. For the Seychelles, that value is in the early stages of creating much-needed change.