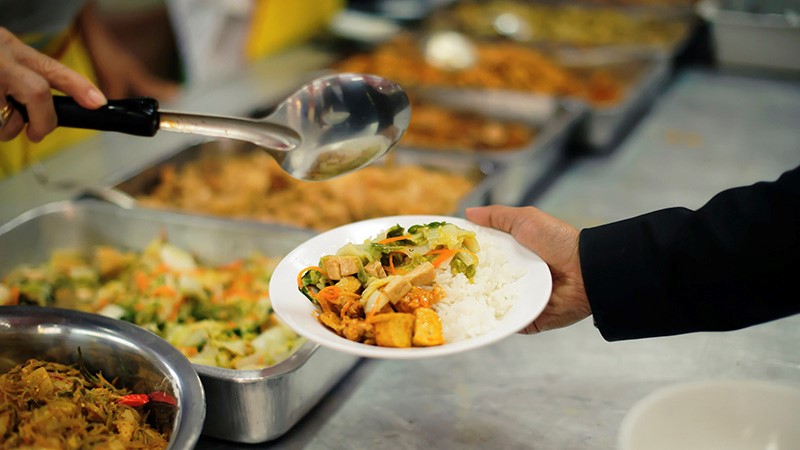 Stories
Saving Food—and Feeding the Needy
For over 40 years, Second Harvest Food Bank has distributed food to some of Nashville's neediest citizens. With help from JPMorgan Chase, it's bought another refrigerated truck—and extended its reach even further.
When Beatriz G. was a child, she knew what it was like to go to bed hungry. Fortunately, Second Harvest Food Bank of Middle Tennessee was there to help.
"My mom had to get help from Second Harvest because of economic challenges," Beatriz says. From fresh vegetables and dairy items to non-perishable goods, the food Beatriz's family received filled their plates…and set the stage for getting them back on their feet.
The Other Side of the Counter
Years after Beatriz and her family leaned on support from Second Harvest, she is back—but this time she's the one offering help. She serves her hungry neighbors at the Salvation Army Food Pantry in Nashville, one of the agencies that partners with Second Harvest.
Beatriz says her experience as a child moved her to help other families. "I feel like I'm paying it forward," she says. She began working with the food pantry as a volunteer translator. Before long, she was running the pantry on Monday and Wednesday afternoons. Today, she helps more than 20 families a day.
"It's amazing how many people come here and tell me what they're going through," she says. "I close my computer and just listen."
Hundreds of Local Donors
The Salvation Army Food Pantry, where Beatriz volunteers, is one of 460 partner agencies—including homeless shelters, senior centers and even schools—that work with Second Harvest to distribute food to those struggling with hunger in the community.
Serving 46 counties—many of them rural—across Middle and West Tennessee, Second Harvest relies on mobility. With its fleet of refrigerated trucks, the food bank is able to distribute more than 600,000 pounds of food a week to its partner agencies—including its Mobile Pantry program. These large-scale, farmers' market-style distributions allow Second Harvest to serve around 200-250 families with more than 20,000 pounds of food in a short amount of time avoiding food storage and spoiling issues.
Second Harvest's vast network of volunteers is its backbone, but the donors provide the lifeblood. One of them, Taylor Farms Tennessee, began partnering with Second Harvest last year to coordinate donating its surplus food supply. Their effort minimizes waste sent to the landfill and helps stock refrigerators for their neighbors in need.
"Second Harvest is the ideal partner," says Theresa Austin, Customer Service Manager at Taylor Farms. "They can handle large quantities of surplus product, which enables us to help our local community as well as avoid wasting good surplus product."
Right now, Taylor Farms Tennessee donates food through Second Harvest between four to five days each week.
"Giving back to our local communities is our passion at Taylor Farms," Austin says.
JPMorgan Mobile Pantries
A supporter of Second Harvest and its partner agencies for the past five years, JPMorgan Chase recently took its support to another level. It's sponsoring one of the organization's refrigerated trucks, which are used to rescue food and distribute it to those in need at Mobile Pantries. Over the course of the next three years, JPMorgan Chase's investment will be used to support additional Mobile Pantries throughout the community, including some near local community colleges.
For students juggling a busy class schedule, a job, and family life, putting food on the dinner table can be a challenge. Second Harvest's Mobile Pantries will give students access to healthy food just steps from campus—fueling them as they quench their thirst for knowledge.