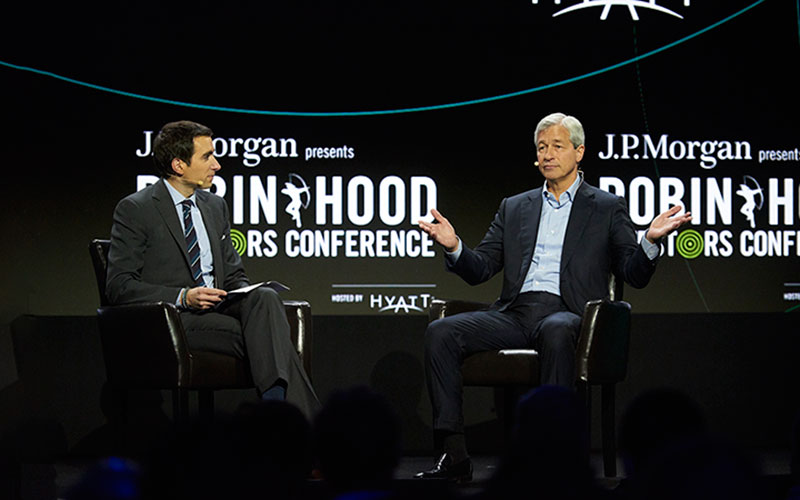 Stories
Fighting the War on Poverty: Conference Has Raised $15MM Since 2013
J.P. Morgan Presents Third Annual Robin Hood Investors Conference in New York City
The third annual Robin Hood Investors Conference took place in New York in November 2015 and once again featured some of the world's leading traders, investors, venture capitalists, business leaders and policy makers. More than 800 attend the event every year, to share insights into their shifting industries and the business road ahead.
The agenda included featured speakers Jamie Dimon, Chairman and CEO of JP Morgan Chase & Co., J.P. Morgan Asset Management CEO Mary Erdoes and Corporate & Investment Bank Head of Americas Sales & Marketing Marc Badrichani.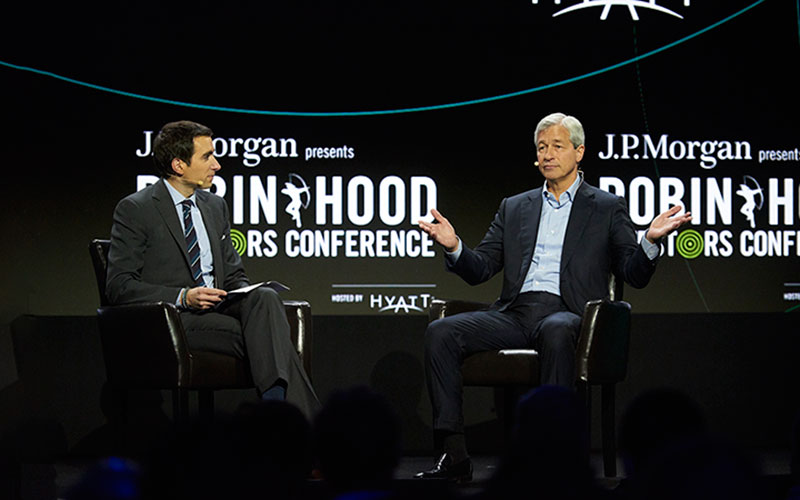 The New York Times journalist Andrew Ross Sorkin talks with Jamie Dimon
As with everything Robin Hood, 100% of the revenue from ticket sales goes directly to fighting poverty. Thanks in part to J.P. Morgan's ongoing sponsorship, $15 million has been raised since the conference's inception in 2013 which has gone to 200+ organizations that Robin Hood supports, including New York City's most effective soup kitchens, homeless shelters, schools and job-training programs.
Now in its 27th year, the Robin Hood Foundation has raised more than $2 billion to fight poverty in New York City. Since Robin Hood's board pays all administrative and fundraising costs, 100% of all donations go directly to helping New Yorkers living in poverty build better lives. Robin Hood also works closely with its grantees to make them more effective, enabling them to assist even more people.
"We are proud of our strong partnership with Robin Hood over the last 20 years. Together with Robin Hood, J.P. Morgan has funded truly transformative programs that give workers necessary skills, train teachers, educate children, provide critical disaster relief and so much more. Every dime Robin Hood receives goes directly to those in need."
Mary Callahan Erdoes, CEO of J.P. Morgan Asset Management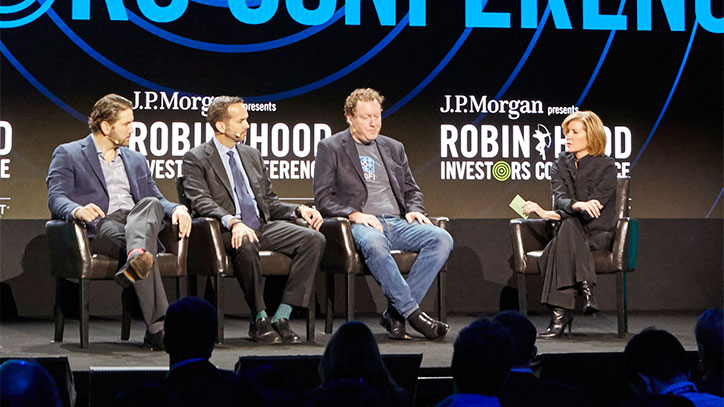 Mary Erdoes, right, moderates panel
Last year Robin Hood invested $133 million in over 200 of the most effective organizations serving on the front lines of the battle against poverty in New York City.
"JPMorgan Chase has invested more than $23 million with Robin Hood over the last 25 years," Erdoes told Bloomberg TV. "And the power of the return on their investments turns about to be about 15 to 1."