News
Chase and Southwest Airlines Renewal Cleared for Takeoff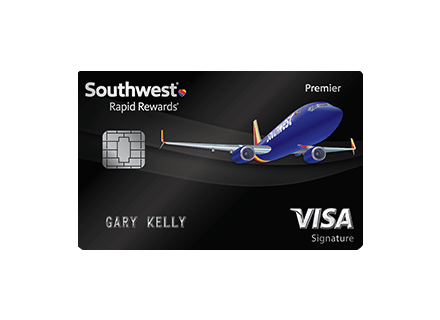 Companies Agree to Multi-year Extension of Southwest Rapid Rewards Cards with Chase Program
WILMINGTON, Del. – July 23, 2015 - Chase Card Services, a division of JPMorgan Chase & Co. [NYSE: JPM] and Southwest Airlines® (NYSE: LUV) today announced a multi-year extension to the nearly 20-year partnership for co-branded credit cards, Southwest Airlines® Rapid Rewards® Plus, Premier and Business Cards.
"This extension reinforces our long-term commitment to collaborating on a program that delivers exceptional value and service to our shared customers," said Eileen Serra, chief executive officer of Chase Card Services. "We look forward to deepening an already meaningful relationship."
"Providing a unique and excellent customer experience at a low fare is at the heart of everything we do at Southwest," said Bob Jordan, Southwest Airlines executive vice president and chief commercial officer. "We've chosen to continue this association with Chase because of our mutual dedication to providing the best card value for our Customers. Our Customers will continue to receive great value while enjoying the benefits only Southwest can provide including bags fly free*, no change fees and outstanding Customer Service."
The Southwest Rapid Rewards cards continue to deliver a distinctive portfolio of rewards and first-class travel perks, including:
Earn Free Flights Faster: Earn two points for every $1.00 spent on Southwest Airlines® purchases made directly with the airline, and two points per $1.00 when spending on Southwest Rapid Rewards Hotel and Car Rental Partner purchases. Plus, earn one point for every $1.00 spent on all other purchases.
Travel Rewards: Cardholders can redeem for Southwest flights, gift cards, hotel stays, car rentals and merchandise.
Travel Abroad with Confidence: No foreign transaction fees on Southwest Premier Card and all Southwest cards are enabled with chip and signature technology.
Travel Easy: Unlimited rewards seats, no blackout dates, no charge for flight changes and points don't expire.
Plus, the Southwest Rapid Rewards Premier card from Chase has been voted the Best Loyalty Credit Card in the Americas at the annual Freddie Awards in 2013, 2014 and 2015.
For more information or to apply for a Southwest Rapid Rewards Card, visit CreditCards.Chase.com/Southwest.
---
About Southwest Airlines Co.
In its 45th year of service, Dallas-based Southwest Airlines (NYSE: LUV) continues to differentiate itself from other air carriers with exemplary Customer Service delivered by more than 47,000 Employees to more than 100 million Customers annually. Southwest operates more than 3,600 flights a day, serving 95 destinations across the United States and six additional countries. Southwest service to Belize City, Belize, begins Oct. 15, 2015, and Liberia, Costa Rica, on Nov. 1, 2015, both routes are subject to foreign government approval.
Based on the U.S. Department of Transportation's most recent data, Southwest Airlines is the nation's largest carrier in terms of originating domestic passengers boarded. The Company operates the largest fleet of Boeing aircraft in the world, the majority of which are equipped with satellite-based WiFi providing gate-to-gate connectivity while over the United States. That connectivity enables Customers to use their personal devices to access streaming music provided by Beats Music or to view video on-demand movies and television shows, as well as nearly 20 channels of free, live TV compliments of our valued Partners. *Southwest is the only major U.S. airline to offer bags fly free® to everyone (first and second checked pieces of luggage, size and weight limits apply, some airlines may allow free checked bags on select routes or for qualified circumstances), and there are no change fees, though fare differences might apply. In 2014, the airline proudly unveiled a bold new look: Heart. The new aircraft livery, airport experience, and logo, showcase the dedication of Southwest Employees to connect Customers with what's important in their lives.
From its first flights on June 18, 1971, Southwest Airlines launched an era of unprecedented affordability in air travel described by the U.S. Department of Transportation as "The Southwest Effect," a lowering of fares and increase in passenger traffic whenever the carrier enters new markets. With 42 consecutive years of profitability, Southwest is one of the most honored airlines in the world, known for a triple bottom line approach that contributes to the carrier's performance and productivity, the importance of its People and the communities they serve, and an overall commitment to efficiency and the planet. The 2014 Southwest Airlines One Report™ can be found at SouthwestOneReport.com.
Book Southwest Airlines' low fares online at Southwest.com or by phone at 800-I-FLY-SWA.
About Chase
Chase is the U.S. consumer and commercial banking business of JPMorgan Chase & Co. (NYSE: JPM), a leading global financial services firm with assets of $2.6 trillion and operations worldwide. Chase serves nearly half of America's households with a broad range of financial services, including personal banking, credit cards, mortgages, auto financing, investment advice, small business loans and payment processing. Customers can choose how and where they want to bank: More than 5,500 branches, 18,000 ATMs, mobile, online and by phone. For more information, go to Chase.com.