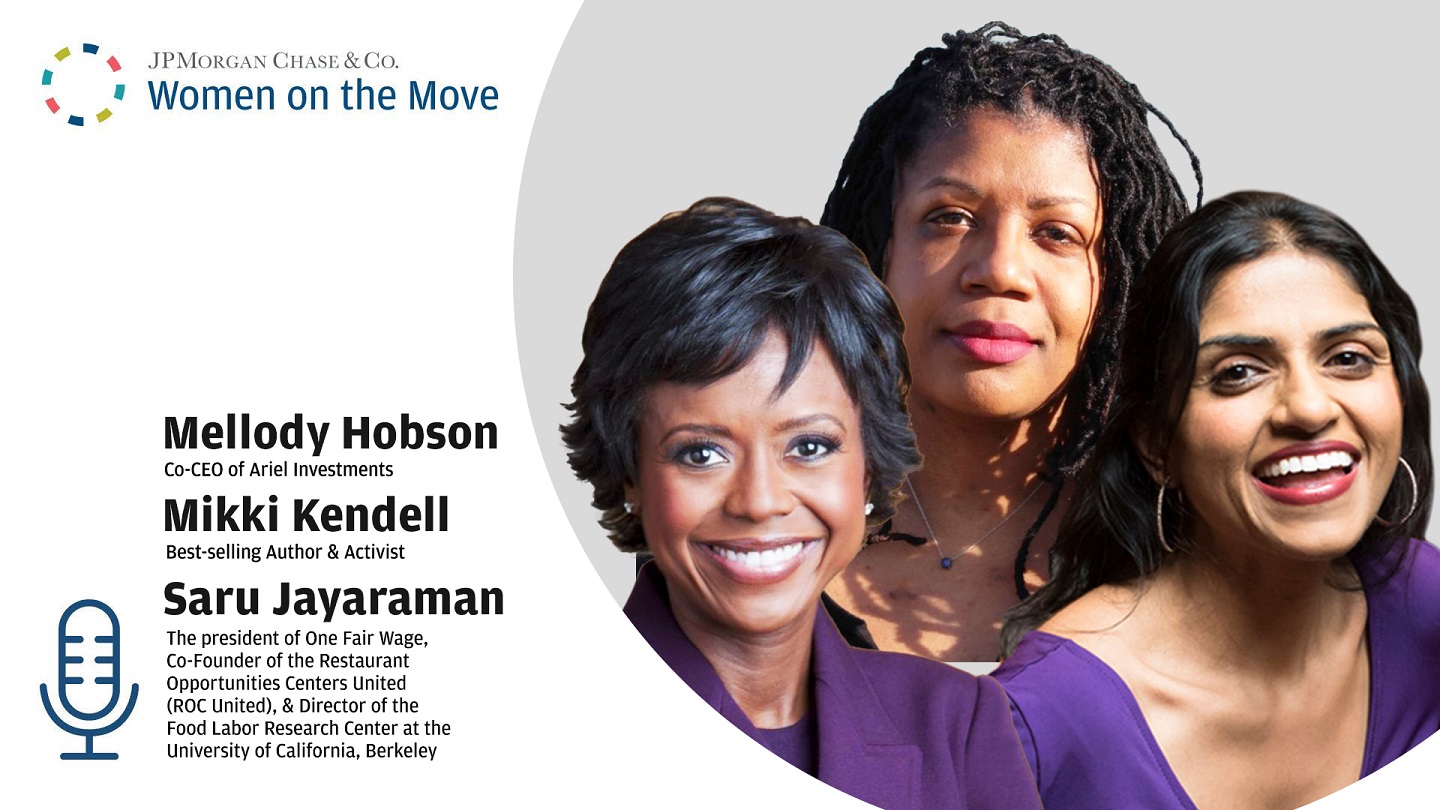 Stories
Three Perspectives on Systemic Racism
In this timely conversation, JPMorgan Chase's head of human resources Robin Leopold speaks about systemic racism with co-CEO of Ariel Investments, Mellody Hobson; best-selling author and activist Mikki Kendell; and president of One Fair Wage, Co-Founder of the Restaurant Opportunities Centers United, and Director of the Food Labor Research Center Saru Jayaraman. All three women speak on racial inequality and how we can all do our part to fight it.


Get Honest About Workforce Inequities
Melody explains that she dealt with eviction and instability growing up, which led her to pursue a career that revolves around financial security. When it comes to offering advice to companies about advancing black women, she asks that they refrain from putting all women of color under some multicultural umbrella that masks the inequality that might exist in their numbers.


Be Aware of Resource Discrepancies
Then Mikki, author of New York Times bestseller Hood Feminism, says that she grew up poor on the South Side of Chicago, but was lucky enough to make some good choices and encounter some great opportunities. She goes on to explain that much of the work required to dismantle systemic racism is reliant on redistribution of resources; everything from money to food to education. Mikki points out that when communities are deprived of resources, the people in them must scramble to take care of themselves … and often cannot expend extra energy taking care of each other.


Know the History of Tipping
Finally, Saru speaks about the utter devastation that workers in the restaurant industry—particularly women of color—have experienced over the course of 2020. She says that the situation faced by about 10 million workers nationwide stems from a historical inequity rooted in slavery. Around the time of emancipation the restaurant industry wanted to hire newly freed slaves but not pay them a wage and have them live entirely on tips. Today restaurant workers are largely women of color and single mothers, paid a subminimum wage and asked to rely on tips to survive. Especially during a pandemic, when restaurants aren't being frequented and tips are nonexistent. Saru's work revolves around fighting for fair wages and supporting black- and brown-owned restaurants through grant funding.
Subscribe