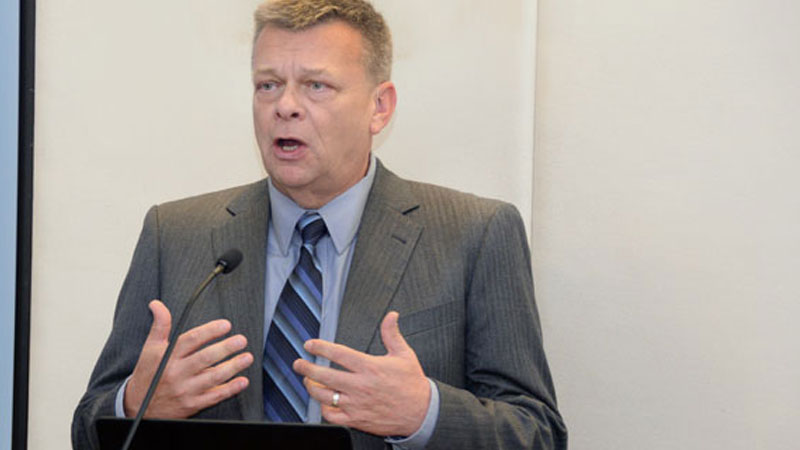 The Service Corps
Why I'm Leaving JPMorgan Chase
A stint in the firm's Service Corps inspired Joe O'Brien to dedicate himself to helping firefighters and first responders.
I'm leaving JPMorgan Chase because after 33 years of enthusiastic and dedicated service, I'm ready to retire. It's what I'm doing in retirement that is most interesting, however, as it's driven by an inspiring experience at the firm.
I was born and raised in Chicago, where my parents volunteered with the Salvation Army. Watching them help others taught me the importance of helping others at a young age. During high school, I was able to earn school credit while working at Harris Bank, which opened my eyes to the fact that there are more jobs at a bank than being a banker. Once I graduated college with a degree in computer programming, I found a job in information technology at a bank.
In 1985, I went to work for American National Bank of Chicago and remained during the mergers that led it to become part of Chase. While I took on different roles at the bank, the most important thing to me was working with supportive and kind colleagues. Being a good listener has always been important to me, and I've tried to help people along in their careers, through family crises and other life events.
After the Bank One merger in 1998, I was transferred to Columbus. The move meant I would have to give up my second job as a firefighter/paramedic with the fire department, a great passion of mine. Still, whenever I traveled, I made it a point to visit local firehouses. I started to bring things with me to donate—instruction manuals, supplies—things that some firefighters didn't have at their disposal.
My passion for travel and volunteerism came together in 2017 when I was selected for Service Corps, part of the firm's Good Works program. I traveled to Hong Kong and worked alongside colleagues and nonprofit leaders at the YMCA to help strengthen its infrastructure and create business continuity plans.
It was inspiring to see so many individuals and families benefiting from our work, and it was an honor to work with colleagues to solve problems for a common goal. The experience taught me that there are ways to get involved that extend beyond donations or volunteer hours. The back-end operations piece is critical, and many organizations don't get enough of that type of support. Luckily, my skill set allows me to help them.
The experience also prepped me for the next stage in my life: running a local nonprofit through which volunteers provide rehabilitation services to firefighters and first responders. I never would have connected the dots without the time I spent in Service Corps and my decades of operations expertise at JPMorgan Chase.
I'm going to miss my company. I met many friends over my 33 years, and I wish I could take everybody with me. I look forward to applying everything I learned to help an important organization carry out its mission and help those who have devoted their lives to saving others.