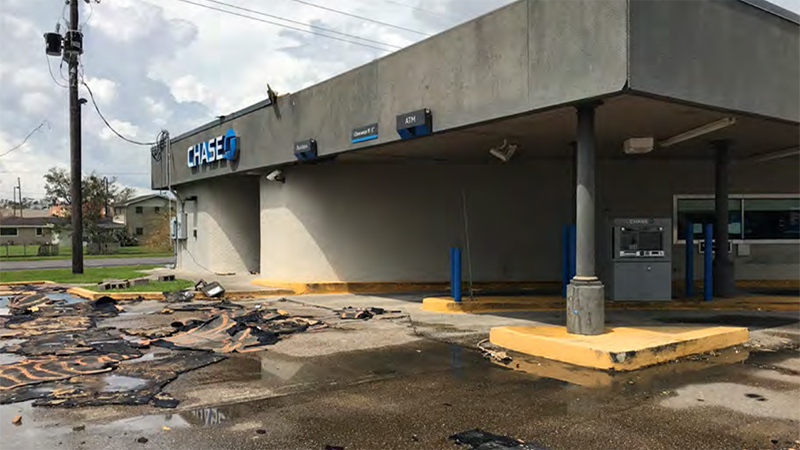 Stories
For a Sudden Disaster, a Rapid Response
After Hurricane Ida ravaged the southeast, Chase quickly restored vital services across the region. Here's how they kept going.
Hurricane Ida swept through the U.S. two weeks ago, causing deadly flooding in the Northeast and extensive damage across the Southeast. Louisiana was especially hard-hit: Along with major building destruction, the storm caused power outages, water shortages and a fuel shortage in several cities, including Houma, the greater New Orleans area and Baton Rouge.
In total, 62 Chase branches in Louisiana closed on Monday, August 31. But by the next day, 17 were up and running. Just one week later, a total of 38 were open, including some in the Houma and the New Orleans areas.
This is thanks in large part to hard work and massive coordination across the company. For example, more than 100 employees received emergency housing or other assistance from the company after the hurricane. Alison Jorajuria, the regional director for Louisiana, has been working non-stop since the storm first took shape, making sure that Chase employees were safe and providing physical, financial and emotional resources.
"I've lived through so many events, from ice storms in Oklahoma to storms in Louisiana and Texas, and Chase goes above and beyond," she says. "And it's the people—from the branch staff to operations partners—who make me so proud of their dedication to our customers and each other."
While the business was focused on taking care of its employees, the bank was preparing to help communities across the country—even before the storm made landfall. That included making sure ATMs and branches had enough funds and were up and running so customers could have access to their money when they needed it.
And after the storm, Chase immediately began its recovery efforts, including prioritizing cash shipments to branches with the greatest needs, and refunding or waiving certain fees to eligible customers in the affected areas.
Following the storm, Chase's Global Security team reached out to all employees in the area to confirm they were safe and determine whether they needed help. The business also coordinated with UPS to make sure branches could continue sending and receiving documents that couldn't be scanned. Hardware vendors were also on standby and immediately went out after the hurricane to repair damaged ATMs.
"Preparing our branches for a natural disaster takes a lot of planning and a coordinated effort from many different teams within the business," said Rhonda Vreeland, an operations executive at Chase. "This is what we do. These past few weeks were a testament to everyone's hard work and their flawless execution, both at the branch and corporate level."