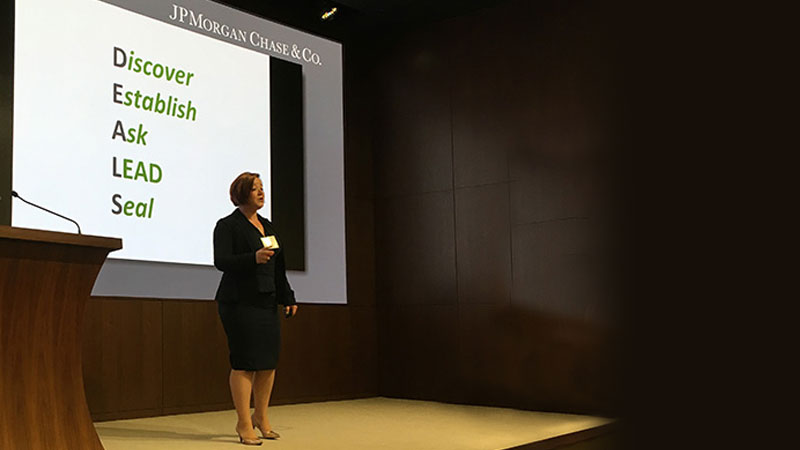 Stories
Negotiate Like a Pro
Employees at our New York headquarters recently heard from Natalie Reynolds, published negotiation expert, and a panel of our own senior leaders, who shared their expertise on something women often dread – making a deal.
Have you ever noticed how naturally children negotiate? Whether for a later bedtime, bath time or five more minutes of video games, they seize opportunities to test the limits and make a case. According to Natalie Reynolds, CEO and founder of AdvantageSPRING, and expert on negotiation, it's because this skill is innate. "Kids are result-focused, and will do whatever it takes to get the desired result," she said.
In many cases, and especially for women, this willingness to enter an open negotiation tapers as we enter adulthood. In our professional lives, we often avoid negotiating because we find it uncomfortable and worry about how we could be perceived. We underestimate our own value. Interestingly, the skill hasn't disappeared, Reynolds shared, because "we consistently prove we have no qualms if negotiating on someone else's behalf."
In the workplace, "it comes down to one thing, you just have to ask — what's the worst that can happen?" she said. "If the answer is being told 'no', you should look at that as an opportunity. Start a different negotiation; suggest something else." Reynolds shared with us a simple method for thinking about and preparing for negotiations that will help get to the "yes" that is desired. Aptly named, the DEALS method goes like this: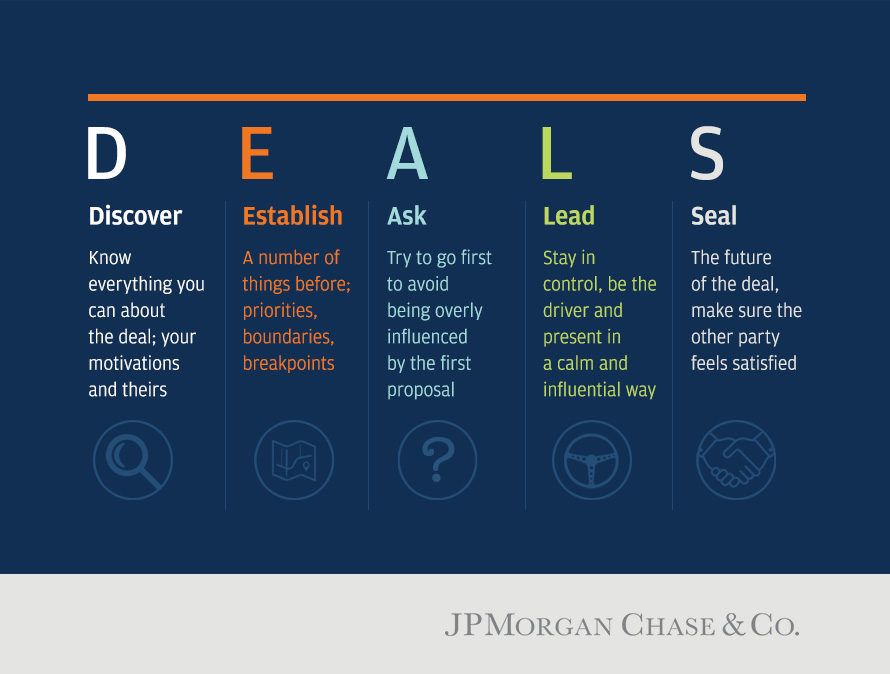 Natalie Reynolds devised the DEALS method to help us negotiate in the workplace.
At another recent event, hosted by Chief Control Officer for JPMorgan Chase, Lori Pape, some of our own leaders shared experiences that helped them overcome the anxiety they attached to certain conversations. Pape recalled a time when she was managing a growing group of employees and felt her title and compensation should catch up. She gathered facts, presented a case to her manager, and was successful in getting the recognition she deserved.
Jocelyn Shields, a Vice President in Corporate Regulatory Affairs suggests maintaining a regular, open dialogue, and understanding the position of the other party, so that you're able to meet somewhere in the middle. Negotiating, especially at work, is usually not a one-time affair.
Reynold's closing advice was a reminder to us all that not every negotiation will end positively. She emphasized the importance of redefining the relationship when being told no. "Think about alternatives and look for another way," said Reynolds. "When life shuts a door, open it again. It's a door – that's how it works."
---
Learn more about Women on the Move, our initiative that supports the advancement of women by addressing the unique challenges they face