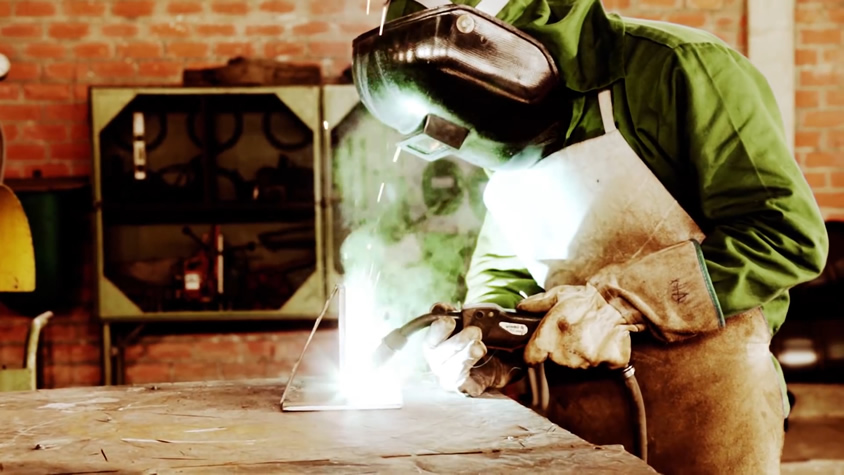 Stories
How Can Middle-Skills Jobs Drive the Houston Economy?
A Conversation with Bob Harvey, Greater Houston Partnership
Every day we hear about the strains on the U.S. economy and the struggles millions face in securing a job. In the U.S., there are about nine million people who are unemployed, while millions of jobs continue to go unfilled.1 The skills gap—where not enough trained workers have the skills needed to fill available jobs—contributes significantly to that problem and continues to be a major disconnect between people looking for work and people hiring.
In Houston, Texas, there is particularly acute gap. While the Houston metro area boasts one of the fastest growing economies in the U.S., nearly 855,000 Houstonians aged 25 and older do not have the minimum credentials for middle skills jobs.2
Chauncy Lennon, JPMorgan Chase's Director of Workforce Initiatives, recently spoke with Bob Harvey, President and CEO of the Greater Houston Partnership about the specific challenges and solutions for solving Houston's skills gap.
Q: How significant is the skills gap in Houston?
A: Bob Harvey: Right now there's a tremendous skills gap in Houston. The skills gap originates from the fact that our economy here in Houston is one of the fastest growing economies in the country, and that's creating a real surplus of the middle skill jobs without the human capital to fill those positions.3 As we define it, middle skills jobs are those jobs that require more than a high school education but less than a four year college degree, and they require some training, some education beyond high school. In Houston that's about 1.4 million jobs.4
Q: Does the skills gap in Houston undermine continued economic growth?
A: Bob Harvey: Unfortunately, if we don't address the skill gaps, there is a possibility that our local economic growth will slow or even halt. You can't grow an economy without building jobs and attracting skilled workers to fill those jobs. In Houston, we'd like to attract and train those workers locally in order to sustain our communities and keep our economy moving forward.
Q: Does the skills gap in Houston affect specific industries more than others?
A: Bob Harvey: We often talk about the Houston economy as being comprised of seven different sectors: advanced manufacturing and technology, aerospace and aviation, biotechnology and life sciences, distribution and logistics, energy, education and corporate headquarters. Virtually all of these sectors require middle skill workers, so we are seeing the skills gap throughout all of our major industries. For example, when you think of the life sciences industry, all medical establishments — hospitals, labs and doctor's offices — require technicians of all different sorts. The same is true for the manufacturing, oil and gas, and petrochemical industries in Houston.
The lack of middle skill workers is acute in the petrochemical area here. We have a huge construction program underway along the Houston Ship Channel and, in fact, along the entire Gulf Coast to build the petrochemical facilities to take advantage of the supply of natural gas and crude coming on from the shale plate.
Q: What is your organization, the Greater Houston Partnership, doing to address the skills gap?
A: Bob Harvey: About two years ago, the Greater Houston Partnership began to hear from the local business community that we had this growing shortage of middle skill workers. We convened a task force in 2013 to bring all sectors of the Houston region together to talk about the issue, to delve into it.
Based on our findings from 2013, we launched a new program in 2014, called UpSkill Houston to really turn that discussion into an actionable program. So far, UpSkill Houston represents three of Houston's seven industry sectors and we intend to launch the other four soon. We are collecting data in the field and are working with all nine community colleges in the Houston area. Together, the business community, the education community and local government are working to build training programs that match the needs of local business and will get us started on filling the available jobs in our region.
Q: What are some specific examples of programs that work to address the skills gap in Houston?
A: Bob Harvey: One very effective program is currently taking place at San Jacinto College, on the east side of Harris County, alongside the petrochemical industry. San Jacinto College has begun offering students effective, informed training programs in the industries that surround its campus. The college essentially brought the manufacturing setting and the petrochemical setting right into the classroom so students are being trained and working on real equipment and have the ability to see what the job would look and feel like.
The program at San Jacinto College is immensely beneficial for students, but at the same time, it is a great opportunity for local industry to participate in the training of its future employees. The college frequently brings members of industry into the classroom to interact with students, to ensure the training is appropriate for the entry-level positions available, and perhaps most importantly, to help students see how these positions can lead to successful, lucrative and stable careers.
---
The Greater Houston Partnership's (GHP) mission is to make the Houston region the best place to live, work and build a business. For over 25 years, Greater Houston Partnership's membership, comprised of over 2,000 leading companies, has tackled the region's most important issues that impact our community. Houston has enjoyed incredible growth, and the Greater Houston Partnership has played an important role, working to create jobs and advocating for a positive business environment that is conducive to growth and prosperity.
JPMorgan Chase & Co supports efforts to help close the skill gap. In 2013 we launched New Skills at Work, a program to provide $250 million over five years to help identify regional gaps using local-level data; fund proven non-profit training programs; and bring together employers, training programs and other stakeholders to help solve this problem. To learn more click here.