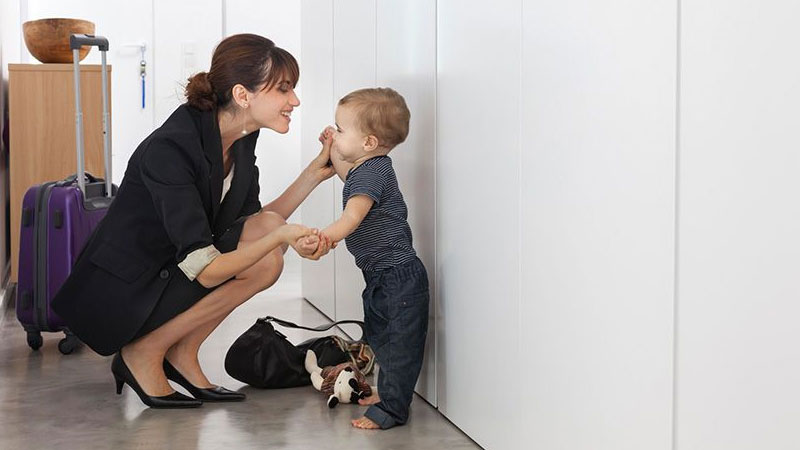 Stories
Matching Mothers to Mentors
Pilot program paired new and experienced working moms.
It may take a village to raise a child, but for some women at JPMorgan Chase, just one mentor was key to navigating new motherhood while going back to work.
Starting late in 2014, the Women on the Move employee initiative partnered with WIN – our Women's Interactive Network Business Resource Group – to pilot a Maternity Mentors program in New York. Developed to provide one-on-one advice and an opportunity for candid dialogue on the challenges and questions tied to balancing motherhood with working, 20 new moms were paired with more experienced working mothers from across the firm.
"This program was born from feedback we received directly from employees. We wanted to address some of the challenges of being a working mother, particularly when it comes to preparing for, and returning from, maternity leave."
Marianne Lake Chief Financial Officer, JPMorgan Chase
Lake is co-sponsor, with Asset Management CEO Mary Erdoes, of the Women on the Move employee initiative, which was launched in recognition that women face unique barriers to professional success. What began as a series of intimate town halls for the firm's female employees in New York evolved into events all over the U.S. Since 2013, the program has visited 23 cities and met with more than 6,000 women. Maternity Mentors is just one project the initiative has launched.
The mentors and mentees covered a broad range of topics, from balancing career and family, to finding the best child care, and talking to managers about career goals. While each mentee had unique concerns and objectives, the program also sought to highlight the tools and resources available within the firm. It was also an opportunity to learn how the firm could better support women at this critical time in their personal and professional lives.
"Not surprisingly, new mothers have lots of questions," Lake said. "We wanted to help these women connect with someone in the firm who had been through it all before – someone they could feel comfortable approaching with the often personal questions they might avoid asking their manager."
For Jill Otto, a vice president with the Private Bank's Southeast team, the program was just the career guidance she needed. "The opportunity cost of coming to work was made higher by having a baby at home," Otto said. "I'm looking to be challenged at work, and this program was so helpful in getting my career back on track."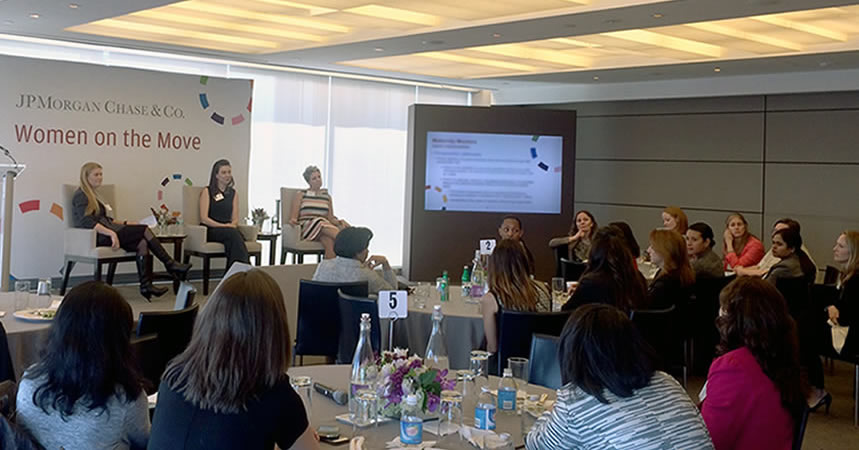 To accommodate the busy schedules of both mentors and mentees, Maternity Mentors was a flexibly structured program, giving participants the opportunity to work in different ways. "As a mentor, it was helpful to share experiences – good, bad and sometimes ugly – discuss what I would have done differently, and to reinforce that you can still have your work goals," said Sarah White, a mentor and managing director with the Private Bank.
For Amy Cargulia, head of Treasury Services, International and Credit Markets Marketing in the Commercial Bank, the program was an opportunity to "pay it forward" and share her experiences and insights, as well as welcome her mentee to the "sorority of working mothers."
Cargulia isn't alone in this sentiment: many participants said they planned to extend their mentorship relationships beyond the formal program.
Women on the Move is now examining how the program can be implemented with a broader reach.
About Women on the Move:
Recognizing that women face unique barriers to professional success, JPMorgan Chase launched Women on the Move in 2013. The program began as a series of town halls for the firm's female employees in New York and offered an opportunity to collectively explore the challenges they face in the workplace and share ideas on how to best support women in their career development.
Led by Asset Management CEO Mary Erdoes and Chief Financial Officer Marianne Lake, senior women took the program on the road, hosting events and empowering women in locations where the company employs hundreds, and often thousands, of women. Since it began, the program has visited 23 cities and senior women from across the company have met with more than 6,000 employees.
Women on the Move has proven an invaluable channel to hear directly from and exchange ideas with women at all levels in the company, as well as industry leaders and members of the communities in which we live and work. As the Women on the Move program evolves, we are proud to share the work of our employees and nonprofit partners in helping women succeed and transform their lives.