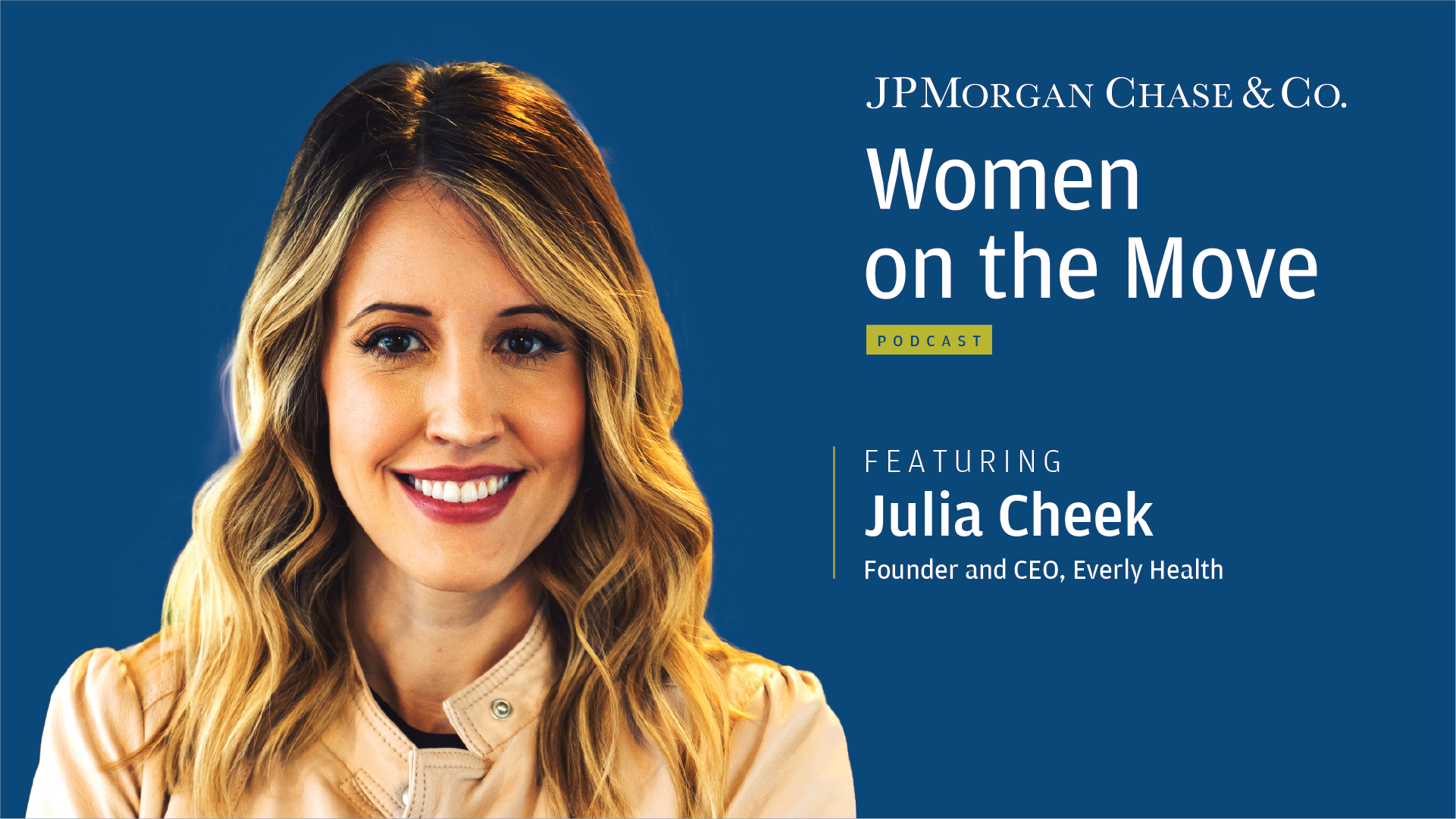 Redefining the medical testing industry with Everly Health Founder and CEO
Personal frustrations with the healthcare system led a Harvard Business School grad to found an at-home diagnostic firm nearly seven years ago. Then along came COVID, highlighting the need for improved access to low-cost home testing, and Julia Cheek, founder and CEO of Everly Health, rose to the challenge. Julia sits down with Women on the Move host Sam Saperstein to talk about the origins of Everly Health, its remarkable role in the pandemic response, and Julia's hopes for the future of women's health.
Finding the fit she could be passionate about
Julia was in her late 20s and working a corporate job when the idea for Everly Health crystallized. After a series of unexplained health symptoms led her through an array of medical tests and doctor visits, not to mention the copays and deductibles that come with them, she was left frustrated and discouraged by the overall experience. "I ended up paying, I think, over a couple thousand dollars out of pocket for this assortment of tests, none of which were really brought together to tell a story about my health," she says.
It was an a-ha moment for a would-be founder in search of a great idea. "I knew that there were many, many women who face similar challenges in the healthcare system like me," she tells Sam. "I knew there were ways we could innovate on it using existing proven methods and science."
Julia also knew she wanted to found a company. "I had really been working on different business plans, brainstorming with friends on co-founding different companies, advising companies for free in my weekend time for the four or five years prior," she recalls. She also tells Sam that she knew that this company would most likely fail and that it would be years, if not decades, of work. That meant it had to be something that she was driven and compelled enough by to be passionate about. "Making a difference in the world would make that likely failure worth it," she says.
Riding the pandemic wave
When Julia, with a few early backers and advisors, launched Everly Health (then Everlywell) in 2014, she aimed to address the lack of access to easy, affordable, results-oriented lab testing in America. "I think it's important to recognize how radical this concept was just even five years prior to COVID-19," she notes. Along with providing the convenience of at-home testing, Everly well was also committed to providing transparency in pricing, with a goal that most tests would be priced at less than a typical co-pay.
The idea was transformative to many early clients. "You could have physicians involved throughout the process, but you didn't actually have to go physically see them," Julia tells Sam. "They could review your data, your health history, and your lab records and determine if you should get that test and then what your results would mean from that. And you could do this on your own time and at a price point that was transparent with you."
Everlywell took off in its first few years. A November 2017 appearance by Julia on Shark Tank only served to expedite that growth. And when COVID hit, the company was poised to take on the challenge of helping the U.S. healthcare system ramp up at-home testing capacity. "I think it's such an important lesson that small, nimble companies can play such an important role in moments of crisis, because we were actually able to move so quickly," she says.
In fact, Everly Health was the first company authorized by the FDA for an umbrella COVID-19 self-collection test. That meant that any lab in the country could use their data to become authorized, or to run testing using a kit from Everly Health. That huge success only led to more growth for the company. "In the early days (of COVID), we really shepherded all our resources towards scaling COVID, but very quickly, behavior shifted more broadly around home testing," she tells Julia. "And so we began experiencing a significant growth in all areas of our business, which then meant we had to be able to also scale at that capacity across all facets."
Julia also shares her enthusiasm and optimism for continuing to innovate and provide more convenient, more targeted, and more transparent healthcare to the public—especially, she says, to women, who have long been sidelined in healthcare. "We envision that people will be able to do hundreds of tests from the home over the next several years," she says. "And we want to be a big part in helping to commercialize that for Americans."
Disclaimer: This podcast may contain general information about medical tests and treatments. The information is not advice, and should not be treated as such. JPMorgan Chase is not responsible for views expressed other than our own.


Julia Cheek, Founder & CEO, Everly Health
Julia Cheek
Founder & CEO, Everly Health
Subscribe