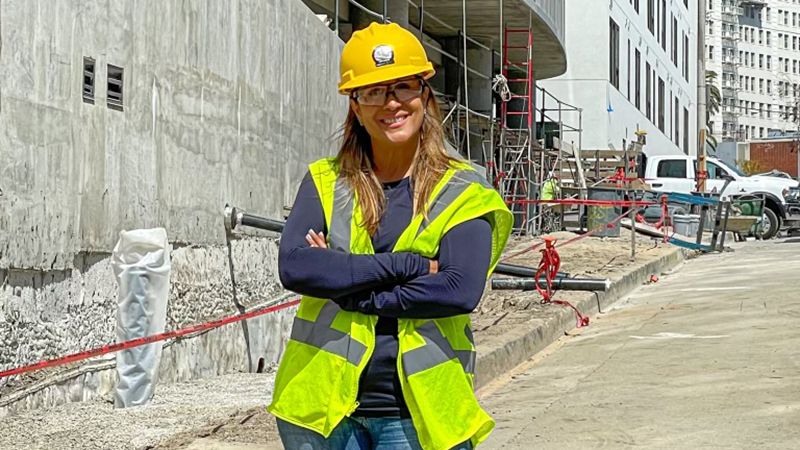 1-1 Coaching
Entrepreneur Manages Rapid Business Growth With Free Chase for Business Coaching
Five years ago, entrepreneur Jackeline Enriquez felt like she lost everything.
Her mother had just been diagnosed with cancer and her son was facing mental health challenges. Trying her best to support her loved ones, Jackeline, a single mother, was struggling financially.

With just $100 to her name, she started a cleaning company. Knowing she had a lot to learn about the industry and how it works, Jackeline offered to clean her friend's offices in order to gain commercial cleaning experience and attract bigger clients. And in 2018, she officially launched Indeed Construction Clean Up with the help of her eldest son Dione.
In less than three years, Jackeline has significantly grown Indeed Construction Clean Up by offering a range of services in southern California — from picking up wood and hauling dirt at construction sites to deep cleaning high-rise buildings to combat COVID-19 outbreaks — with a full-time staff of 20 employees. She even recently landed a nearly $1 million contract — the company's largest to date — with one of the biggest construction companies in the country.
But there are challenges to such rapid growth. "I knew if I wanted to continue expanding nationally, I needed someone to help me address specific business needs, especially related to accounting," said Jackeline. That's when she walked into her local Pasadena Chase branch and met Vanessa Torres, a senior business consultant at Chase.

Since then, Vanessa has been supporting Jackeline with everything from digitizing her bookkeeping to branding to helping her get a minority business enterprise (MBE) certification. In addition to her work with Vanessa, Jackeline has been provided with professional coaching, educational seminars and banking and credit solutions throughChase's new program. The access to technology and commercial resources she received through the program was essential to helping push Jackeline's business forward.

Launched in 2020, as part of the firm's $30 billion racial equity commitment, this new program aims to accelerate business growth for Black, Hispanic and Latino entrepreneurs in historically underserved areas. The program is available to small business owners, Chase customers and non-customers alike, across 13 U.S. cities. These cities include Chicago, Atlanta, Akron, Bay Area, Dallas, Detroit, Houston, Los Angeles, Miami, New York City, Orlando, San Bernardino-Inland Empire and Washington D.C., with plans to expand to additional cities in 2020. Chase Business Banking consultants serve as mentors and provide one-on-one coaching to minority business owners in their community. Unlike most bankers, they don't work on traditional incentive plans. They spend their time coaching and advising entrepreneurs in their community on how to build a good credit score, access financing, take advantage of local grants and programs, manage cash flow and more.

Thanks to this support, Indeed Construction Cleanup is thriving. "Vanessa has become one of the best resources that I've had," Jackeline says.

"The value of these offerings are meaningful and essential for small businesses, like Jackie," said Torres. "By supporting them, we are also supporting job creation, economic growth opportunities and helping our communities become stronger. Jackie is not only employing people in her community, she is creating hope and building brighter futures for families, for at-risk women, for immigrants in her community."

Jackeline is particularly proud of the opportunities she's been able to provide to her community. She now employs 20 people, including a number of young women, many of her employees are immigrants, a fact that Jackeline, a Colombian woman, is especially proud of. "They're hard working women; they're single moms; they have kids. And I try to help them through my business," she says.

To learn more about how Chase is supporting minority entrepreneurs in your area, visit chase.com/businessconsultant. JPMorgan Chase Bank, N.A. Member FDIC.