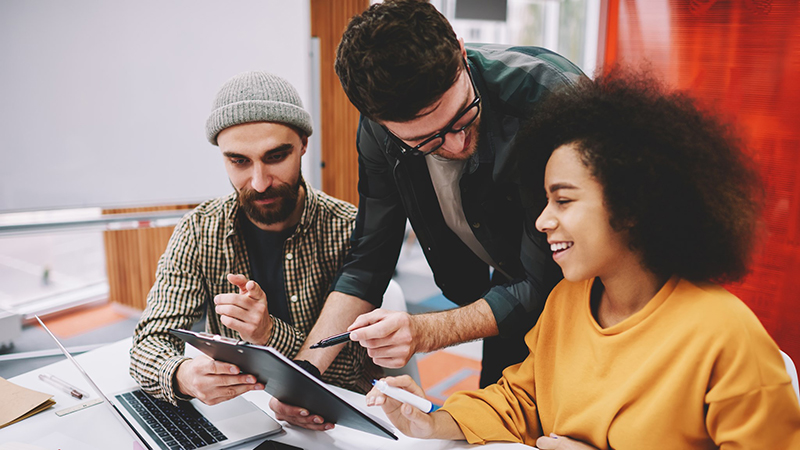 Stories
Leading By Example: How to Increase Diversity in Tech
Having a diverse talent pool is the best way to foster new ways of thinking.
This article was originally published by Ozy.
The tech industry may be known for rapid innovation, but it continues to fall behind when it comes to racial and ethnic diversity. According to a recent study by Fortune, less than 1 percent of employees at major tech companies are Native Hawaiian, Pacific Islander or Native American, only 5 percent are Black and only 7 percent are Hispanic.
So what's behind the dearth of diversity in tech? We spoke with both individuals and companies that are actively working to address this divide and ultimately make tech a more inclusive industry.
Level the playing (and recruiting) field
The first issue, says Stan Kimer, a diversity consultant and president of Total Engagement Consulting, is unconscious bias, which he defines as "the deep-seated feelings that we act on without even being aware of it, a gut reaction that's based upon our total life experience and upbringing."
Bias enables individuals to perpetuate the status quo, Kimer says. Thus, it's especially important that bias awareness is incorporated into recruiting and interview processes and that people are educated on the potential effects. Without meaningful change, the status quo won't change. "You have to be thoughtful to make the playing field equal for all individuals to compete for these jobs," Kimer explains.
It takes deliberate action from the top, adds Kat Gabrielle, CEO and co-founder of New York City–based 2050Work, a site that connects job seekers of color to tech companies. "Diversity and inclusion has to be foundational," she says, "from the executive level all the way down."
Expand your reach
Effective recruiting requires leaders to stretch beyond their comfort zones. As part of Gabrielle's research for 2050Work, she examined the professional networks of tech employees and found that 91 percent of people in those networks are White.
The challenge begins before active recruiting starts. The pipeline of students graduating with computer science degrees will not fill the demand of available tech jobs in the future. According to Code.org, there are more than 500,000 available computing jobs in the United States, and that number is expected to increase. Companies like JPMorgan Chase are trying to harness new pipeline potential by reaching students at a younger age and inspiring them to pursue both technology degrees and technology careers.
For instance, JPMorgan Chase works with All Star Code, a computer science education nonprofit, to offer high school students early, hands-on opportunities in tech. Through the nonprofit's flagship Summer Intensive program, All Star Code and JPMorgan Chase invite young men of color to a six-week computer science experience during which they learn technical web development skills as well as soft skills. Additionally, this collaboration helps build a pipeline of diverse technology talent for future hiring efforts.
"Pipeline is critical, and we recognize the level of ground game needed here," says Tiffany Polk, managing director, global head of storage infrastructure at JPMorgan Chase. "We are constantly seeking diverse tech talent at conferences and conventions focused on communities of color, but [we] also need to do our part to develop the youth ecosystem and diversify the future technology workforce."
Put effort into retaining talent
Recruiting diverse talent alone isn't enough — there should be an equal focus on creating a culture of inclusion, where employees feel both valued and empowered. The first step, Gabrielle suggests, is for a company's leadership to evaluate factors such as pay gaps among employees of different racial backgrounds. Another suggestion? Consider recruiting from a range of places, beyond top-tier or Ivy League universities. "I, myself, have a high school education, but am highly qualified because I have years of experience," Polk explains.
JPMorgan Chase prides itself not only on its diverse recruiting strategies but also on its unique development programs for employees around the world. In JPMorgan Chase's Global Technology organization, a program called VP Academy provides high-performing Black and Hispanic vice presidents with leadership training and continuous learning opportunities. The goal of this six-month program is to give these individuals guidance and coaching in support of leadership development and career advancement. "We are not shy about furthering initiatives for people of color," says Polk. "It highlights our willingness and transparency in tackling systemic barriers to retention."
Building a diverse workforce is not just the right thing to do — it also fosters innovation and, in the long run, contributes to better products and sounder solutions.
"Diversity is not altruistic," says Polk. "It is strategic and a competitive edge."