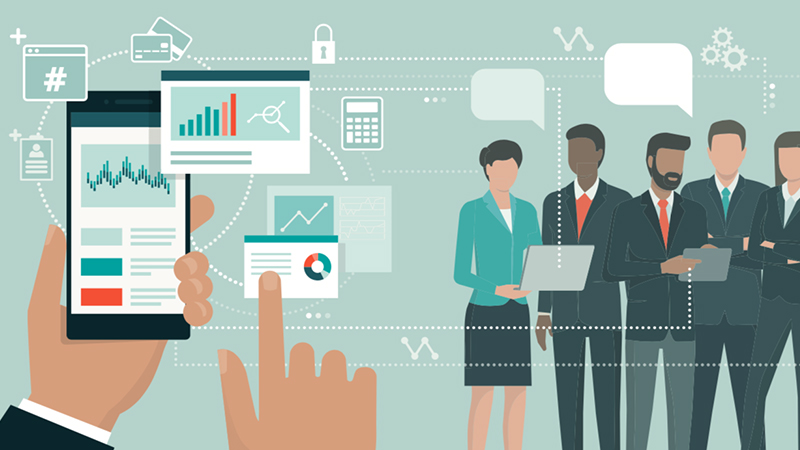 Stories
How the Past Can Help Today's Leaders Grow Their Future
Hindsight is 20/20, and challenges faced by today's business leaders can often have vintage solutions.
This article was originally published by Ozy.
Businesses — and the way we conduct business — may have changed drastically over the course of history, but there's something to be said for the belief that history often repeats itself. Just take the 2019 Business Leaders Outlook. This report, released in early January, was designed by JPMorgan Chase to better understand the perspectives and challenges faced by today's business leaders. Results show that many executives are predominantly focused on three objectives: managing emerging technologies, finding and hiring talent and investing for growth
Interestingly enough, these three business priorities are not that different from those of years past. Looking back in time, we highlight three influential leaders who had quite similar objectives and tackled them with an innovative mindset.
1913 // Henry Ford: Managing Emerging Technologies
The 2019 Business Leaders Outlook found that: 75 percent of midsize companies and 52 percent of small businesses have taken proactive steps to develop countermeasures in response to shifts in industry and technology.
The term "disruptor" has become a common way to describe those who introduce new technologies and processes, but Henry Ford was among the first of the breed — completely redesigning the concept of the production line in order to mass-produce cars. Ford's 1913 assembly line was a revolution in manufacturing because it took a manual car-building process and evolved it to become much more uniform, simple and efficient.
"Emerging technologies can revolutionize industries," says Jim Glassman, senior economist at JPMorgan Chase. "But many clients also understand that technology has the power to make them more efficient and better prepared for future challenges."
More than a century after Ford first introduced the revolutionary assembly line, modern companies are now facing another industrial revolution — one led by machine learning and robots — that is poised to transform the way we conduct business. The key thing to note is that successful leaders must remain nimble and forward-thinking to stay relevant.
1940 // Earl Tupper: Finding and Hiring Talent
The 2019 Business Leaders Outlook found that: 82 percent of midsize companies and 66 percent of small businesses cite growth expectations as the main reason to hire, with 66 percent and 36 percent, respectively, planning to hire more full-time personnel.
In the early 1940s, Earl Tupper, the inventor of Tupperware, was having trouble convincing consumers to use the company's colorful plastic storage containers. His flagship product — the Wonder Bowl — was too alien-looking for the everyday consumer, and individuals were unsure how to "burp" the airtight seals. But Brownie Wise, a single mother and savvy businesswoman, suspected she had the answer to Tupper's problem: home parties that could highlight the unique features of the products in a fun and social way.
Thanks to the immense success of those parties, Tupperware sales hit $25 million (the equivalent of approximately $230 million today) in just a few years. Tupper rewarded Wise's ingenuity by hiring her full time, and she eventually became the company's vice president of marketing. Wise's ascension in Tupperware's ranks is a good example of how some of the most talented employees can be found in unconventional places, outside of traditional job postings and internal references. "You build the people, and they'll build the business" — it's a motto Earl Tupper adopted early on, and it continues to drive many successful businesses today.
All of these factors are helping recruit millennials interested in tech, as more than a quarter of the city's population is between the ages of 18 and 34. And Wilmington continues to add more and more tech jobs, with year-over-year increases topping 20 percent — significantly higher than neighboring Pennsylvania and New Jersey.
1976 // Steve Jobs: Investing for Growth
The 2019 Business Leaders Outlook found that: 84 percent of midsize businesses and 74 percent of small businesses are optimistic about their company performance and growth.
Sometimes the road to success means attempting the near impossible. Case in point: Steve Jobs, the legendary co-founder and CEO of Apple. Jobs was adamant about selling the very first Apple computer — the Apple 1 — despite significant pushback from his fellow co-founder and engineer. Even though the Apple 1 was essentially a circuit board with no electronic parts, Jobs believed in the potential of the product and felt confident that sales would eventually come — he just had to get ahead of the competition.
From the beginning, Jobs had a vision — one that didn't necessarily follow the straight and narrow path, but did inspire Apple's 1997 brand campaign, "Think Different." And while performance and growth mean something different to every company, the key is figuring out what works for your specific business and pursuing it in a smart, strategic way. "Businesses [today] are being more cautious as they focus their growth plans on what they can control," says Glassman. "They're investing back into their business and preparing for disruptive forces."
Nimble companies flourish with disruptive leaders like Ford, Tupper and Jobs, who each recognized their strengths — and their weaknesses — and leveraged them to create something revolutionary. Their leadership principles and business strategies have stood the test of time, continuing to yield rich dividends, and will no doubt be put to the test again in the future.