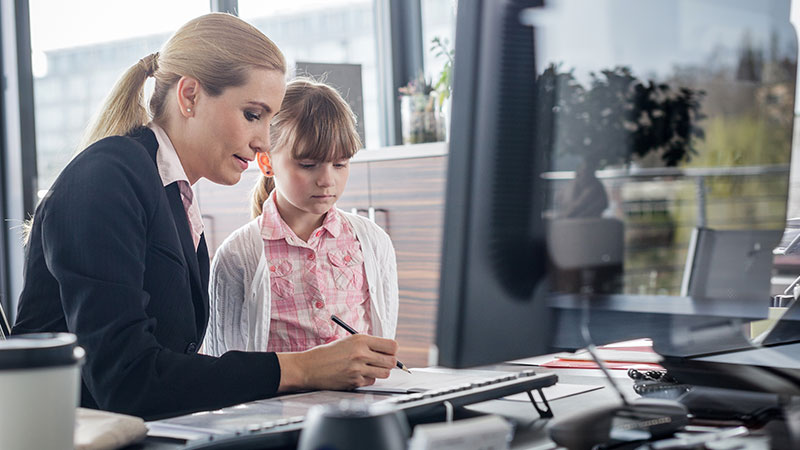 Stories
How Do You Keep a Good Employee? Care for Their Family
Parenting can be stressful, through mentorship and support we're helping to ease the burden.
This article was originally published by Ozy.
America doesn't have the strongest reputation when it comes to its treatment of working parents. Last year, a report by U.K. organization Expert Market analyzed parents' average work hours and paternal leave policies. They found that:
Across 37 countries, the U.S. ranked at the bottom.
It's no wonder, then, that companies with more generous attitudes toward things like paid family leave make headlines. Increasingly, American companies are realizing the importance of keeping working parents happy. If they don't, they just might lose them all together.
As a result, companies like JPMorgan Chase have a number of programs designed to support working parents. For example, JPMorgan Chase recognizes the importance for both parents to have time to care for their child after the birth or adoption placement and, as a result, has a gender neutral Parental Leave Policy — which provides up to 16 weeks of paid leave — that distinguishes between primary and non-primary parental caregiver rather than maternity and paternity. In addition, the firm has recently rolled out its new parental mentoring program, which uses an online platform to match new parents with more seasoned parents in the firm with similar backgrounds and experiences.
Say you're a single parent or a new parent with a long commute. The platform will pair you with a mentor that has corresponding experiences, because, parents@jpmc Program Manager Susan Henderson says, "We're hearing from people that what they really want is advice on how to navigate being a new parent and a successful employee." The program is completely voluntary, and without incentives other than helping a fellow working parent. The pilot program is already paying off, Henderson says.
"We've had mentors tell us that due to the specific options that both mentors and mentees can select within their profiles, they were able to find a perfect match," Henderson shares. Employees have found real value in connecting with another parent at the firm that has experienced similar things and is able to provide impactful insights. The program also provides networking opportunities for new parents, including an educational series with external speakers and internal panel discussions with senior leaders and parents, as well as a program to help support parents who have children with special and learning needs. Parents can get free, expert guidance on their child's unique learning and education situation to help them advocate for, and support their child in, overcoming hurdles from birth through young adulthood.
In addition, JPMorgan Chase has launched an online training tool to remind managers how to best support their employees before, during and after parental leave. SAS, an analytics software company in North Carolina, has a similar program. Through the company's dedicated work-life center, employees are given resources and counseling on thorny parenting issues, like dealing with teens or bullying at school. Parents can also bring their children to a summer camp at the company headquarters.
After winning various accolades for its workplace culture, SAS CEO Jim Goodnight said: "Ninety-five percent of my assets drive out the gate every evening. It's my job to keep those people coming back every morning."
SAS reports a staff turnover rate of four percent, against an industry average of 15. That's not just good for recruitment costs but also translates into consistent relationships for SAS customers.
However, the positive impact of some of these investments may not be immediately apparent to the bottom line. JPMorgan Chase, for example, also reimburses expenses for adoption and surrogacy, up to $10,000. "It all comes back to: We want people to want to work here, and we want people to have a great experience," Henderson explains.
In Indianapolis, John Meyer, a business relationship manager at JPMorgan Chase, juggles his job with bringing up two toddlers and an 8-year-old. After he and his wife endured several failed rounds of in vitro fertilization, they decided to adopt a child from South Korea — a long, complex process that cost $48,000.
In the middle of these proceedings, Meyer's wife unexpectedly became pregnant. In June 2017, they adopted their son, and then, in July, their daughter was born. "Now, that's timing," Meyer says with a laugh. Having suddenly become a father of three, he's grateful for the $10,000 he received from JPMorgan Chase via its Adoption and Surrogacy Assistance program.
But it's not just the financial assistance that helped Meyer. What made a big difference to him was "knowing my job was not only secure but that the adoption was fully supported and encouraged by my employer." That sort of investment doesn't go unreciprocated; Meyer adds that it "reaffirmed my commitment to the company."
---
Learn more about how we're investing in our employees and communities.
Learn more about Women on the Move, our initiative that supports the advancement of women by addressing the unique challenges they face.