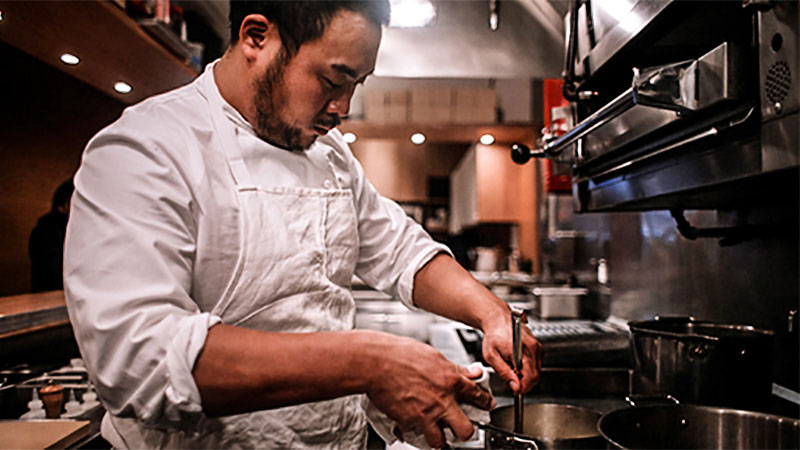 Stories
How Momofuku's David Chang Turned His Dream into a Global Food Brand
Korean-American award-winning chef, television personality and best-selling author shares his story going from an English teacher to one of Esquire's most influential people of the 21st century.
In Manhattan's East Village neighborhood, Momofuku chef and founder David Chang cooked in a small open kitchen, with diners watching from bar stools. He made rich broth from roasted pork bones, chicken, and bacon dashi, and filled bowls with noodles, pork belly, pork shoulder, and poached eggs. Reviews drove buzz—and, ultimately, helped Momofuku become a 15-restaurant global empire.
Chang's success—the Michelin stars, James Beard awards, magazine covers—was hardly a foregone conclusion when he graduated from college with a religion degree. His Korean father had spent 30 years in restaurants and discouraged Chang from becoming a chef. The first jobs Chang took were teaching English in Japan and briefly working in finance.
Realizing he was deeply unhappy, Chang enrolled in the French Culinary Institute and got a job at Jean-Georges Vongerichten's Mercer Kitchen, in New York. Having been "allergic to work," Chang says, "there I was working seven days a week, and I couldn't get enough of it."
Driven by his passion in cooking and a fear of regret, Chang borrowed money from his father and opened Momofuku Noodle Bar in 2004 at the age of 26. Chang admits it was a gamble. A restaurant, he says, is "the dumbest business in the world to invest in." Chang spent three years in survival mode, working constantly, and rarely leaving the neighborhood. "I was terrified," he says. "I viewed it as life and death."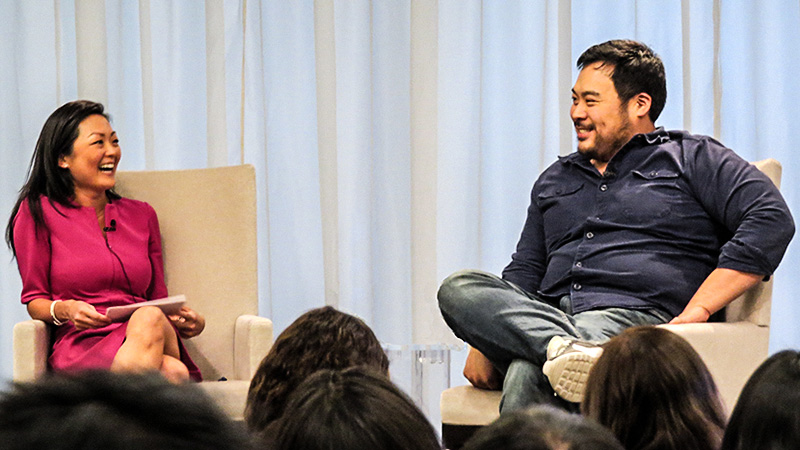 We invited Momofuku chef and founder David Chang to share his story, life tips and renowned food at our New York headquarters in a conversation with our company news anchor Jennifer Kim.
Today, Momofuku Noodle Bar's commitment to excellence, a fun vibe and affordable prices—attracted other chefs and won critical praise. It's been consistently packed ever since, as have its successors, which include Ssäm Bar, the two Michelin-starred Ko, Ma Pêche, and Momofuku's first restaurant on the west side of Manhattan, Nishi. Momofuku now has restaurants in Toronto, Washington D.C. and Sydney, Australia.
Although he still prefers to avoid the spotlight, Chang, who is Korean-American, is mindful of how few Asian success stories there are outside of the technology, finance and medical fields. David remembers not fitting in while growing up and as an adult, being angered by Asian stereotypes. The cuisine he serves is his main contribution to the conversation about race as he wants to raise cultural awareness and appreciation through food.
"There's a sense of responsibility I have now as a public figure to do something untraditional and being a role model."
David Chang, Momofuku chef and founder
David stressed the importance of learning by making mistakes and being fully committed to a goal. He goes on to say that life is too short for regrets, "Aim to be the best, but be prepared to fail – just don't end up in the middle and settle for mediocrity."