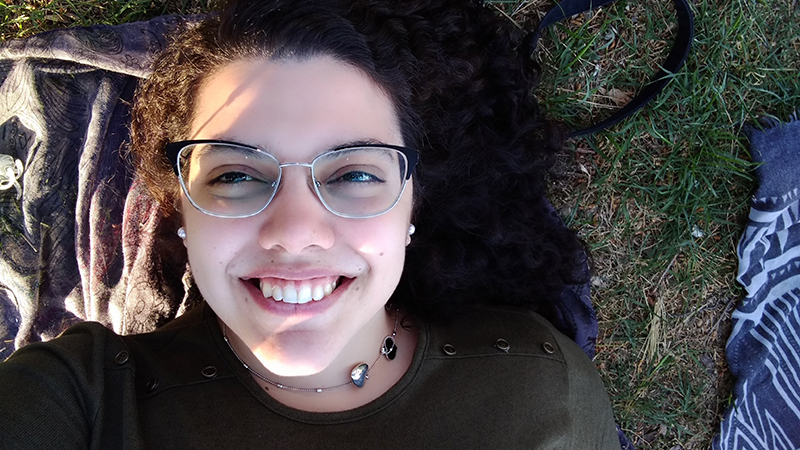 Story
How an Autism Diagnosis Led to a More Authentic Life
At age 24, Buenos Aires-based Natalia Gironzi discovered that she was autistic. Her discovery led her to learn more about herself—and help others.
Growing up with three siblings who were all diagnosed with Autism Spectrum Condition (ASC), Natalia Gironzi had been familiar with the condition since her early childhood.

Gironzi's family was active in the autism community, starting with her mother's participation in local parent associations to organize autism awareness events. The family eventually launched a non-profit organization that provides proper hubs and treatments for autistic individuals in Argentina. "After each of my siblings received their diagnoses, our entire family became more and more involved with local autism activism events," Gironzi says.
Hiding in Plain Sight
However, despite her understanding of ASC, Gironzi never suspected that she, too, could be on the spectrum.
"It was harder to find some of the big characteristics in myself," she recalls. "My siblings had difficulties handling the sensory inputs in our school and home environments. They often lashed out at our parents and school administrators."
In contrast, Gironzi describes her childhood self as "quiet and low-key," and she recalls observing and mimicking the behaviors of her peers in order to blend in. "I built this image [of being neurotypical] for myself and others – I had friends, I maintained good grades, and I did not have any behavioral issues," Gironzi says. "It was a pretty shallow image that I built, but [in my culture] having friends is a sign of success so you do what you can to achieve that."
But, beneath the surface, Gironzi's reality was far more complex. Throughout primary school, she concealed her experiences with bullying and lack of friends from her family. "I thought that my siblings were dealing with 'real' issues, so I never told anyone about mine."
After graduating from high school, Gironzi began to develop depression due to her difficulties with maintaining a social life. She decided to consult a therapist once she noticed that her mental health was beginning to worsen.
"Battling depression marked a new chapter in my life, and I wanted to identify its underlying issues," she says.
Exploring Her Condition
Wondering if she might be exhibiting the same behaviors as her siblings, Gironzi began researching autism. She learned that women on the spectrum have a greater tendency to hide their condition's characteristics. After expressing her suspicion that she was on the spectrum to her therapist, she received her official diagnosis at age 24.
"At first, I was shocked to learn about my ASC diagnosis," Gironzi says. "But my shock quickly turned into relief; understanding that I belonged to this community prompted me to befriend others who are on the spectrum."
While Gironzi had spent the entirety of her adolescent life trying to conform to social norms, her diagnosis prompted her to accept herself for who she is.
"It's a daily internal fight between who I am and who I am used to being," she says. "I've learned to be more patient with myself; I may be unable to do or handle things the way other people do, and that's OK."
But changing habits is often much easier said than done. When she was younger, Gironzi had always mimicked her peers' behaviors in order to fit in. Now, when she interacts with a new group of people, that instinct is still ingrained in her mind.
"I have to make a conscious decision to stop and act naturally," says Gironzi. "I've been doing this for 24 years, so it's hard to get rid of that attitude."
And she has some advice for parents of young children on the spectrum: Gironzi encourages parents to "show them support for who they are, and encourage them to develop their real personality and talents."
Her Role
Once she graduated from college, Gironzi attended an information session hosted by an employment vendor that specializes in hiring and supporting candidates who are on the spectrum. After a series of training sessions, evaluations and interviews, the vendor matched Gironzi with her current role at JPMorgan Chase.
Today, she's a transaction processing specialist with JPMorgan Chase's Corporate and Investment Bank, where she reviews and processes requests made by financial advisors and clients. During her first year at the bank, Gironzi received excellent feedback from her clients and peers, who applauded her unwavering willingness to learn and assist her team. She says her ASC has been a part of her success, giving her an excellent memory, a strong attention to detail, and a fast processing speed—all of which have helped with her work.
"I like to talk about it"
As a participant in JPMorgan Chase's Autism at Work program, Gironzi continuously receives career development resources such as job coaches, mentors, and training sessions. In addition, her manager and immediate team members received mandatory autism awareness before she arrived.
Still, Gironzi makes an effort to maintain an open dialogue about her condition with her colleagues. "People tell me all the time, 'You don't look like you have autism' because I love to socialize with my colleagues," she says. "People expect us to all be the same, but we're actually very different."
Gironzi acknowledged that social media has improved autism awareness in her Argentinean hometown, but she believes there's still a long way to go. She also believes the integration of company-led Autism at Work programs is a testament to the growing trend of workplace inclusion.
Outside of work, Gironzi has a passion for learning about new things, no matter the subject; one of her current passions is studying new languages. She also frequents mobile apps, that let her flex her language skills while connecting with a community of autistic people around the world.
"Being friends with other people on the spectrum who understand what you say is really fulfilling for me," she said.