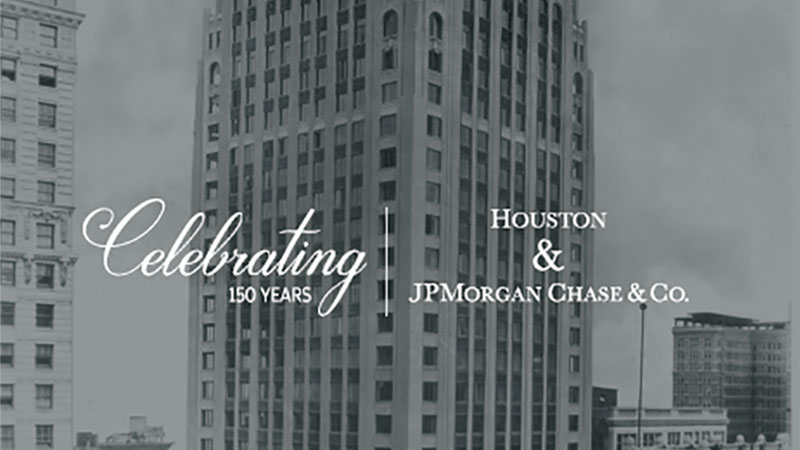 Stories
We're celebrating more than 150 years in Houston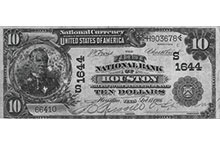 1866

JPMorgan Chase predecessor First National Bank of Houston is founded. With $100,000 in capital, First National becomes the city's first publicly chartered bank.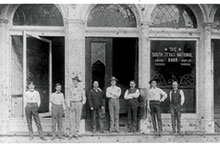 1890
JPMorgan Chase predecessor South Texas Commercial Bank, established by prominent lawyer and businessman Captain James Baker, is founded.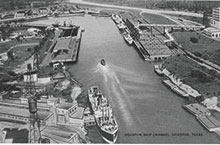 1911
Union National Bank, South Texas National Bank and Commercial National Bank, predecessors of JPMorgan Chase, help finance the construction of the 50-mile-long Houston Ship Channel, one of the largest public projects in the Southwest.
1927
Jesse Jones, president of National Bank of Commerce, commissions a skyscraper that would be "the tallest building west of the Mississippi." Serving as a grand headquarters for the bank and the Gulf Oil Corp., the building opens in the spring of 1929. The building remains the headquarters of JPMorgan Chase in Houston.
1931
With two local banks teetering on the brink of collapse, Jesse Jones assembles the city's leading bankers in his office for three days of meetings. No banks in Houston fail as a result of Jones' efforts.
1932
President Hoover appoints Jesse Jones to the Reconstruction Finance Corporation's board; Jones becomes chairman in 1933.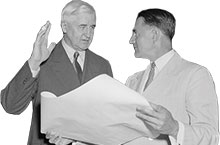 1940
Jesse Jones serves as Secretary of Commerce from 1940 to 1945.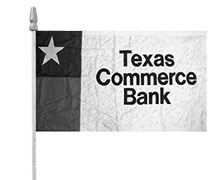 1964
National Bank of Commerce and Texas National Bank merge in 1964, creating Texas Commerce Bank, one of the largest banks in Houston.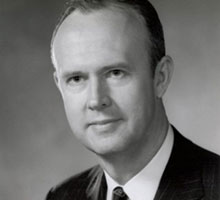 1969
Houston business and civic leader Ben Love becomes president of the Texas Commerce Bank. By December 1972, Love is promoted to chairman and CEO of Texas Commerce Bancshares. Ben Love was instrumental in Texas Commerce Bank's growth during the 20th century – and current employees and bank alumni still remember him fondly.
1970
Texas Commerce Bank participates in financing the original Houston Galleria in 1970; the bank leads the financing for the Galleria II expansion in 1976.
1974
Texas Commerce Bancshares is listed on the New York Stock Exchange.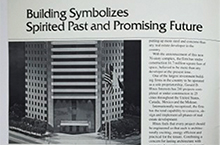 1982
Working with renowned developer Gerald Hines, Ben Love plays a key role in building the 75-story Texas Commerce Tower, still today the tallest building in Texas.
1984
By 1984, Texas Commerce is one of the 25 largest banks in the United States. Among this list, TCB ranks number one in growth and return on assets.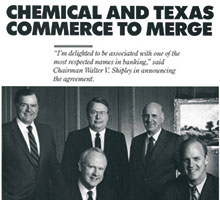 1986
Texas Commerce merges with Chemical New York Corporation, representing the largest U.S. bank merger in history at the time. Texas Commerce retains its name.
1989
Ben Love retires and Marc Shapiro replaces him as the final CEO to serve Texas Commerce.
1993
Texas Commerce buys First City Bancorporation, which traced its lineage back to the First National Bank of Houston.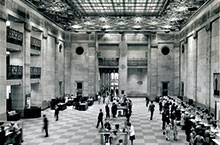 1996
Chemical Banking Corp. merges with The Chase Manhattan Corp.
1998
Texas Commerce becomes known as Chase Bank of Texas.
2000
Chase Manhattan Corp. merges with J.P. Morgan & Co., creating JPMorgan Chase & Co.
2004
Bank One merges with JPMorgan Chase & Co.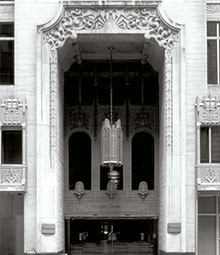 2016
JPMorgan Chase is one of Houston's largest employers with about 7,000 employees working in the city. The firm serves more than 1 million local customers, as well as many of the top corporations and leading institutions across the city. The firm has pledged $5 million for local workforce training, investing in people so Houston can keep building toward a brighter future.