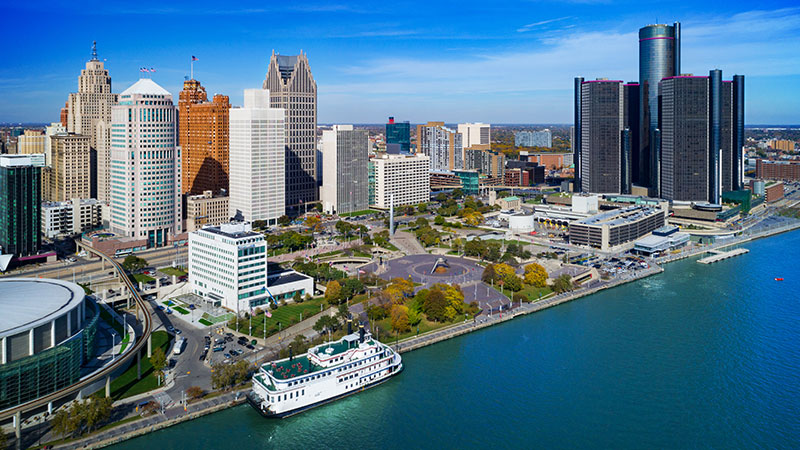 Stories
It's Time to Give Our Cities a Second Chance
Detroit is looking up. Now, we're launching a new initiative to increase opportunity in more cities.
Welcome to the new Motor City.
Detroit is in the midst of a renaissance. And while a number of cities are experiencing a revitalization much like this, others are being left behind. Recent studies by MIT Economics have shown that the modern economic realities of automation, outsourcing and foreign competition have squeezed our nation's labor force, especially across the Midwest and Southeast. From the steel mills of Indiana to Virginia's coal mines, the seismic shift from industrial production and manufacturing to a service- and tech-driven economy has hobbled many of America's once thriving metropolises.
Detroit's growth remains dependent on cooperation to help solve our biggest challenges.
Detroit Mayor Mike Duggan
That's why, on September 12, JPMorgan Chase announced AdvancingCities — a $500 million, five-year initiative to drive inclusive growth and bolster long-term vitality in communities around the world that have not reaped the benefits of a growing economy.
Detroit is just one example of what can happen when public, private and nonprofit groups work together to invest in economic recovery, serving as an inspiration for this new initiative. Over the course of five years, JPMorgan Chase has invested more than $150 million into rebuilding the city of Detroit. Working with the mayor's office and a host of local groups, the goal of the joint effort was to accelerate Detroit's recovery, with particular emphasis on stabilizing neighborhoods, training workers for the current job market and bolstering small businesses. Drawing inspiration from this proven model of success – which JPMorgan Chase refers to as the Model for Impact – the AdvancingCities initiative was born.
"Like many cities, Detroit's growth remains dependent on cooperation to help solve our biggest challenges," says Detroit Mayor Mike Duggan. "JPMorgan Chase has been at the table with us for a long time, and their investment has been critical to ensuring the city's recovery benefits everyone," he adds — noting that he hopes the lessons learned in his city can be applied elsewhere.
With so many cities facing the same challenge of generating inclusive economic growth, JPMorgan Chase will extend the key insights and takeaways from AdvancingCities with policymakers, community leaders and private sectors around the world, allowing others the opportunity to translate these findings into immediate action.
After all, doesn't every city deserve a second chance?