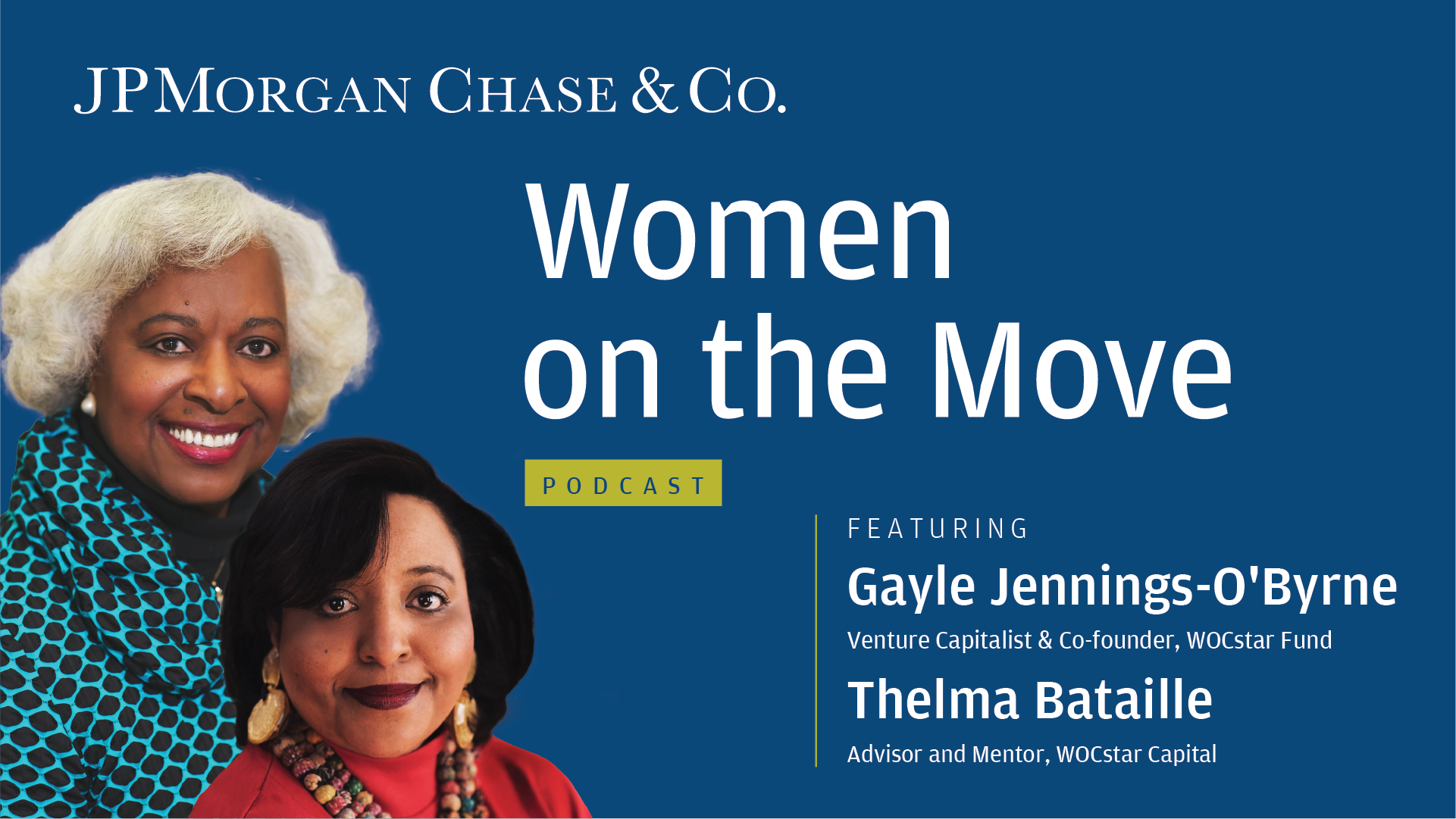 Stories
Mother-daughter tech pioneers empowering and investing in women of color
Gayle Jennings-O'Byrne learned about the power of sisterhood and of women in technology from her mother, Thelma Bataille, who was a tech trailblazer in the 1960s and 70s. After a career at JP Morgan Chase leading philanthropy, Gayle went on to found the WOCstar Fund, a venture capital firm that invests in women of color ("WOC") and diverse inclusive teams in the tech sector. In this episode, Women on the Move host Sam Saperstein sits down with both mother and daughter to discuss their pioneering contributions in nurturing and mentoring the next generation of entrepreneurs.
The can-do mindset
Seeing her mother succeed in computer programming and impact the nation was inspiring, "but the biggest thing that she did was she just believed in you," Gayle recalls. Gayle's biggest advise to other entrepreneurs is to "believe in yourself, believe you can do it. Because if you believe in yourself, you have a radius about you. That is a magnet, it will attract others."
Gayle received her M.B.A. from the University of Michigan and spent 20 years in corporate America. "I had this amazing, great experience of seeing the capital markets from corporate finance and investment banking," she tells Sam. "And then I also saw how capital was being deployed in a philanthropic impact investing way. And yet I realized we were still missing a huge segment of the population women and in particular women of color." She went on to found her first firm, focused on investing in startups led by Black and Latinx women. In 2018, she founded WOCstar.
Builder capitalists
Gayle describes herself and her partners as "builder capitalists" versus venture capitalists. The builder capitalist is also focused on returns and on the most efficient and productive deployment and usage of capital. "But the difference is that we want to be there to help those founders build to success," she says. "It's not enough for us if we're simply investing in them and hoping that they're going to be that unicorn." This idea encompasses her belief that the way women succeed is by building together.
Part of Gayle's investing thesis is customer engagement to validate customer product fit. Companies must have a product in the marketplace, ensuring there is an active and open dialogue with customers.
Pushing for progress
Reflecting on their careers and similar barriers faced despite being different generations, Thelma is disheartened but not ready to concede. Gayle says that's why she's continued to devote her energies to building women's inner confidence and empowering them. She says that women, and particularly women of color, are very diverse and inclusive in how they build teams and how they collaborate. "So if you get a woman of color involved, she's going to bring the rest of the village." Thinking about the WOCstars they invest in and advise, both mother-daughter believe change and progress is on the horizon.

Mother-daughter tech pioneers empowering and investing in women of color
Gayle Jennings-O'Byrne
Venture Capitalist & Co-founder, WOCstar Fund
Thelma Bataille
Advisor & Mentor, WOCstar Capital
Subscribe