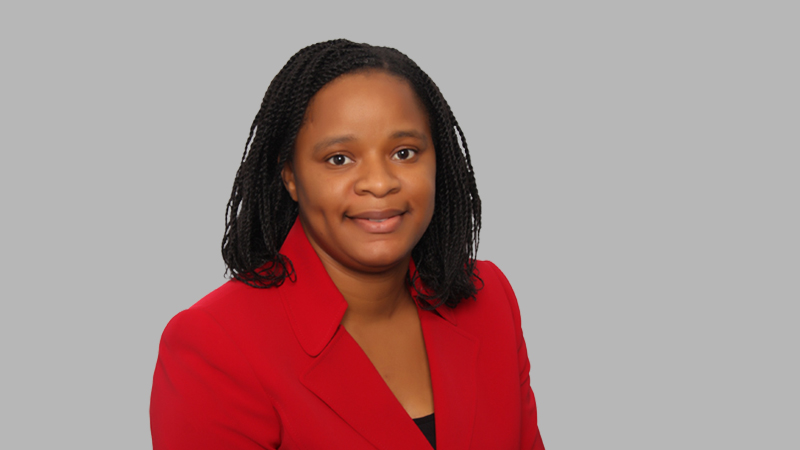 Stories
From Jamaica to America: Camiel's Story
From her beginnings in Jamaica to her current job at JPMorgan Chase, Camiel Franklyn-Levy has always followed her goal: Helping people achieve financial security. A participant in JPMorgan Chase's Advisor Development Program, she plans to take her passion one step further.
Camiel Franklyn-Levy's passion—helping people secure their financial futures—started close to home. Born in Clark's Town, a small township nearly 60 miles northwest of Kingston, Jamaica, she spent much of her childhood living in a government children's home. In the summer of 1995, after she graduated from high school, she had another setback: Her father died of cancer, leaving her family destitute. There was no money for his funeral costs, much less for her higher education
That summer had a profound effect on her, she says. Looking around her community, she saw many families facing the same problems she had: Parents dying and leaving their children without support, a husband passing away leaving his widow desperate to feed the family.
"It was one struggle after another," she recalls. "These were working people, but they didn't have anyone who could tell them about life insurance, or how to save for the future."
A Chance to Make a Difference
Luckily, Franklyn-Levy had an opportunity to improve her situation: She entered HEART Trust, a government program that placed young people into entry-level jobs for one year for training and experience.
As luck would have it, she ended up working as a data entry clerk with a credit union, entering old paper statements into a new computer system.
"There were dusty papers, old receipts, everything," she recalls. "I gave it my best, and while I did so, I learned about credit unions and other products."
She also learned how to put her determination to work: When her first rotation in the program was up, the credit union hired her for a second year, and then offered her a permanent job as a customer service representative.
An Education
Franklyn-Levy had a good job, but she knew if she wanted to move forward, she needed a college degree. Unable to afford tuition herself, she asked the Board of Directors to underwrite her education. She was delighted when it agreed to pay 75 percent of her tuition and provide her with an interest free loan for the remaining 25 percent. Soon, she was enrolled in Nova Southeastern University, where she took classes at night and on weekends while continuing to work full time.
"It was very challenging to work full time while going to school," she recalled. "I often got up at 1 or 2 AM to study and do assignments."
It took three years, but she successfully earned her degree. Four years later, she went on to earn an Executive MBA from Florida International University, which she paid for on her own. Impressed by her success, the credit union established a formal education loan policy to help students like her get their undergraduate degrees.
Knowing Loyalty
As an MBA student, Franklyn-Levy was an attractive recruit for other banks, but she rebuffed all offers. "When an organization invests in you," she says, "you have a moral obligation to give back."
She ended up spending 21 years at the credit union before she emigrated to the U.S. in 2017. By the time she left, she was a senior manager making strategic recommendations about various insurance loans and savings products.
But even though she'd advanced in the company, she still kept her eye on her original goal: Helping families gain financial security. "Each time my team and I had to come up with strategies for various loan promotions, I would also ensure that we had a savings promotion as well," she recalls. "I strongly believe that financial institutions must provide an avenue to help customers create wealth through saving."
A New Chapter—With a New Bank
Soon after Franklyn-Levy resettled in Connecticut with her husband and son, she began researching financial institutions. Her search repeatedly brought her to JPMorgan Chase: The bank had an international reputation, and she knew it would be a great place for her to pursue her mission of helping families becoming more financially secure.
But finding a way into the firm was difficult—at least until she discovered the Advisor Development Program (ADP), a career training initiative with a lens on diversity. Franklyn-Levy's credentials and years of experience made her a promising candidate, and she was soon welcomed into the program.
"We're looking for people with skillsets you can't teach—drive, compassion and grit," says Christy Simek, the national head of ADP. "I can teach you banking, but I can't teach you things like resiliency. Camiel had incredible drive and resiliency, and her passion for advising shone through."
The program, now approaching its second year, offers a robust path to identifying, licensing, training and mentoring a cohort of diverse financial advisers. To join, participants need a bachelor's degree and about three years of client-facing experience. Once in, they work toward their financial licenses and are trained in best practices while also being actively mentored.
The program generally takes between 2-3 years, but is customized to run at the speed of the participant. "We let thoroughbreds run," says Simek.
For Franklyn-Levy, who's preparing for her licensing, the program has given her an opportunity to return to her original goal: Helping families like hers prepare for the future—particularly in the face of the post COVID-19 landscape.
"We will be taking that emotional journey with the customer and reassuring them that they are safe," she says. "We are a strong organization, and we are here for them."