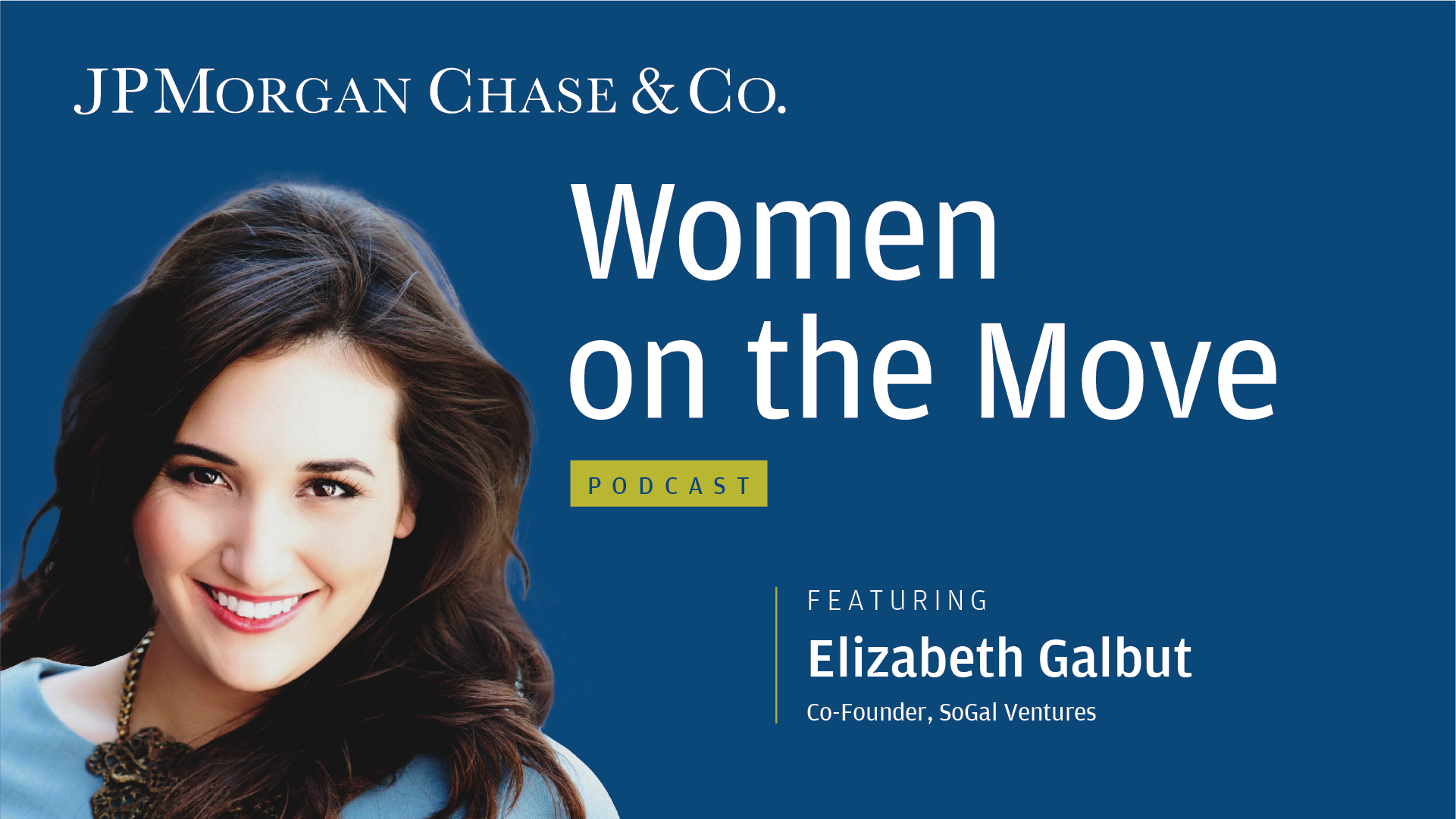 Stories
Leveraging the power of women—and the millennial VC who is investing in them
As co-founder and managing partner of the first female-led millennial venture capital firm, Elizabeth Galbut is intent on representing just how far her generation has come, and how deep their impact on the world can be. Her SoGal Ventures invests in diverse female founders in the U.S. and Asia. Here, she sits down with Women on the Move host Sam Saperstein to discuss her background and how she's going beyond investing in women to creating a global ecosystem of both women and men who are investing in women.

The Accidental Venture Capitalist
As the only child of two doctors, Elizabeth tells Sam she "grew up in the healthcare system." She went to her parents' offices, went on hospital rounds with them, even had dinners with their colleagues. "And very early on, I was seeing that there's a lot of problems in healthcare from a business perspective, as well as, how do you improve patient care for all of us in the U.S.?"
Elizabeth says her goal was to enter the healthcare industry to solve some of these broad issues. In the end, she says, she's doing something very similar as a venture capitalist, by investing directly into innovative companies that are currently changing the landscape of healthcare. "So I call myself a bit of an accidental venture capitalist," she tells Sam. "It definitely wasn't what I went into graduate school thinking I was going to do, but looking back, it really makes sense."
It was when she was in graduate school at Johns Hopkins that she recognized the need for venture capitalists to invest in healthcare ideas. At Hopkins, she says, she saw so many entrepreneurs with amazing backgrounds who weren't able to find capital to finance their businesses. "And they were going off to, you know, work at large corporates after graduation," she recalls. "And that really didn't sit well with me. I thought, you know, there's really this arbitrage investment opportunity of backing these founders very early on and allowing them to go forth with their businesses and connecting them to other forms of capital."
By the time she graduated with her M.B.A. from Hopkins, Elizabeth was hooked on the idea of VC. Through early, small investments she learned the value of even very small investments in talented people with great ideas. "Our first investments were about $10,000 [but it can] actually be the difference of an individual committing to starting a company and really going through that journey," she says. "And I think that really put a lot of emphasis to me that it's not always about the dollar amount, but it's really about being that supporter and, and, you know, helping somebody understand that what you're doing is actually valuable and you should keep going."
Building an ecosystem
Elizabeth was just 23 when she and her 25-year-old partner decided to launch a venture capital firm. Going to career fairs and conferences as an MBA student had opened her eyes to the gender issues in the VC field. "Sometimes the men venture capitalists would say we don't hire women," she recalls. "Or even if we hired a woman, I don't think we'd really trust their opinions. I was like, this is highly illegal. You probably shouldn't be saying this." Elizabeth says she was disheartened, but also committed to earning a place in the VC world. Rather than join a male-dominate firm she and her partner founded SoGal, with an investment focus on exceptional, diverse founding teams that have plans for global domination through tackling major consumer or healthcare problems in the U.S. and Asia.
Elizabeth and her partner set out to prove themselves with a series of small investment and angel investing projects—they had 30 investments under their belt before they even sought capital funding. She says their biggest challenge was themselves. "Sometimes we can hold ourselves back the most," she notes. "And even after we had made these 30 investments, it was hard for us to say, we're Venture Capitalists."
Elizabeth and her partner identified early on that they were interested in supporting not just women entrepreneurs, but also other women investors. She describes those efforts as creating an ecosystem for investors, empowering founders and investors and creating a support system as well as a sense of community. "We really believe that investing in women is the largest investment opportunity of this next decade or century," Elizabeth says. "There's trillions of dollars to be unlocked by empowering women. So of course I want to empower women from a social perspective, but it's also a deep business opportunity that we should all be paying attention to."

Leveraging the power of women - and the millennial VC who is investing in them
Elizabeth Galbut
Co-Founder, SoGal Ventures
Subscribe