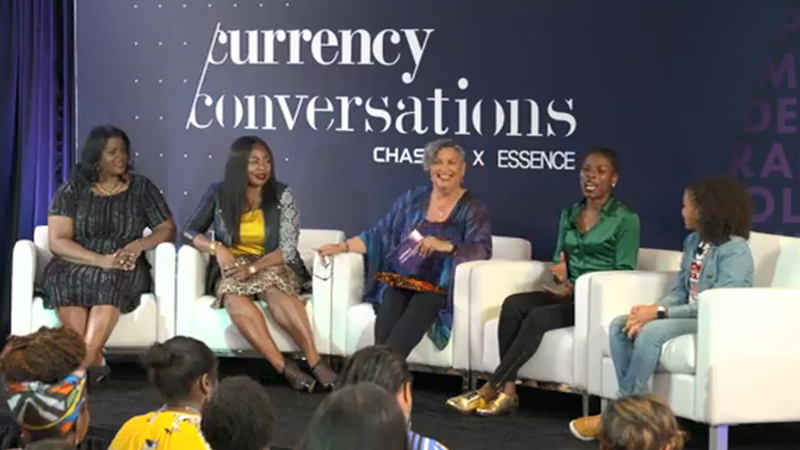 Advancing Black Pathways
Difficult Conversations Start Now
JPMorgan Chase and Essence are teaming up to help black women overcome financial hurdles.
Difficult Conversations Start Now
WATCH VIDEO
JPMorgan Chase and Essence are teaming up to help black women overcome financial hurdles.
It's the date that marks how long black women must work into 2019 to earn the same amount their white male counterparts garnered the previous year. It's a date that reminds her that black women earn 61 cents for every dollar white men earn annually—and that they need to work almost 21 months to earn what white men make in 12.1
It's yet another reason why Currency Conversations are long overdue.
A Persistent Gap
Despite decades of women's advancement in education and employment, the wage gap between men and women of all races persists. The gap is particularly troubling for black women, who are often the primary breadwinners for their households. And, because their income plays a crucial role in the financial well-being of not only their families, but also the black community as a whole, its impact ripples out through their neighborhoods.
That's why Davis, a financial coach, educator and consultant with San Francisco-based Sage Financial Solutions, wants to get black women talking about their finances. She's partnering as an ambassador with JPMorgan Chase and Essence for Currency Conversations, a campaign that encourages black women to speak more openly about their financial goals and how they can achieve them.
From virtual meetups to in-person sister circles in selected cities, Currency Conversations aims to build on the black community's culture of storytelling and sharing to help more black women develop a strong foundation to launch a financially healthy future.
"The first step is to give ourselves a lot of grace about approaching the conversation," Davis said. "We need to be gentle with ourselves about what we haven't done, what we wanted to do or things we did that we're not proud of. And then, we have to have the courage to decide to own our personal financial power."
Overcoming History
Davis says these conversations must start by examining the historical and socioeconomic contexts of black women's relationships with money. This goes beyond the stereotypical narrative that black families don't have experience with savings and investments. In many ways, she notes, the community is still feeling the lingering impact of segregation-era survival strategies—such as the need to accept lower-paying employment in an effort to prove oneself "twice as good" or "pay dues." And, because black women often feel forced to take lower-paying jobs to support their families, it can be more difficult for them to save and invest to start building wealth.
Even seemingly positive decisions based on past experiences, such as buying life insurance, could have negative repercussions today.
"Many of us remember growing up with the insurance lady coming to our door every week to get that $20 from Big Ma, right?" Davis says. "That's not abnormal if you're raised thinking that's the only way that wealth happens in our families, but it makes us a perfect candidate for every insurance predator that exists. We often don't know how to identify when a practice that we're familiar with is actually predatory because it's in our comfort zone."
And that's only one of the ways that persistent historical trends continue to block black women's path to wealth generation. Many black women, Davis says, use their earnings to support not only their immediate family, but extended family and friends. Few studies, if any, have quantified the average number of people supported by a black woman's income, she said.
"I think that that's one of the biggest dynamics that affect us in ways that it doesn't affect others," Davis said.
Finding Solutions Together
Having those conversations with sister friends can help black women develop the confidence to examine their financial choices with more scrutiny and to start making every expense "defend itself," as Davis puts it. She advises black women to make sure every dollar that leaves their household fits into their long-term goals. Through discussions with friends and family, they can encourage their support networks to adopt the same mindset.
Currency Conversations go beyond simplistic notions of personal finance as merely saving money, Davis said. It's about understanding that every financial choice affects one's short-term and longer-term goals. Every dollar made today affects the amount available to save each month and how much one receives in Social Security after retirement.
"Figure out what money means in your life and the role you want it to have," she said. "What steps can you take right now? Maybe it's reading the Currency Conversations digital toolkit, watching the Facebook Live sessions or making small pledges, even if it's to save a dollar from every paycheck. The amount is not what's relevant. The habit is what's relevant. The commitment to yourself is what's relevant."
Like any lifestyle change, financial wellness won't be accomplished overnight, but Davis hopes Currency Conversations can serve as a jumpstart.
"This is going to look like a cha-cha," Davis said. "There's going to be some steps forward and some steps back. That's okay. Give yourself grace and give yourself the courage to dance again."