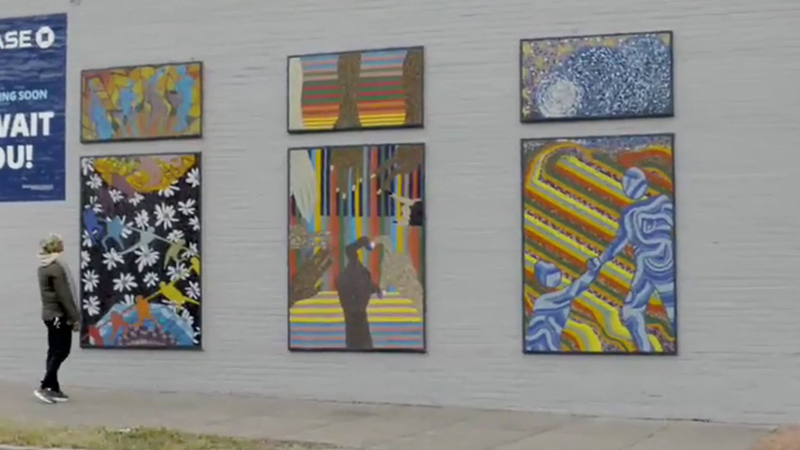 Stories
D.C. Branches Wrapped in Community Culture
JPMorgan Chase partners with Arts on the Block apprentices to design and fabricate mosaics for three Chase branches in Washington, D.C.
Whether you are commuting to work on the Metro, or beating your feet to Go-Go music on your way to class at Howard University, Washington, D.C. lives and breathes art and culture.
One organization that's using DC's creative history to prepare students for the future is Arts on the Block. Founded in 2003, Arts on the Block is a nonprofit, youth empowerment organization. It has developed a paid apprenticeship program that provides students with real-world skills, experience in the arts, and entrepreneurial training—all while helping them contribute to their communities.
In Arts on the Block's internship program, students learn every step of the process necessary to create public commissioned art, from presenting ideas to a client to project management. Since its founding, the program has developed more than 175 commissioned art installations for public spaces or private art collections across the DC metro area.
Making A Mark
JPMorgan Chase recently got in on the fun by commissioning Arts on the Block to design and create mosaics for three new Chase branches in the city. The art is a physical representation of what the branches seek to represent in the community: opportunity.
The move is consistent with JPMorgan Chase's mission to help more Americans benefit from economic growth, regardless of their zip code. To do their part, the company recently announced that it would open 70 new branches, 20 percent of which will open in low- and moderate-income communities like Wards 7 and 8, and hire 700 new employees in the region at no less than $18/hour.
JPMorgan Chase partners with Arts on the Block apprentices to design and fabricate mosaics for three Chase branches in Washington, D.C.
The investment in the community doesn't stop with expansion and hiring though. JPMorgan Chase is also focusing on providing more support for black communities in D.C. and beyond. Which is why Advancing Black Pathways was created. The new, JPMorgan Chase initiative that seeks to support black Americans in their pursuit of educational, career and personal financial success.

"When we come to a new market, we understand that there's a rich culture, there's a rich community and we want our presence to reflect that," said Alexis Bataillon, JPMorgan Chase, Head of Strategic Initiatives, Mid-Atlantic Region.
Coming to Life
The Arts on the Block apprentices presented their Chase designs to the community, creating an opportunity for dialogue and feedback. Using input from their neighbors, the students finalized the designs, which they then brought to life by cutting, arranging and grouting mosaic titles. The result, three vibrant mosaics with imagery that evokes a feeling of unity. One mural, for example, features a swirl of blue shades that combine to create the silhouette of a child holding the hand of an adult.
Chase's new artwork helps the branches both stand out and fit into the community. The striking pieces are a representation of new opportunities ahead and a contribution to the rich culture of D.C.
"I want where I live to be safe, I want it to be colorful. I want people to know that we can help each other out and yes, Chase is also here to help you out," said Shantissa Brooks, an apprentice with Arts on the Block. "I really wanted to show that we are not just here, we are here with a purpose."