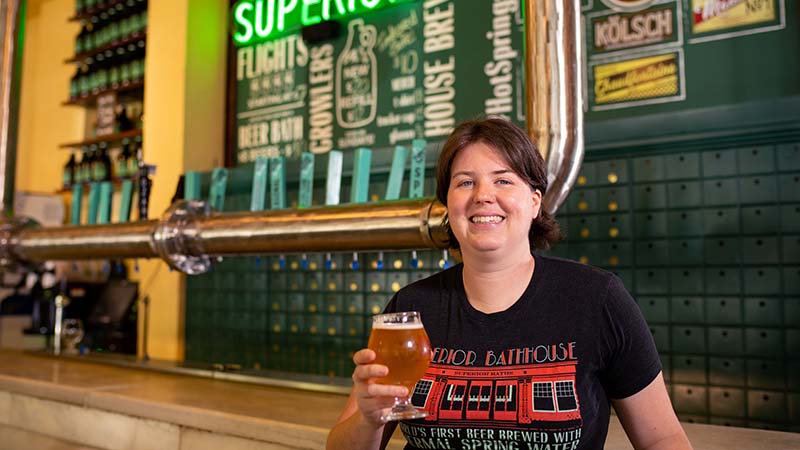 Bringing a "Superior" Brewery to Hot Springs
Rose Schweikhart is building a new future—and making great beer—in one of America's National Parks.
In the early 1900s, Hot Springs, Arkansas was the place to be. Home to natural thermal springs, the town had eight bathhouses where visitors could soak away their troubles. And soak they did: Hot Springs played host to thousands of visitors, including Al Capone, Babe Ruth and President Harry Truman. In 1921, the row of bathhouses and part of downtown was even declared a National Park.
Unfortunately, as the demand for natural spas declined, Hot Springs' fortunes followed. By 1985, only one bathhouse was in operation.
Enter professional tuba player and homebrew hobbyist Rose Schweikhart. When she moved to Hot Springs in 2011, she decided it was time to take a chance at turning her hobby into a new career. Hot Springs, she decided, needed a microbrewery.
The town was ideally suited for making beer. After all, the first step in brewing is heating water, and Hot Springs had 143 degree water bubbling out of the ground—a natural feature that, Schweikhart realized, could save 25 percent on her energy costs.
The business environment was also promising. Hot Springs National Park was leasing historic bathhouses for use by small businesses and, if things worked out, Schweikhart's brewery would be the first in a U.S. National Park and the first in the world to use thermal spring water as the main ingredient. To make things even more promising, the area around Bathhouse Row had a notable lack of restaurants for locals and tourists to enjoy. With the right marketing and menu, Schweikhart's brewpub had the potential to become a popular watering hole.
It was a plan that could save money, save energy, and help revitalize a troubled historical area. Unfortunately, many banks didn't see it that way.
Brewing Up the Funds
Schweikhart researched. She planned. She ignored the fact that brewing is a male-dominated business. She created an 88-page proposal. And she got turned down. Repeatedly.
"As a first-time business owner and a woman, finding funding was difficult," she recalls. "When my requests for commercial loans went up to the VP level, I was turned down for being too risky. Turning a bathhouse into a brewery sounded complicated."
In many ways, it was. The U.S. Department of the Interior would be her landlord, and her home base would be a historical national landmark. Everything she would do inside the building needed to be cleared by the federal government.
After several rejections, one local banker sent Schweikhart to Southern Bancorp, a Community Development Financial Institution (CDFI), where things finally began to turn around. Her loan officer said her proposal was the most impressive he'd ever seen and, with his support, she jumped through the hoops one more time, hoping her dream would become reality.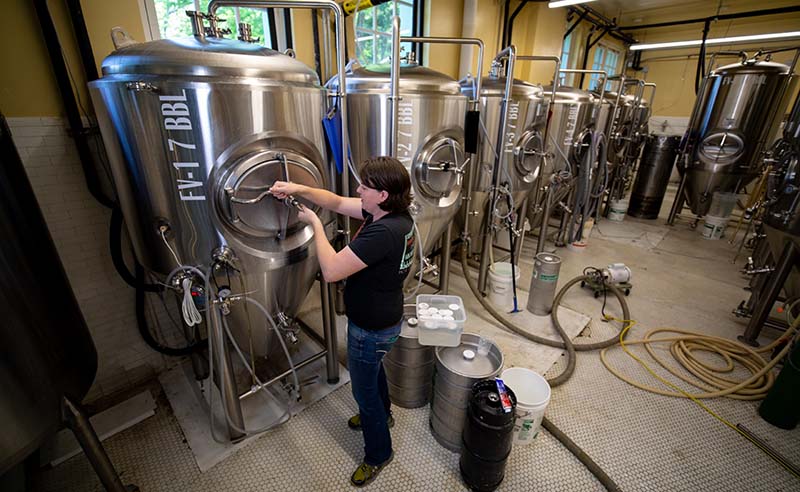 Getting the Help She Needed
Southern Bancorp was able to offer Schweikhart more than simply a small business loan—they also connected her to surprising resources to help her business get off the ground. As a woman, she qualified for special loans through Arkansas' Minority and Women-Owned Business Enterprise division. She also qualified for historic rehabilitation tax credits, as well as an Arkansas Development Finance Authority tourism development loan and a Small Business Administration (SBA)-backed loan.
Between the tax credits and loans, Schweikhart had enough support to follow her dream and, in 2013, Superior Bathhouse Brewery & Distillery was born.
CDFIs like Southern Bancorp can help change the communities they serve for the better by supporting business owners who have been historically disadvantaged. "Southern Bancorp helped me find a path to get things done," says Schweikhart. "It's hard for women, minorities, first time business owners. Institutions like Southern, they have the tools to work with these people and make it work."
And her success has rippled across Hot Springs. "When Rose put the brewpub in, there weren't a dozen successful businesses on Main Street," says Brian Coston, Senior VP Commercial Lending, Southern Bancorp. "It was a ghost town, but it's changed since she came in. There are probably 100 new businesses that have taken over in that area."
Changing Communities
It's hard to overestimate the power of CDFIs to transform communities. Combining their knowledge of their communities with innovative entrepreneurship, these institutions can be engines for uplifting economically depressed areas.
"The biggest value we bring to the community is that we're an agent who can provide capital for businesses that otherwise could not get financing," Coston says. "We provide those folks with the working capital to get their businesses started."
Creating opportunities for people in underserved communities is the motivating force behind JPMorgan Chase's extensive work with MDIs and CDFIs. As part of its $30 billion racial equity commitment, the firm has committed $300 million in additional financing to CDFIs, with $164 million already invested. The bank has also invested over $100 million in diverse-led financial institutions, including Southern Bancorp, to provide a stable form of capital and ensure that their work can continue for years to come.
"Equity investments from JPMorgan Chase allow us to grow and expand into new communities, support more businesses, and help more entrepreneurs like Rose to succeed," says Nathan Pittman, Senior VP of Policy and Communications, Southern Bancorp.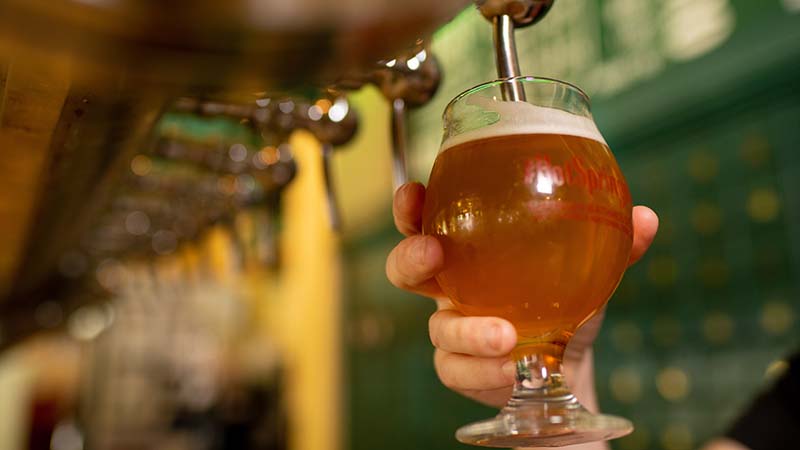 Toasting Her Success
In 2014, its first full year of operations, Superior Bathhouse Brewery had $800,000 in sales. Five years later, its annual gross sales reached $1.9 million. Today, kegs of Schweikhart's beer can be found on tap around the state, and Hot Springs has become an even bigger vacation destination.
Superior has continued to expand, adding a warehouse and a beer garden—all with the help of Southern Bancorp. While other businesses shut down during COVID-19, Schweikhart expanded the brewpub's kitchen and added equipment—an investment that, she estimates, will enable her company to achieve 25-35 percent growth over 2019. Looking forward, she's hoping to lease another bathhouse from the park in 2022 to create a second location for her brewpub.
And Southern Bancorp will be there with her through it all, providing the support she needs to continue brewing for years to come.