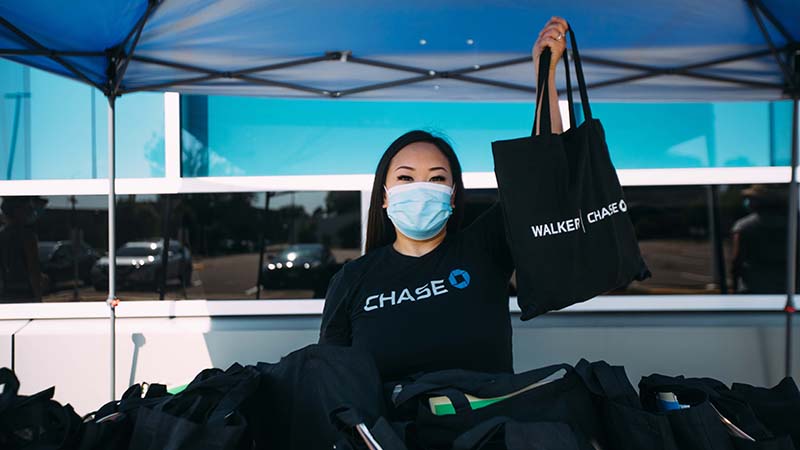 Stories
When Children Couldn't Leave Home, This Museum Found a Way to Bring Art to Them
In the middle of a pandemic, Minneapolis' Walker Art Center—and JPMorgan Chase—found a way to bring art education to the children who needed it most.
When COVID hit in Spring 2020 and schools shut down, the Walker Art Center in Minneapolis also closed, leaving a big hole in the city's arts education programs. More than 10,000 school children visit the Center yearly, enjoying the opportunity to learn about contemporary art—and, sometimes, to create some art of their own.
Sarah Abare, manager of the museum's education programs, began thinking about ways to continue the center's art outreach—even in the middle of a pandemic. "We knew we had the ability to develop great art activities," she explains. "The question was 'How do we bring those activities to the kids in our local communities?'"
As schools, fellow museums, and other organizations converted to virtual programming, Abare and her team tried to figure out a different approach. "We had heard from our community partners that parents and guardians were looking for something that kids could do independently, something that would create a moment of respite for them and an opportunity for kids to do their own thing and be creative," Abare recalls. "It was important to us to offer kids access to art that didn't involve screens."
The solution: Art kits with supplies and activities for the children to do at home. Each kit would come in a reusable tote bag and would include sketchbooks, glue sticks, construction paper, markers, and modeling clay, among other items. The kits also would include prompts to guide the children through art projects they could do independently, including transforming a home window into an art gallery and creating a customized journal to document their summer.
But there was a problem: The educators didn't have a budget for the kits. Instead, they were limited to the art supplies they had on hand for the museum's school programs. Surveying its resources, the Walker team decided that it could create only 100 art packets.
"We were really excited about the idea," says Abare, "but also really limited in terms of the quantity we could produce."
Expanding on a Good Idea
At the same time Abare's team was dreaming up the art kits, Chase, a longtime partner of the museum, asked if it could be of use. When the bank learned about the art kits, it saw an opportunity to help, says Macy Chang, a Chase branch manager in St. Paul. "With everything that has been going on in Minneapolis in recent years related to George Floyd and the social injustice and unrest, and then the pandemic itself, we felt it was very important that we be there for the community," she explains.
Chase agreed to provide funding for 2,000 art kits for students enrolled in St. Paul public schools. The next challenge was figuring out how to get the kits into the students' hands. According to Abare, the answer was surprisingly simple: The school district agreed to let the Walker team hand out the kits at the district's meal distribution sites, which operated throughout the summer to provide students access to free, nutritious food.
"We spoke with parents when they picked up the kits," says Abare, whose team distributed all 2,000 kits over the course of the summer. "They told us how excited their kids were, that it gave them hours of activities, and that they were really appreciative."
Eager to find a way to further expand the program, Abare again talked to Chase, which agreed to fund an additional 6,200 kits, this time for students in the Minneapolis Public Schools district. In this case, the school district needed to provide students taking art classes with supplies. The Walker team created the kits, supplementing them with oil pastels and other higher-quality materials that the district's art teacher said they wanted but couldn't afford.
"The art kits were a way both to support the students and teachers and also relieve some of the costs for the district," says Abare.
Because the Minneapolis public school district is so large, the team knew they couldn't provide kits to every student and instead would have to choose which to prioritize. Ultimately, they decided to focus on students between kindergarten and eighth grade who attend a school where at least 70 percent of the students qualify for free or reduced lunch.
"We wanted to provide them to the schools with the highest level of need," says Abare.
In total, Chase and the Walker were able to create and distribute of more than 8,000 art kits, each of which included instructions in the area's most commonly spoken languages: English, Spanish, Somali and Hmong.
"Essentially, we reached the same number of kids that we reach in a normal year," says Abare. "It was really great to realize that, despite everything, there are still ways to stay in touch and to provide meaningful support to your community."
Looking Forward
Today, the Walker team is continuing with virtual programming, while also looking for ways to safely begin inviting students back to the museum for in-person tours.
This summer, instead of distributing art kits, the educators are taking advantage of the Walker's sizeable sculpture garden to offer children the chance to make art outdoors, free of charge. Each Friday, the educators will set up a station in the garden with a new art project. And, keeping with last summer's commitment to bringing art to kids, the children will be allowed to take the art supplies home with them.
"During this year, which has been so reliant on videos and screens, we keep hearing from teachers that students need time away from screens, time to reflect on what they have gone through and are going through," says Abare. "For them to be the creators of art and to think like artists allows them to have that space and that time. In that way, the art can be therapeutic."