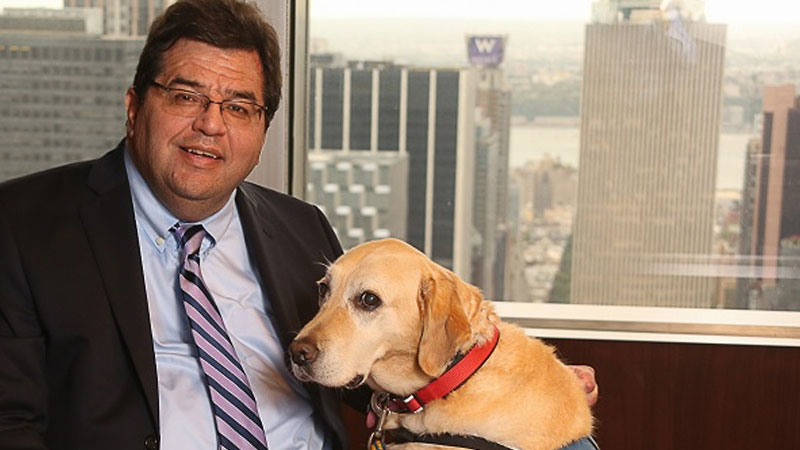 Stories
After I Broke My Neck, I Couldn't Walk. But I Could Still Lead
The most talented person in the room might have a disability.
Originally published by OZY on January 11, 2018.
While on vacation, I broke my neck bodysurfing. I was 25 years old and until then considered myself the best thing since sliced bread. But that life-altering accident changed the focus on everything. I was convinced I was done, that my career was over.

But IBM thought differently. I had already been working for them, and they assured me they wanted me back after my 18-month recovery. I took up a job in technical publications and, 39 years later, in 2015, I retired as corporate director of marketing communications. At IBM, I met many people who had a lot of heart. When someone offered me a helping hand, I took it in the spirit in which it was given. But I worked my behind off. I wanted to prove something to myself: that I could be an equal or at least competitive.
I had never thought I would be a leader. After all, it's one thing to get a title, but can you get people who want to be led by you? Or can you lead people on a mission where they don't doubt your abilities because you have a disability? I was plagued by doubts but made it work.
I was waiting in line to buy chicken nuggets for my granddaughters when I received a phone call informing me that JPMorgan Chase was interested in having me interview for a new position they had made available: head of the Office of Disability Inclusion. By this time, I had already moved to Massachusetts to be near family, and taking up another job was far from my mind. Who was going to hire a 60-plus-year-old quadriplegic into one of the finest banks in the world? I wondered. But I was floored by JPMorgan Chase's commitment to the cause.
True assimilation … means creating a culture that has enough bandwidth to afford all employees a level playing field.
I came in to effect a culture change around attitude, and that's exactly what we are continually striving for. True assimilation doesn't mean that we want people to be like everybody else; it means creating a culture that has enough bandwidth to afford all employees, including those with disabilities, a level playing field. Give them technology tools so they can work independently. Make sure there's room in the budget so you can fix doors, and put in ramps if needed. Are we putting these folks on a track to get promoted? These are the questions we have been asking at JPMorgan Chase.
The important point here, which I also write about in my blog, View From the Chair, is that the job goes to qualified people, disability or not. And that's the message the community has to digest. Writing about the issues people with disabilities face has been cathartic for me, and through it I hope to humanize the disabled. We love, cry and hurt like anyone else.
Empowerment is an especially valuable tool. It lets you know you can earn that job and take care of yourself. I often say: "At JPMorgan Chase, we don't have jobs for people with disabilities; we have jobs for qualified people. Whether or not they are disabled doesn't matter." That's the kind of environment I am working on developing at JPMorgan Chase. It's been many years since my life-altering accident, but I'm proud of my journey.
Jim Sinocchi is head of the Office of Disability Inclusion at JPMorgan Chase & Co.
Learn about our initiatives in diversity, equity & inclusion.